Estimated read time: 3-4 minutes
This archived news story is available only for your personal, non-commercial use. Information in the story may be outdated or superseded by additional information. Reading or replaying the story in its archived form does not constitute a republication of the story.
WASHINGTON — A new survey shows a majority of Americans believe Christian symbols should be permitted on government property, according to the PewResearch Center.
While nearly half of U.S. adults think Christian symbols, such as Nativity scenes, should be allowed on display even if they are not accompanied by other religious symbols, 28 percent say Christian symbols should only be permitted if they are joined with other religious symbols, such as Hanukkah candles.
Twenty percent think there should be no religious symbols on government property, the survey shows.
Many of those who accept Christian symbols on government property despite any other symbols are Republican.
Sixty percent of Republicans said they think Christian symbols should be permitted whether or not other religious symbols are included while 25 percent said they should only be displayed in the presence of other symbols. Just 9 percent of Republicans didn't want to see Christian symbols on government property at all, according to the survey.
Democrats are more evenly divided on the issue.
Thirty-two percent of Democrats wanted to see Christian symbols represented alone, 31 percent said symbols of multiple religions should be permitted and 30 percent said no religious symbols should appear on government property.
Evangelical Protestants were more lenient than other religions regarding government property donning Christian symbols sans other religious symbols.
Almost 60 percent of evangelical Protestants said they think Christian symbols can stand solo on government property, while 45 percent of mainline Protestants and 43 percent of Catholics said the same.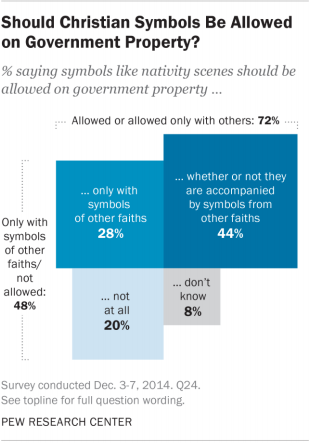 Twenty-eight percent of those religious unaffiliated said Christian symbols should appear on government property alone, while 29 percent wanted to see symbols of various religions displayed and 38 percent said no religious symbols should be displayed.
The Pew Research Centered found these statistics among 1,507 American adults Dec. 3-7.
In their research, they discovered a range of Americans' opinions on the Christmas story.
Most Americans take confidence that Jesus Christ was born to a virgin, an angel of the Lord appeared to shepherds to announce the birth of Jesus, and wise men, guided by a star, brought Jesus gold, frankincense and myrrh, the survey said.
About 65 percent of Americans believe the aforementioned aspects of Christ's birth in addition to the baby Jesus being laid in a manger, and 81 percent of American Christians believe all aspects as well.
Of those who aren't affiliated with any religion, 21 percent believe all events took place and 37 percent believe at least one to be historically accurate, the survey said.
Once again, evangelical Protestants were the most likely to believe in all aspects of the Christmas story.
Women were also more likely to believe in the Christmas story, and another survey shows females are more religious than males.
A final part of the survey covered America's enthusiasm about various holiday traditions, including eating holiday foods, visiting with family and friends, exchanging gifts, hearing Christmas music, decorating homes and attending religious services.
Visiting with family and friends is the activity most participants looked forward to, with 75 percent looking forward to it "a lot."
Next in line was eating holiday foods, with six in 10 U.S. adults looking forward to eating "a lot," the survey said.
Forty-four percent of Americans said they looked forward to attending religious services "a lot," and those participants also expressed more enthusiasm for every aspect of the holidays.
Women demonstrated more excitement about holiday activities than men, and married or cohabitating couples were more excited about festivities than single people.
×
Photos
Related links
Most recent Religion stories