Estimated read time: 3-4 minutes
This archived news story is available only for your personal, non-commercial use. Information in the story may be outdated or superseded by additional information. Reading or replaying the story in its archived form does not constitute a republication of the story.
SALT LAKE CITY — More than 150 people gathered in the Capitol rotunda Tuesday evening, the first night of Hanukkah, to continue the Jewish tradition of lighting a menorah.
Gov. Gary Herbert lit the Shamash, or lighting candle, placed in the center of a tall menorah. Rabbi Benny Zippel, of the Chabad Lubavitch of Utah, and John Price, former U.S. Ambassador to Mauritius, Seychelles, and Comoros, led those gathered in two blessings to God before Price lit the first candle on the menorah.
"We need to not forget and we need to understand that we must continue the ceremonies — and we're lucky to live in America where we can do so — and the freedoms we have in a civil society that allows us to enjoy an evening like this," said Price, also a member of the Chabad Lubavitch of Utah and survivor of Kristallnacht, in his remarks to those gathered.
Hanukkah, also spelled Chanukah, began Tuesday and will run for eight days. It commemorates the victory of the Jews over their oppressors, the rededication of the Jewish temple and the miracle of one day's worth of oil lasting for eight days. During the holiday, Jews will light one additional candle each night.
"The kindling of the menorah has carried its message of tolerance through the centuries," Rabbi Zippel said, adding that during this "time of global unrest, fear and disunity … we are the candles of the world's menorah."
Event programs contained $1 bills for those present to donate in designated charity boxes or keep for themselves, in keeping with the Hanukkah tradition of giving gelt, or money.
"When two Jews come together, good must derive for a third party," Rabbi Zippel said.
Other evidence of this good came when Rabbi Zippel invited four Jewish girls from out of state who are staying at the New Haven residential treatment center to share their thoughts and celebrate Hanukkah with others in the Jewish community.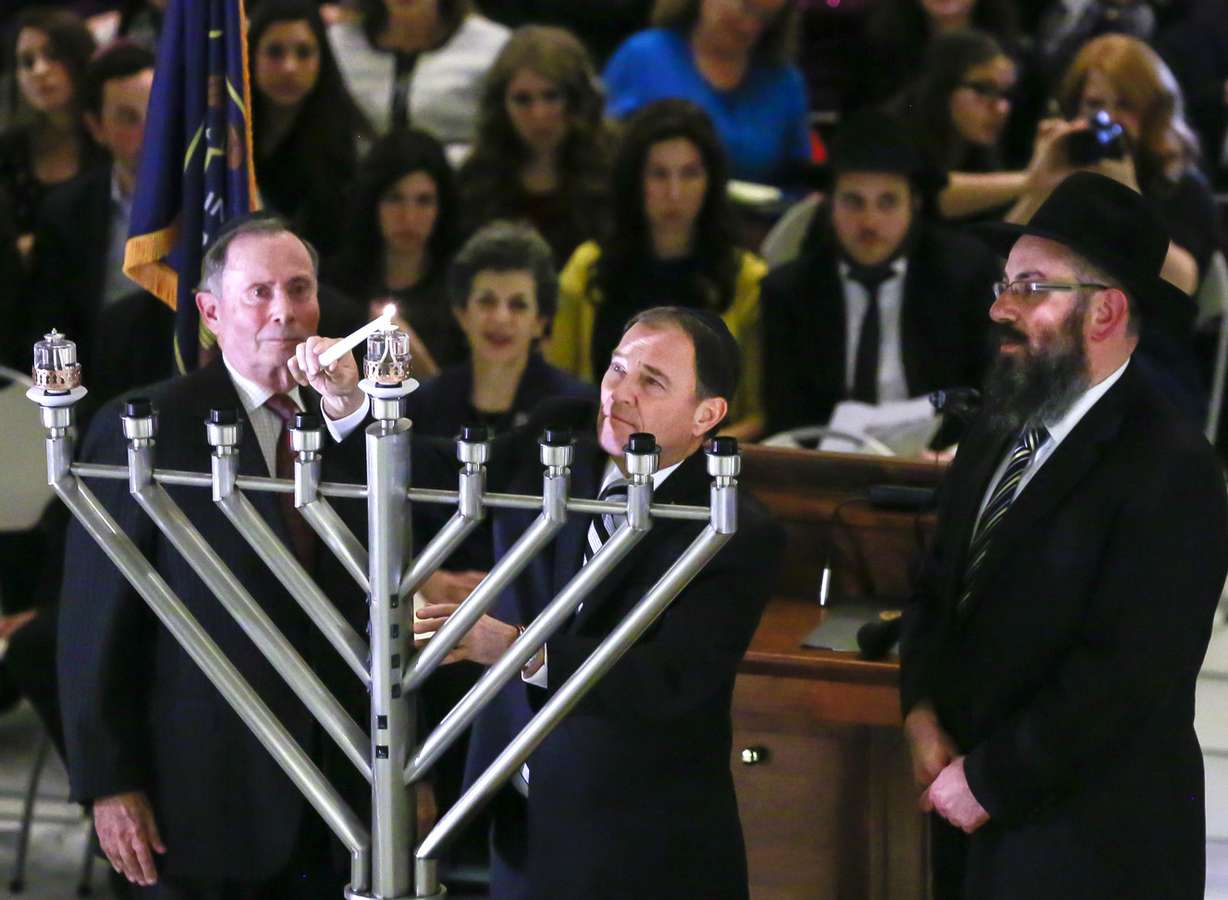 This was the first year the event was held at the Capitol. In the past, Herbert hosted the Menorah lighting at the Governor's Mansion. After detailing parallels between Israel and the Jewish community, and Utah — Moab, the Jordan River, Zions Bank — the governor also detailed similarities with the Mormon faith. These include traditions of "family, of faith and God and something outside of ourselves," he said. Both were founded "because of oppression, because of persecution and a people who wanted to be able to find a place to worship as they saw fit and worship their God as they felt was appropriate," he added.
Herbert said Hanukkah is a time to celebrate miracles, both present and past, and a victory of light over darkness.
"I hope that we'll use this time, this Hanukkah season, this holiday season, as we light the menorah, that we have the opportunity to look at our own selves and say, 'Let's light our own light and share that light with those we come in contact with,'" he said.
Other dignitaries gathered Tuesday included Presiding Bishop Gary E. Stevenson of The Church of Jesus Christ of Latter-day Saints; Rep. Patrice Arent, D-Millcreek; Alan Bachman, Utah assistant attorney general; Rabbi Yudi Steiger of the Chabad of Park City; Liz Paige, president of Congregation Kol Ami; and Ellen Silver, executive director of Jewish Family Service.
×
Photos
Most recent Utah stories