Estimated read time: 2-3 minutes
This archived news story is available only for your personal, non-commercial use. Information in the story may be outdated or superseded by additional information. Reading or replaying the story in its archived form does not constitute a republication of the story.
EAGLE MOUNTAIN — The Bureau of Land Management announced that it will close Lake Mountain to target shooters for another two years as it completes a land use amendment and city and county officials finish a cleanup project of the area.
The Lake Mountain area was previously closed in December 2012 for two years following fires in the area that were sparked by target shooters and caused evacuations of nearby homes. Since then, Eagle Mountain and Saratoga Springs have worked to clean up 900 acres of public land, which is near homes and state Route 68.
BLM's land use amendment process "offers the public opportunities to participate in determining a more permanent solution to the management of target shooting in the Lake Mountains," the bureau said.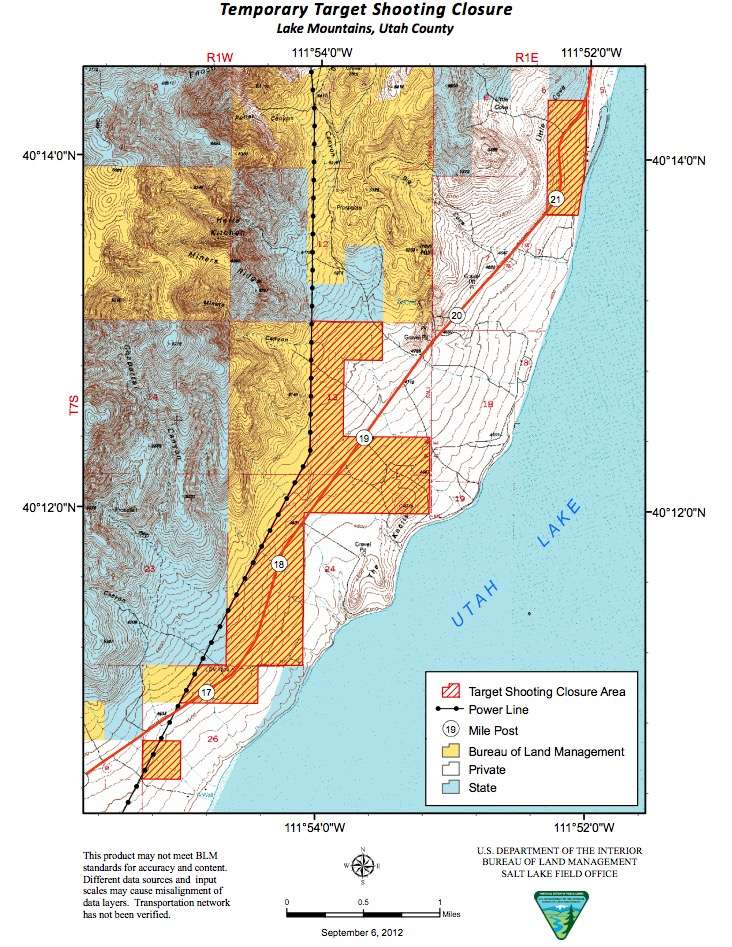 Currently, anyone in violation of the closure can be fined up to $1,000, imprisoned for up to 12 months, or both. Additional fines may also apply.
Utah County is building a fence and barricades along the west side of the highway and it plans to complete a shooting range nearby, the BLM said. Saratoga Springs and Eagle Mountain are interested in developing a trail system on the land as well. As of April, 13 tons of garbage had been hauled out of Lake Mountain.
Since the land was closed to target shooters, BLM Salt Lake Field Office manager Bekee Hotze said, ATV activity has picked up.
Since the closure in 2012, volunteers have worked hard to clean up the area and there haven't been any near-misses from ricocheting bullets," she said. "People are really starting to feel safer about the area and have even begun riding ATVs there again."
The BLM reminded recreationists that the area is open to hiking, biking and sightseeing, and, during the hunting season, the area is also open to hunters.
"The BLM's multiple-use mission is to sustain the health, diversity and productivity of the public lands for the use and enjoyment of present and future generations. However, multiple-use does not mean every use on every acre," Hotze said.
The BLM has detailed maps of the closure on its website.
×
Related links