Estimated read time: 3-4 minutes
This archived news story is available only for your personal, non-commercial use. Information in the story may be outdated or superseded by additional information. Reading or replaying the story in its archived form does not constitute a republication of the story.
SALT LAKE CITY — The Legacy Initiative and Revolution United want to help take the weight of the world off the shoulders of homeless people. The two nonprofit organizations are teaming up to raise money for a simple solution to a big problem among the homeless population in Salt Lake City.
"The concept is giving a hand up, rather than a handout," said Travis Hysell, co-founder of The Legacy Initiative, which he describes as a grassroots community enrichment organization.
Hysell points out that homeless people on the streets don't have any place to store their stuff: clothes, valuables and important papers. So, the two organizations designed H.O.P.E. Lockers, a day-use, secure, portable trailer of lockers the homeless can use on a first come, first served basis. The trailer would be parked near services for the homeless downtown.
H.O.P.E. stands for "helping other people evolve."
"It's short-term storage for folks who are out on the streets," Hysell said.
John Burt thinks it's a great idea. He lost everything and ended up living on the streets six years ago after a downward spiral with alcohol abuse.
"Just hit rock bottom," he said.
Now, he dreads the setting of the sun in the winter and the deep cold that sets in. He said he sleeps a couple of hours if he can, then gets up to walk around and get the blood flowing again.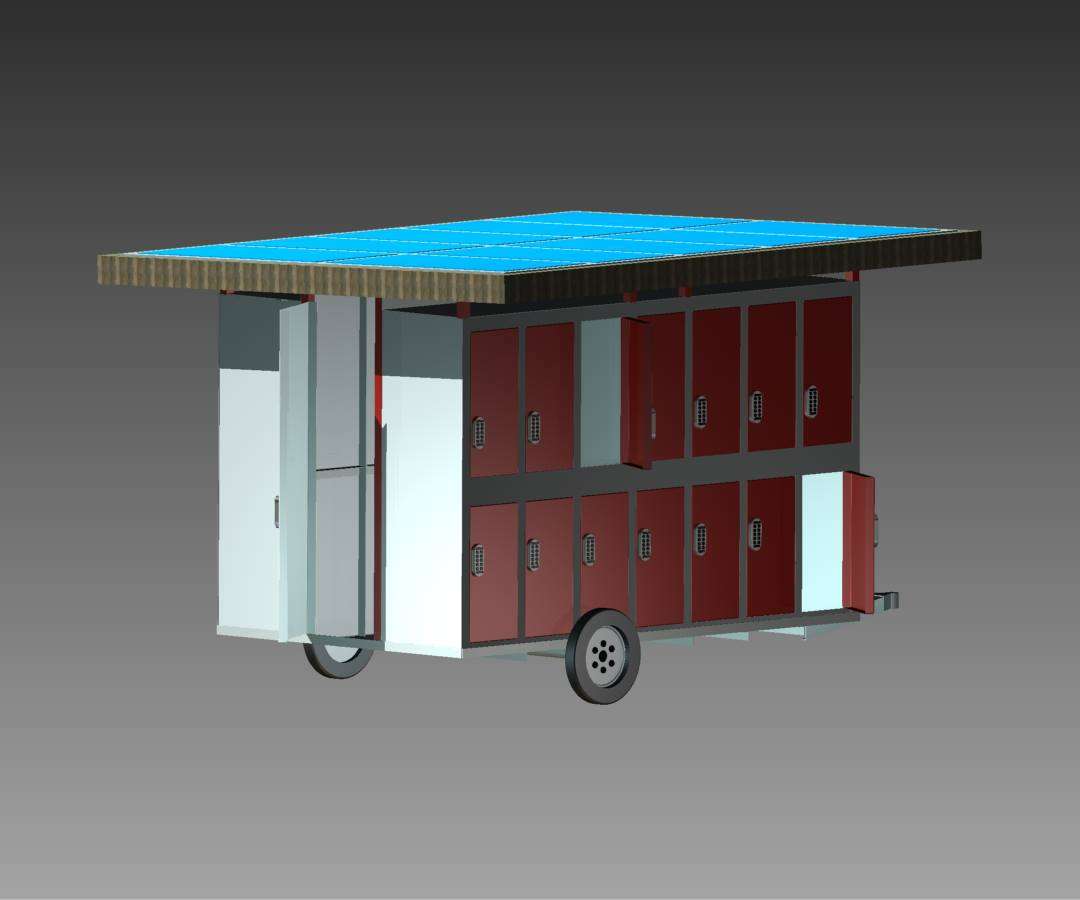 "Boy, it's miserable," Burt said.
Sober for three years now, Burt said he looks forward to landing a good job and giving back to the community. As he looks for work, though, he does not have a secure place to store his possessions.
"It's everything I own," he said, pointing to a backpack and two duffel bags stuffed to the zippers.
"I can't just leave them because they would be stolen."
Burt is always on alert for theft and recently had his ID stolen.
"Down here we get victimized quite a bit," he said.
He would like to be able to lock up his belongings and dump his bags for a few hours for a job interview or other appointments. A locker, he said, could help him on the path to greater dignity, respect and employment.
"You wouldn't have the stigma of having a backpack on, going in and trying to get an appointment," Burt said.
As the sun and warmth disappeared from Pioneer Park Monday evening, three members of The Legacy Initiative shared snacks with the homeless and showed their concept of H.O.P.E. Lockers to people in the park.
"It's a helping hand up," said Camille Chatterton, a team member with The Legacy Initiative.
---
It's more than just not having a home. It's more than just not having a fixed address. There's nowhere to put your belongings.
–Travis Hysell, The Legacy Initiative
---
The Legacy Initiative and Revolution United came up with the idea after asking the homeless what they need. Hysell said their situation is more complicated than many in the community imagine.
"It's more than just not having a home," he said. "It's more than just not having a fixed address. There's nowhere to put your belongings."
The H.O.P.E. Lockers project has already raised $3,300 online through Indiegogo, with a project goal of $10,000. That's what it costs to build the lockers and lighten the load for Burt and others.
"Lockers would make a big difference," said Burt, looking at the drawing of lockers stacked on a trailer.
Hysell said they are getting a lot of positive feedback from the people who would use them the most.
"He can go to the restroom, go get food, do what he needs to do without worrying about every last piece of what he has left going missing," Chatterton said.
The non-profit organizations are targeting April to roll out the first H.O.P.E. Lockers. After fundraising is finished, the groups will use volunteers to build the lockers. If this pilot program proves successful, Hysell said, the groups hope to build more units.
"Everybody wants to make a difference," he said. "The only way we can do that well is if we work together."
×
Photos
Related links
Most recent Utah stories