Estimated read time: 4-5 minutes
This archived news story is available only for your personal, non-commercial use. Information in the story may be outdated or superseded by additional information. Reading or replaying the story in its archived form does not constitute a republication of the story.
PROVO — Hollywood's time in Provo is coming to an end. BYU's Museum of Art exhibit, CUT: Costume and the Cinema, featuring pieces worn by Johnny Depp, Kate Winslet and Amy Adams amongst many others will be ending Dec. 6.
While one exhibit leaves though, a new installation just arrives, Plexus No. 29, by artist Gabriel Dawe that provides a tangible perspective on light.
No pictures please
A range of characters greet visitors upon first arrival into the exhibition room, from Captain Jack Sparrow to John Smith to Christine Daaé. Photos are prohibited though unfortunately, for museum goers and paparazzi.
While vibrant colors and versatile fabric provide eye candy for viewers, the mechanics behind costuming is also vital to understand. How a costume fits a particular individual's body, as well as the various underpinnings of a garment are equally important in accurately portraying the clothing and setting on camera.
"The correct underwear is essential to give the proper look: once strapped into corsetry and other curious underpinnings an actor will assume the appropriate deportment of the period," reads the Museum of Art introductory placard.
Each piece is specifically tailored not only to the actor's body, but develops almost a distinct personality itself as well.
"Having spent some time with Keith Richards (from the Rolling Stones) he was certainly a huge part of inspiration for the character," Depp said discussing his role as Sparrow and costume.
Making sure that the costumes don't overwhelm the storyline is also crucial. This is a difficult balance to maintain, though, because the clothes are such dynamic pieces, especially the pieces from period films, Michael O' Connor, costume designer for "The Duchess" said.
"Eighteenth-century clothes were really quite extraordinary, but in the film characters are speaking dialogue that needs to be paid attention to," O'Connor said. "You can take inspiration from the past, but you have to play down large patterns and bright colors. You don't want the clothes to distract though in reality they were probably extremely distracting."
The exhibition provides each visitor the opportunity to fully appreciate each costume in a way that a viewer is unable to do while watching a movie.
The exhibit allows visitors to examine the piece itself and understand the level of work that goes into costume making. For example, for the 2004 production "Phantom of the Opera" costume designer Alexandra Byrne and team handmade 300 costumes for the film while modifying another 2,000 items on top of that.
Bringing hidden things to light
Similarly to the costume exhibit that reveals the reality of costuming, Mexico City native Gabriel Dawe, in his installation, Plexus No. 29 portrays the tangibility of immaterial realities by giving "light a physical presence" said Dawe.
At first glance the installation appears to imitate an actual rainbow, but upon closer inspection the light is actually 80 miles of colorful thread that shoots across between the ceiling and the wall.
Dawe creates installations made to fit in the particular space each piece occupies that in this case is the Museum of Art's vast lobby entrance.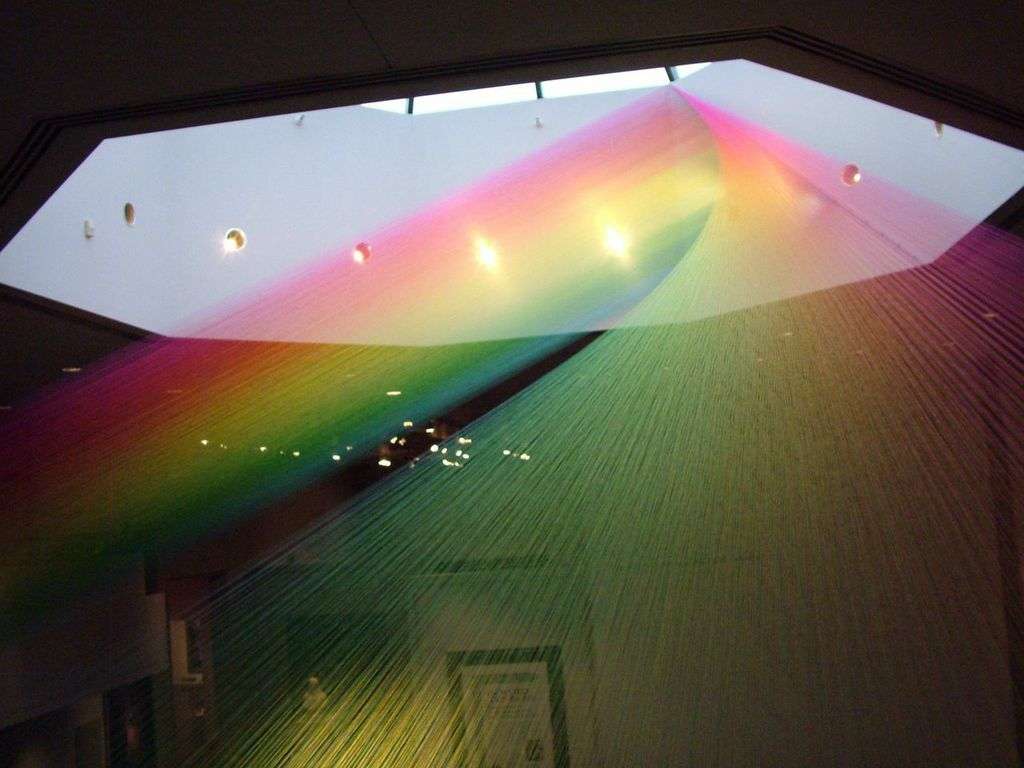 While the length in itself is significant, Dawe said one of the most attractive aspects of Plexus No. 29 is the physical nature of the piece that comes off ethereal. Just because one cannot physically see the organic functions of nature, does not necessarily mean they do not exist. Light wave lengths, for instance, are very real, even though the human eye cannot see the full spectrum of them, Dawe said.
"You have physics and structures that dictate how life grows — you have instances where you can see that hidden, yet very real structure in rainbows and snowflakes for example," Dawe said.
Visitors have been fascinated with this multicolored almost intangible phenomenon, BYU said.
"People of all ages come and look at the piece and then get their friends and family to come back. This is something that people just like to sit and watch," Jeff Lambson, curator of contemporary art at BYU's Museum of Art.
Dawe said that he wants visitors to feel uplifted by getting in contact with one's child-like sense of wonder. Plexus No. 29 is meant to be accessible to all patrons.
"Even if you don't care about contemporary art, just appreciate this piece for its face value," Dawe said. "It is a very approachable work. I do have a message but it not something you need to know to appreciate it."
×
Photos
Related links
Related stories
Most recent Utah stories