This archived news story is available only for your personal, non-commercial use. Information in the story may be outdated or superseded by additional information. Reading or replaying the story in its archived form does not constitute a republication of the story.
MURRAY — The mysterious disappearance of a Murray woman is gaining national attention and the search for her in Utah is intensifying.
It's been 10 days since anyone heard from Kayelyn Louder, 30, and there's still little to go on.
Tuesday, volunteers gathered at Murray City Park and tried to cover as much ground as possible.
Joe Cooling has known Louder since he was in fourth grade. He organized the search for his longtime friend.
"We don't have anything to go on here, so we need to find anything we can," Cooling said. "There's obviously got to be something out there. People don't just vanish. It's not physically possible."
Surveillance video from Louder's condominium complex in Murray shows Louder leaving her building on the evening of Sept. 27, wearing a tank top, shorts and barefoot in the pouring rain.
She left her home with no belongings, leaving behind her cellphone, house keys, purse, car keys and her dog.
Since Louder's disappearance, family and friends have posted fliers around town and canvassed the neighborhood.
Police say circumstances surrounding Louder's disappearance are odd, but there is no evidence of foul play.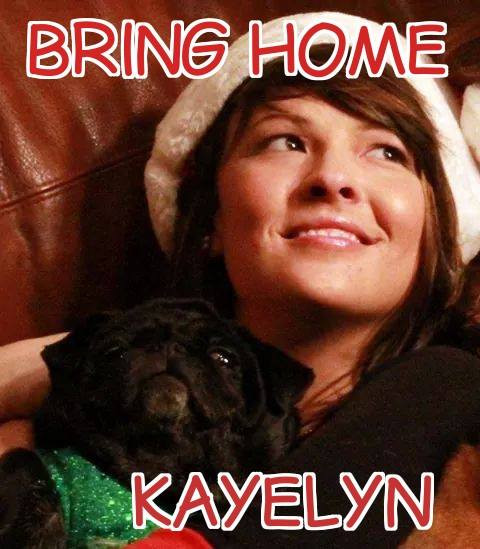 Relatives say Louder is a social worker and was down about losing her job, but they say she talked to her mother every day. Cooling said Louder was updating her resume Saturday. Friends and family say she also wouldn't leave her dog behind.
"If she left that dog, she had every intention of coming back to her," Cooling said. "It's odd that she would be gone, especially for this length of time, without coming back for Phyllis."
About 20 people, including strangers like Tami Sablan, answered the call for volunteers Tuesday.
"I don't know them personally," Sablan said. "I have a 30-year-old daughter, and I feel for the family. It's the not knowing."
Tuesday was the first time Susan Walkingshaw joined in the search for Louder. Walkingshaw said her daughter is one of Louder's former roommates. They lived together for a year and a half. Walkingshaw has known Louder for about 3 ½ years.
"You just put yourself in her family's place and you just can't imagine how this must feel for them," Walkingshaw said. "For her to just disappear, it's not something that she would do."
Murray police said they used a K-9 to search around Louder's condominium complex Tuesday.
The search for Louder has also gained the attention of Dateline NBC: Missing In America. It featured her picture and information on its website. Louder's picture and information is also featured on the Facebook page of Jane Velez-Mitchell from HLN TV Tuesday; HLN is part of the CNN Worldwide Network.
---
We don't have anything to go on here, so we need to find anything we can.
–Joe Cooling
---
Cooling said the more attention is brought to the search, the more volunteers they can get to help find her. The latest details on the search can be found on the Find Kayelyn Louder Facebook page.
Louder is described as a white woman, 5 feet 8 inches tall, with brown hair and brown eyes. Anyone who may have seen Louder is asked to call Murray police at 801-840-4000 or 801-264-2673.
Contributing: Viviane Vo-Duc


×
Photos
Related Links