This archived news story is available only for your personal, non-commercial use. Information in the story may be outdated or superseded by additional information. Reading or replaying the story in its archived form does not constitute a republication of the story.
MURRAY — Family and friends of Kayelyn Louder, who has been missing for more than a week, gathered for a candlelight vigil Sunday evening.
"She's an amazing person and she's loved by many people," said Madi Rodriguez.
Rodriguez choked back tears as she talked about her older sister before the vigil.
"That's all we want to know, is that she's alive and OK," she said.
With each passing day, Rodriguez can't help but fear the worst.
"Just a nightmare," she said.
Surveillance video from Louder's condominium complex in Murray shows Louder leaving her building on the evening of Sept. 27.
"She had a white tank top on, shorts, no shoes," Rodriguez said. Louder also left behind her phone, wallet and purse.
"So I feel like she had every intention of running out for a quick second and coming right back in," she said.
Since Louder's disappearance, family and friends have posted fliers around town and canvassed the neighborhood. "There's a grid around her house that we've blocked out squares of areas," said Louder's cousin, Amy Fugal.
---
Anyone that knows where she is or is just scared, please, please, we can't sleep, we can't concentrated on anything. We need to bring her home.
–Amy Fugal
---
They've also turned to social media. A Facebook page called "Find Kayelyn Louder" had more than 700 members as of Sunday afternoon.
"I'm grateful that we have this kind of technology to help us," Rodriguez said.
Family members have contacted Murray police, who have assigned an investigator to look into the case.
Police say circumstances surrounding Louder's disappearance are odd, but there is no evidence of foul play.
Relatives say Louder is a social worker and was down about losing her job, but they say she talked to her mother every day and wouldn't leave her dog behind.
"She took it to weddings, funerals, birthday parties," said Megan Chin, Louder's cousin.
The family says with so few clues, they're baffled and devastated.
"Anyone that knows where she is or is just scared, please, please, we can't sleep, we can't concentrated on anything. We need to bring her home," Fugal said.
Fugal helped lead the vigil in Murray Park on Sunday, asking everyone in attendance to light a candle symbolizing their hope that Louder will be found and to take fliers to help spread their message. They want Louder's picture to be seen by as many people as possible.
"Today is day eight, and every day we lose a little bit of time. We need to bring her home," Fugal said afterward.
Louder has no history of concerning behavior, family members say, but she has recently been struggling with her employment situation.
Police are limited in what they can do, a Murray police spokesman explained over the weekend. Louder is an adult, she can leave home if she wants to, but an investigation into her disappearance has nonetheless been initiated.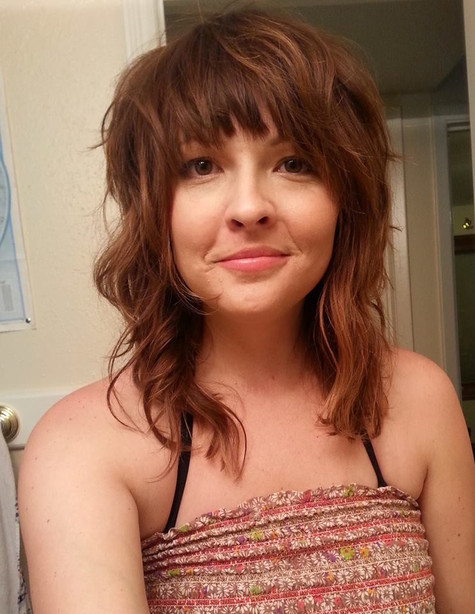 The people who know Louder say they're deeply concerned. She enjoyed being home rather than going out, and her little dog Phyllis was her constant companion, friends and family said Sunday.
The group has launched a diligent online campaign, sharing Louder's picture and description wherever possible, organizing their own searches in the area and calling on local law enforcement to keep an eye out.
Louder's cousins asked the group to share any happy experiences they shared, saying the caring and lighthearted woman would want them to laugh.
When spending time with Louder, it was impossible not to end up laughing as she moved seamlessly from one joke to the next, her friend Riley Welsh told the crowd.
"It just seemed so effortless for her," he said.
Megan Chin, Louder's cousin, smiled as she recalled a birthday party when they were young, but began to weep as she expressed her fear that someone may be holding Louder against her against her will.
"I love her so much, I just hope she comes home," Chin said. "If someone has her, just let her go."
Louder is described as a white woman, 5 feet 8 inches tall, with brown hair and brown eyes. Anyone who may have seen Louder is asked to call Murray police at 801-840-4000 or 801-264-2673.
Contributing: Devon Dolan
×
Photos
Related Links