This archived news story is available only for your personal, non-commercial use. Information in the story may be outdated or superseded by additional information. Reading or replaying the story in its archived form does not constitute a republication of the story.
SALT LAKE CITY — A new partnership is bringing access to more than 1 billion records from historical obituaries to FamilySearch users.
The announcement was made Wednesday in celebration of the start of Family History Month, according to a post on the FamilySearch blog. FamilySearch International, the nonprofit genealogical organization run by The Church of Jesus Christ of Latter-day Saints, is teaming up with GenealogyBank to make information from obituaries printed in U.S. newspapers searchable online.
"Obituaries can solve family puzzles, tell stories, dispel myths and provide tremendous help with family history research," the blog post reads. "A single obituary can include the names and relationships of dozens of family members."
The records come from more than 100 million newspapers obituaries printed in all 50 states, with dates spanning from 1730 to present day. The more than 1 billion records include information on 85 percent of the people who died in the U.S. during the last decade alone, according to FamilySearch.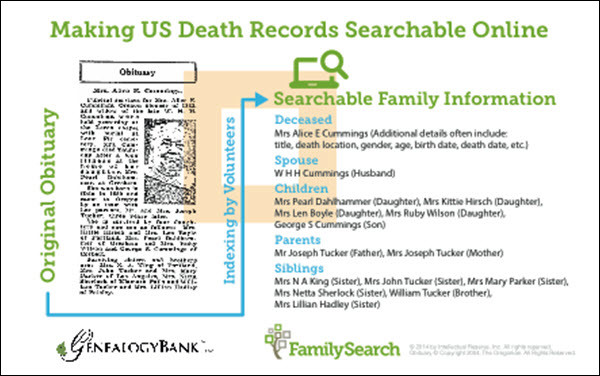 FamilySearch estimated it will need tens of thousands of volunteers to make all of the records easily searchable online. Those who are interested in participating can find more information on the FamilySearch website.
"The success of the massive US obituary campaign will depend on online volunteers," the blog reads. "The obituaries are fairly simple to read, since they are digital images of the typeset, printed originals, but require human judgment to sort through the rich, historic data and family relationships recorded about each person."
FamilySearch also partners with other genealogical sites, including findmypast and MyHeritage, to grant its users access to more information for free. It signed a $60 million deal with Ancestry.com in September.
×
Photos
Related Links