Estimated read time: 3-4 minutes
This archived news story is available only for your personal, non-commercial use. Information in the story may be outdated or superseded by additional information. Reading or replaying the story in its archived form does not constitute a republication of the story.
SOUTH JORDAN — Bringing home a second baby was different than the first time for Tiana Van Dyke.
She had a better understanding of how to meet little Ander's many needs.
But also as a new mom for the second time, Van Dyke realized that some things never change. She was still anxious about taking her newborn out of the house for the first time.
"When you first go, you're frazzled taking him out," the 29-year-old mother of two boys said Wednesday. "Even going to the doctor, you worry about him getting sick from other kids or waiting in the waiting room with a 2-year-old running around."
Also, she said it is hard to know when to set the appointment, as new babies tend to make their own schedules at first.
The potential ordeal got a lot easier for the family when staff at the University of Utah Health Care South Jordan Health Clinic suggested a home visit for the baby — at least for the first wellness check of his life.
"When someone comes to your home, you feel more connected," Van Dyke said. "They know where you live, they can see how you live. They know more about you. It's more intimate."
Dr. Amy Williams, the pediatrician who examined Ander a month ago and again on Thursday, said home visits (available only in South Jordan for now) are a way to personalize medical care and make it more accessible for patients.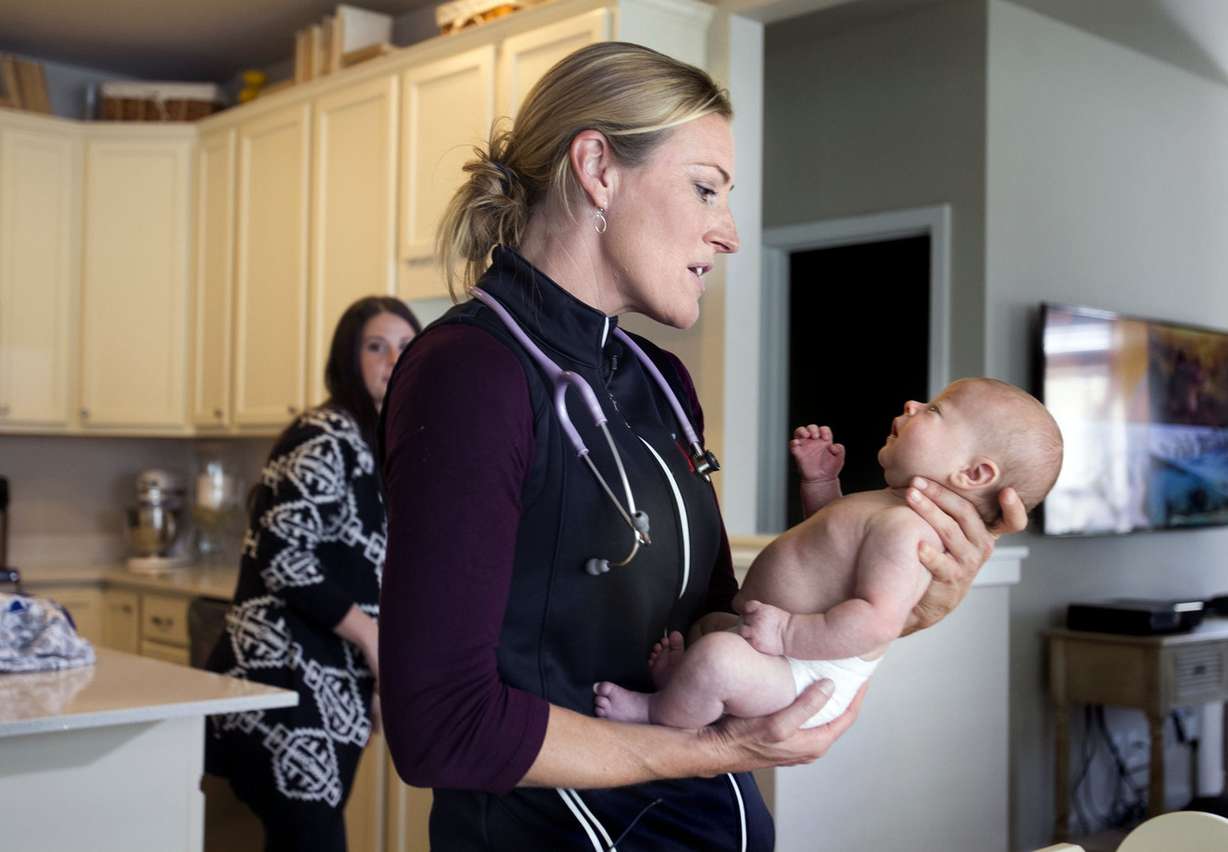 "Health care is changing, and we're noticing that quality of care is as important as the quantity of patients that we're seeing," she said. "If we can provide services that are convenient to patients and the community — including going into the home, email visits and being able to email your doctor anytime, and conducting e-visits with your doctor online — all of that is adjusting to the needs of the community as well as adapting to the times."
Williams said a home visit suits the first newborn appointment well, as the family is transitioning from a stay in the hospital.
Babies, she said, aren't yet immunized, and letting them stay in their homes helps to alleviate the risk of infection.
"It's more comfortable at home as well," Williams said.
A medical assistant accompanied the doctor to the Van Dykes' home visit, bringing along any equipment they might need, including a laptop computer that carries the patient's medical records. For a newborn exam, the doctor weighs, measures and checks the baby, and may occasionally draw blood, if necessary.
The clinic serves patients within a 5-mile radius, including communities in South Jordan, West Jordan and Herriman for the time being. University Health Care plans to expand the program to other clinics, allowing home visits in more areas of the Wasatch Front.
The services for home visits don't cost extra, and what happens during the home visit is practically identical to what occurs in an exam room at a doctor's office, Williams said.
"It provides better access, less stress on families and an opportunity for providers to work directly in a family's home, where they may be more relaxed to bring up questions and concerns," she said, adding that she hopes the idea will grow to include patients with chronic illnesses, who maybe aren't well enough to leave their homes, and other circumstances.
For more information, or to schedule a home visit for a newborn within the prescribed range, visit http://homevisit.uofuhealth.org or call 801-213-4500.
And while 5-week-old Ander, who arrived a week early in August, is learning to live with his big brother, Sorence, he also has an established pediatrician who knows a little bit more about life at home. Email: wleonard@deseretnews.com Twitter: wendyleonards
×
Photos
Related links
Most recent Utah stories