Estimated read time: 3-4 minutes
This archived news story is available only for your personal, non-commercial use. Information in the story may be outdated or superseded by additional information. Reading or replaying the story in its archived form does not constitute a republication of the story.
SALT LAKE CITY — When Amanda Nelsen's shoes and rings stopped fitting, she thought it was just because she was pregnant during the hot summer months.
In actuality, a brain tumor was stimulating her human growth hormone, causing her hands, feet, jaw and skull to grow. It became evident that something out of the ordinary might be happening when at 36 weeks pregnant with her first child, the vision in her left eye suddenly became foggy.
"Out of the whole pregnancy there were only six days where I didn't throw up or have a migraine," Nelsen said. "Doctors kept telling me, 'Well, it's kind of unusual, but this sometimes happens to pregnant women.'"
An opthamologist sent her to get an MRI and she was diagnosed with a non-cancerous tumor called a Rathke's Cleft Cyst. Early the next morning, she got a call from the hospital telling her to come into the emergency room immediately because the tumor was life-threatening.
Doctors were concerned because her loss of vision was caused by the tumor hemorrhaging and they were worried it would hemorrhage further or burst, according to Nelsen. However, the surgery was delayed because she needed to have the baby first.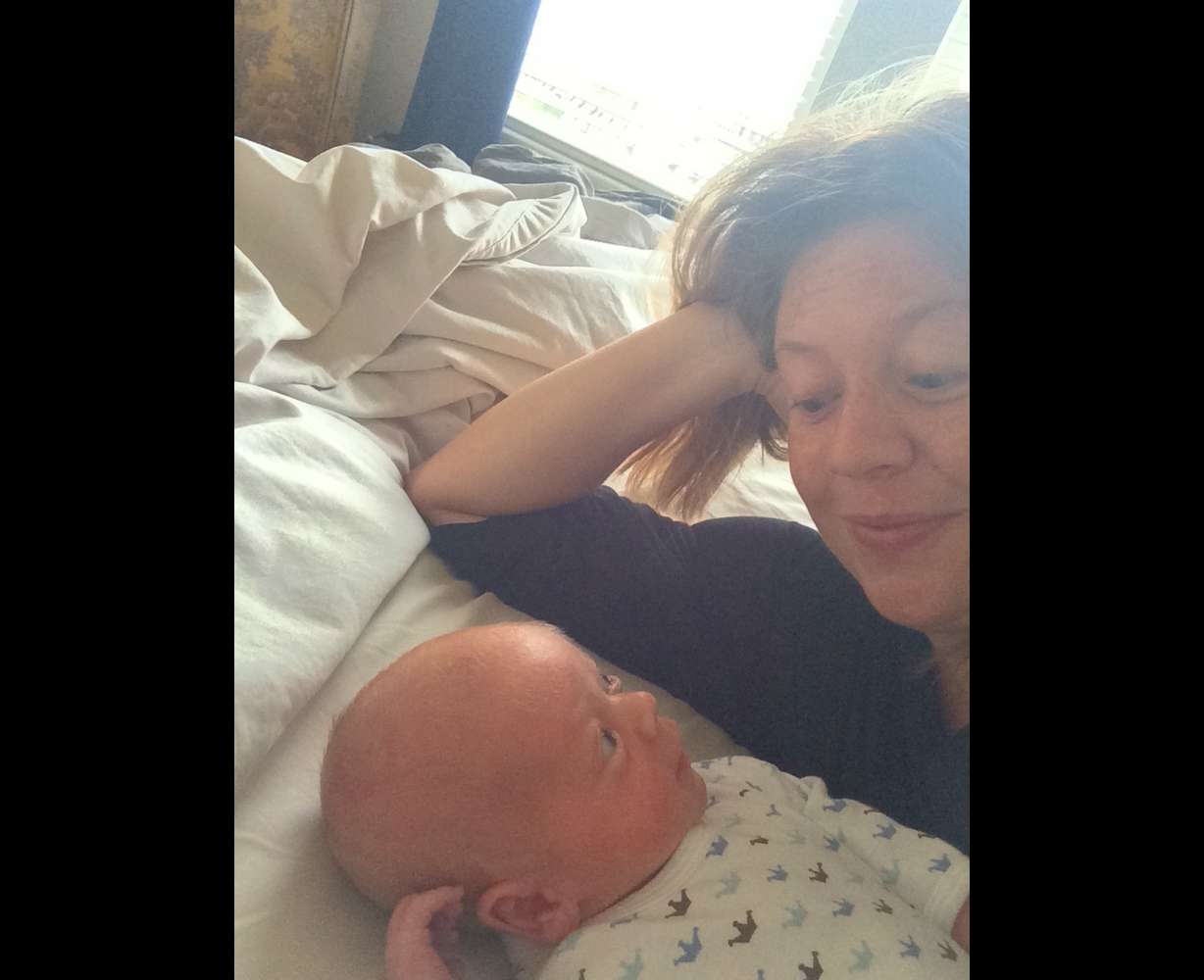 After an attempt to induce Nelsen was unsuccessful, she had an emergency C-section July 28 at at 4:30 a.m. Less than 48 hours later, she had brain surgery through her nose.
"It was very odd timing," she said. "Everyone was very surprised we were even pregnant. These types of tumors usually stimulate your hormones so you can't get pregnant."
Nelsen was in the hospital for a total of 10 days. Her baby boy, Zeke, came home with Nelsen's mother while her husband stayed with her at the hospital. She said the hardest part of the ordeal was that her son wasn't allowed into the ICU, so she couldn't hold him or see him.
"He was totally healthy and luckily didn't have any problems with him," she said. "He was discharged from the hospital before I was."
Two weeks after the surgery, Nelsen celebrated her 32nd birthday. She said the first four weeks were especially rough because she was exhausted and prohibited from lifting anything, but her mother and husband took care of tasks around the house and feeding. Now, she is feeling a lot better.
Nelsen will need to buy larger shoes, have her rings resized and potentially get braces again, but her vision has returned to normal. She wrote about her experiences on a blog she maintains to keep in touch with friends and family.
"It was definitely a crazy time in our lives," she said. "We were asking my neurosurgeon about the chances of things going wrong during labor and he said, 'I can't give you very much information because there aren't cases like you. There is no literature on this cyst in a pregnant person.' I guess I'm a pretty unique case."
×
Photos
Related links
Most recent Utah stories