Estimated read time: 3-4 minutes
This archived news story is available only for your personal, non-commercial use. Information in the story may be outdated or superseded by additional information. Reading or replaying the story in its archived form does not constitute a republication of the story.
Three Brigham Young University students are releasing a new mobile app, SWOP, which aims to make it easier for people to connect across major social media platforms.
While business cards used to share all potential channels of correspondence, exchanging contact information has become more difficult as social media has created new methods of communicating. Mitch Fultz, SWOP's CEO, calls the app a "21st-century way for people to connect with one another across all of their social media platforms ... with just a few swipes of their phone."
Fultz, along with friends and fellow BYU students Jameson Gardner and Sean O'Rourke, believe that SWOP will close the technology gap that currently exists in contact information-sharing by allowing two individuals to exchange their full social-networking information easily and instantaneously.
"This is how we stay connected to each other now," Gardner said of social media, adding that "the days of just exchanging cell phone numbers are over."
Using geo-spatial technology available with mobile devices, SWOP allows users to build a profile linking their phone, email, Facebook, Twitter and Instagram accounts and later share that information with other users within a designated radius. Shared contact information is uploaded into a phone's contact list, and any later updates to phone numbers or social media accounts are automatically updated with connections.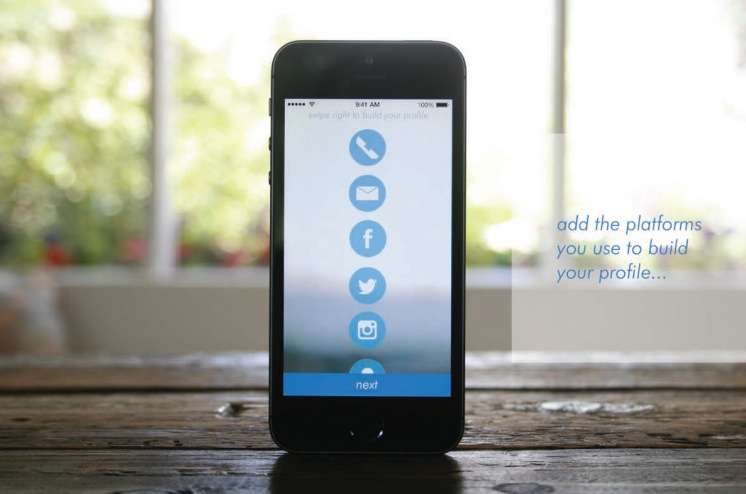 It's a 21st-century version of scrawling down phone numbers on a piece of scratch paper, according to Fultz.
"If I'm adding a new friend on Facebook, then I probably want to follow her on Twitter and Instagram, too," he said. "Why would I want to manually type in all of her user information separately on each platform?"
Featuring a sleek, intuitive design and secure data storage, the app picks up where other e-business card applications leave off, particularly in the realm of control. Users can determine what information they want to share with whom and can toggle their geo-spatial search availability.
To kick off the launch of SWOP, a series of debut parties will be held in college towns across the United States, including a Crimson Nights Concert at the University of Utah, where the DJ Kaskade will promote the app. This multi-phase, weeks-long campaign at college campus parties, concerts and other youth-oriented events are drawing a crowd of celebrities, including pro football Hall of Famer Steve Young, DJ Marcus Wing and rapper Sammy Adams.
The founders of SWOP, who have been mentored by Harvard Business School professor Clayton Christensen and Tether founder Stanley Hainsworth, are confident that the app will change how individuals exchange contact information.
"We fully believe SWOP will go viral among smartphone users because it's so easy, safe and convenient to use," O'Rourke said.
Early testers of the iPhone and Android app have lauded it as a straightforward system that enhances online and in-person social experiences.
The SWOP-sponsored Crimson Nights Concert will be held Oct. 24, 9 p.m., at the University of Utah Student Union Building and quad. Admission is free for University of Utah students, and others with a student ID may also attend for a fee. Jennifer Ball is a freelance journalist out of Los Angeles, specializing in food criticism and LDS media.
×
Photos
Related links
Most recent Utah stories