Estimated read time: 3-4 minutes
This archived news story is available only for your personal, non-commercial use. Information in the story may be outdated or superseded by additional information. Reading or replaying the story in its archived form does not constitute a republication of the story.
SANDY — Real Salt Lake could've hung its head after conceding the first goal to Colorado in the 21st minute of the clubs' final Rocky Mountain Cup meeting Friday night.
The team has done it before this season, much to head coach Jeff Cassar's chagrin.
Instead, it responded with a special player having another special night in what is turning into a special year.
Joao Plata's goal in the 32nd minute opened up a tidal wave, and RSL (13-6-10, 49 points) ran on to a rout over rival Colorado in a 5-1 win in front of 20,692 fans at Rio Tinto Stadium.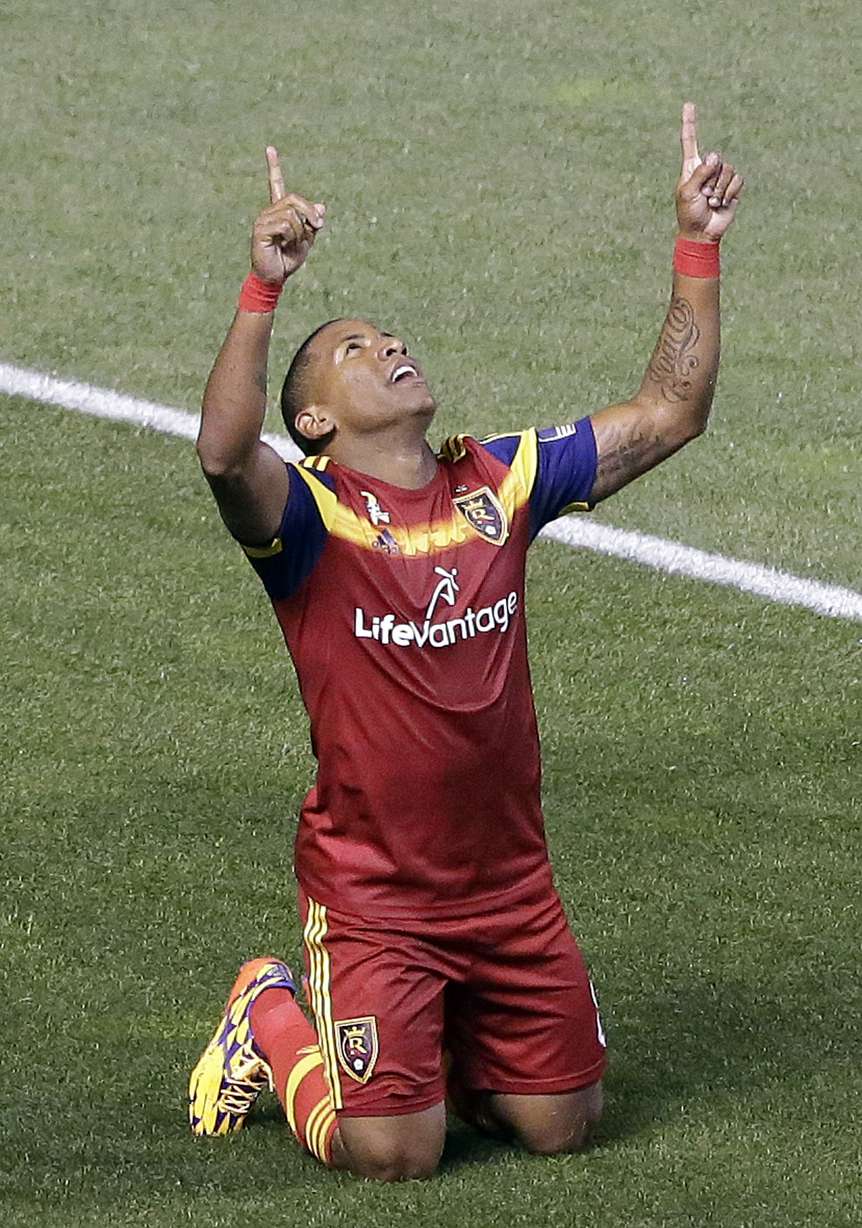 "He's our best player," said midfielder Ned Grabavoy, whose back-heel pass sprung Plata's goal that saw him split two defenders before beating goalkeeper Joe Nasco inside the far post. "He's our best soccer player. I think everybody probably has a different view of what (best soccer player) means, but he's our best soccer player. What else can I say?"
Plata, who has a team-high 13 goals along with five assists on the year, has been having a breakout season in his second year after coming to the Wasatch Front via a trade with Toronto FC. He has RSL once again on the verge of a berth in the MLS Cup playoffs, needing only a win or draw at Vancouver this week to clinch passage.
And even on a night when the Rapids (8-14-7, 31 points) surprisingly outshot their Western Conference neighbors, 15-13, and took a 1-0 lead behind Jose Mari's 21st-minute strike, there was no stopping the Ecuadorian wunderkind.
After Javier Morales bent in a goal from the corner flag to put Real Salt Lake in front for good and defender Chris Schuler bruised into the box for a goal in the 37th minute, Plata wasn't done scoring. The 5-foot-2, 135-pound striker ran right at Nasco and the Colorado defense, forcing a touch on the ball that deflected off one defender and struck Nasco in the inside of his foot for an own goal that gave RSL a 4-1 halftime lead.
RSL had three substitutions remaining after that point, but there seemed to be little sign of the team pulling its "best player." Aaron Maund replaced Schuler, Robbie Findley replaced Sebastian Jaime in the latter's debut MLS start, and Luis Gil came on for Grabavoy — but Plata stayed in the game despite racking up more than 1,600 minutes of action on the season.
It turns out, Plata is just that kind of player.
"He's been fantastic all year, quality all year," RSL coach Jeff Cassar said of Plata. "It was a great build-up, great combination play. It was fun to watch at the end of the day. I really enjoyed watching that, and I think all of our goals tonight were very high quality. We put so much aggression on."
Every player on the field began clicking like Plata, according to Cassar. Though he wouldn't use words like "best" to describe any player, he acknowledged that the team was playing up to its talent potential as the Friday night rout rolled on.
"With those players on the field and their quality, it can happen," Cassar said. "It doesn't happen often. But with this group, they are very capable of doing that. I really like the aggression we had in there."
×
Related stories
Most recent Sports stories