Estimated read time: 3-4 minutes
This archived news story is available only for your personal, non-commercial use. Information in the story may be outdated or superseded by additional information. Reading or replaying the story in its archived form does not constitute a republication of the story.
PROVO — Madie Lyons knew she was due for a goal.
Even she couldn't have dreamed of a better way it would come, though.
The BYU freshman forward, who turned 19 on Thursday, ripped a ball from distance for a goal to give BYU a 2-1 win over Oregon in front of 3,871 fans at South Field.
Lyons, the granddaughter of former BYU quarterback and KSL/IMG Sports broadcaster Marc Lyons, turned from outside the box after teammate Marissa Nimmer had just taken back-to-back corner kicks with the score tied at a goal apiece. But Madie Lyons didn't give up on the play, taking a quick touch and ripping a shot that dipped inside the top corner past Oregon goalkeeper Abby Steele.
"It couldn't really get any better," Lyons said. "I actually visualized it in my head. That's my sweet spot, so it couldn't have been any better.
"I think I have a better long shot than anything. That left corner, just right off it; I felt like it was a perfect opportunity for me."
Allie Rodriguez gave the Ducks (4-3-1) the early lead that would stand up through halftime, flicking a shot after a corner kick past BYU goalkeeper Kat Snyder despite BYU (3-3-2) outshooting its Pac-12 opponent, 8-5.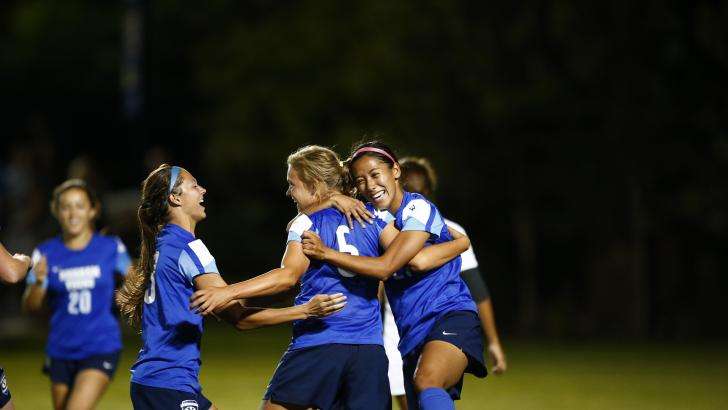 But something clicked in the second half, when the Cougars outshot the Ducks, 8-3.
"It was a very huge win against a great opponent," said BYU coach Jennifer Rockwood, whose team won two in a row after a 2-0 win over No. 23 Long Beach State on Saturday. "Oregon is a very good team; very fast and dangerous. The girls battled back in the second half, and they gave it everything they had. I thought we had great play from all of our players, and obviously from Nimmer. She certainly changed the momentum."
Lyons came on as one of the first subs, and she made an immediate impact, tying Nimmer and Ashley Hatch for the team lead with three shots, and leading all players with two shots on goal.
"Madie has had a fantastic two weeks of practice, and we told her she'd be one of the first subs in the game," Rockwood said of the freshman. "She's been playing well. Not only did she score a fantastic goal, but she kept Oregon on their heels in those last 15 minutes."
Nimmer tied the game on a penalty kick only five minutes after halftime. Ashley Hatch drew a foul in the box as she was dispossessed via a takedown on the right edge of the 18-yard box, and Nimmer wasted little time in stepping up before putting a left-footed shot past the keeper.
"I've done it before, and I just knew it was going to go in," Nimmer said. "I think it gave us momentum. Ashley did a great job of winning that PK; she's so good. It was fun to be able to convert from the spot."
Nadia Gomes nearly added a third for BYU on a late counterattack, but her low shot ricocheted off the near post in the 86th minute. She was then called offside a minute later on another counter as she used her pace to test the Oregon back line.
Snyder made two saves in a complete-game effort as BYU's defense made the final score hold up for the win
"This was a dream come true," Lyons said. "The crowd was great."
×
Photos
Related stories
Most recent Sports stories