Estimated read time: 3-4 minutes
This archived news story is available only for your personal, non-commercial use. Information in the story may be outdated or superseded by additional information. Reading or replaying the story in its archived form does not constitute a republication of the story.
SALT LAKE CITY — With all of the time-saving technology we have today, many people simply don't write letters as often as they used to. But seven decades ago, when American troops were at war half a world away, mail call was a highlight of their day.
Mail call is also an emotional part of every Utah Honor Flight that takes Utah World War II veterans to the memorial dedicated to their sacrifices in Washington, D.C.
During each Utah Honor Flight, while the veterans are in the air, organizers surprise them with mail call, delivering letters from the veterans' children and grandchildren. They also share letters written by students from Utah schools.
On Tuesday, several students from Judge Memorial Catholic High School delivered more than 700 hand-written letters for the veterans of the Utah Honor Flight. Recently, the whole school dedicated an assembly to honoring the veterans and writing the letters.
"You willingly paid the price for our freedom, and your service resounds throughout the entire country," one letter said. "Your sacrifice will never be forgotten."
Another student wrote: "Your sacrifice and dedication to our country is what shapes our lives today. Your work is beyond that which we can even begin to thank you for."
"When we take the time to write a letter to a veteran, it gives us the option to think about all of the things that we have, thanks to them," said Caroline Holyoak, a senior at Judge Memorial.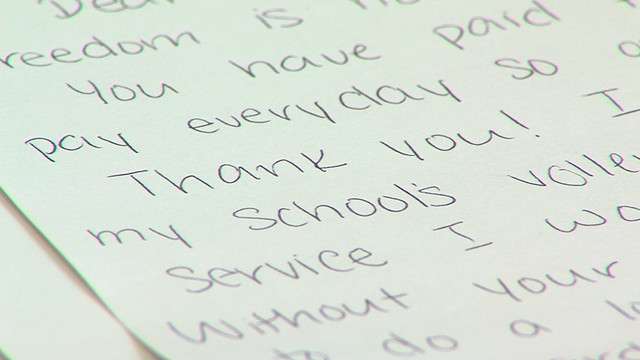 During the veterans assembly, Judge Memorial students heard the personal stories of two veterans and saw a documentary detailing the mission of Honor Flight.
Many of the students have grandparents who fought in World War II. They've studied World War II in the classroom, but writing letters of thanks made it personal.
"I take for granted being a citizen of the U.S," another of the students wrote. "I just hope one day I can have that extraordinary braveness you showed fighting to protect our freedoms."
"I think a lot of us know that our veterans have gone through a lot," said Yahya Yussuf, a junior, "but we don't really actually talk about it as much as we should."
"I don't think you really understand exactly how much they've done, until you take the time to actually personally thank them," said Tanner Larson, a junior.
The 16- and 17-year-olds are not much younger than the veterans were when they went to war. When the students consider that, it deepens their appreciation.
"It's pretty incredible," Larson said. "It would be scary just leaving your family."
They admire that bravery.
"For most of us, our biggest concern is our Calc (calculus) homework, and we don't think about what it would be like to go over to another country, and every day wonder if you're going to live," said Holyoak.
For that, they are grateful.
"You are a hero of the biggest proportions," another letter said. "What you did to save not only those you loved, but also all of the people you didn't even know, was a true sacrifice."
×
Photos
Related links
Most recent Utah stories