Estimated read time: 6-7 minutes
This archived news story is available only for your personal, non-commercial use. Information in the story may be outdated or superseded by additional information. Reading or replaying the story in its archived form does not constitute a republication of the story.
This story is sponsored by Ogden Clinic. Visit the Ogden Clinic website or call 801-475-3240 for more information or to schedule a consultation. We are happy to answer any additional questions you may have
Becoming a mom is an exciting time, but it can also be daunting…especially if you are expecting your first child. As an OBGYN I see many new patients who all have similar questions and concerns. If you are expecting (or may soon be) here are some helpful answers to the top questions I hear from patients at Ogden Clinic's Women's Center:
1. When can an at-home-pregnancy test detect that you are pregnant?
A pregnancy test, whether done at home or in the doctor's office, measures the hormone hCG (human chorionic gonadotropin) in your urine. This hormone becomes elevated during pregnancy and can be detected as early as the first day after a missed period if you do the test correctly. However, it is likely to be more accurate if you wait a few days or weeks after a missed period.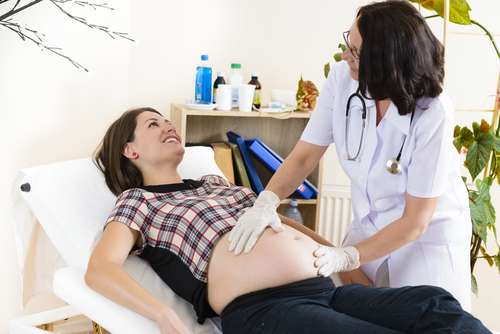 2. How soon should I make an appointment to see my doctor?
If you have any medical concerns, such as high blood pressure, diabetes, or thyroid disease, it is best if you see your doctor before trying for baby. Your physician can help ensure your body is ready for the stress it will endure during a pregnancy.
Your physician will also work with you to change any medications necessary so that you are only using medications that have proven to be safe in pregnancy. If you miss the opportunity to see your doctor before finding out you are pregnant, call as soon as possible.
Depending on the office they may set you up your first appointment right away or wait until you around 6 weeks. If you feel like you need to be seen sooner just ask your doctor.
3. What should I do once I find out I'm pregnant?
The most important thing you can do is begin taking prenatal vitamins. In fact, if you are planning to become pregnant it is smart to start taking prenatal vitamins now.
Prenatal vitamins contain important nutrients (i.e. folic acid) that can help with the early development of your baby. You should also start avoiding alcohol, tobacco, or other things that may be harmful to your baby.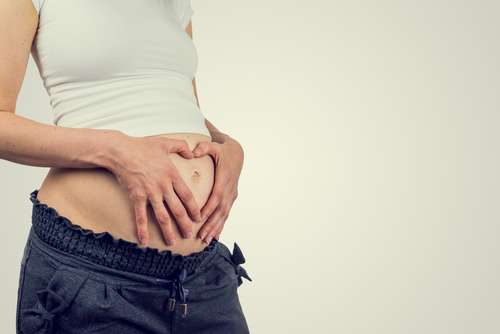 4. When will I start to show?
This depends on the woman, her build, and how many children you've had. Women will normally begin to show between 12 and 16 weeks. Women tend to show a little later with the first pregnancy and a little earlier with each subsequent pregnancy. Don't worry if your body reacts differently than others. As long as you are eating right and staying active you should be in good shape.
5. When will I start feeling the baby move?
Feeling the baby move for the first time can be one of the most enjoyable and reassuring events for a pregnant woman. This first feeling of fetal movement is termed quickening. For most women quickening occurs between 16 and 22 weeks. You should notify your doctor if you haven't felt the baby move by 24 weeks.
6. How much weight should a woman gain during pregnancy?
How much weight you should gain depends on how much you weighed before you were pregnant and how appropriate that weight was for your given height. This is calculated as your "Body Mass Index" or BMI. If you were a healthy weight (BMI 18.5- 24.9) then it is recommended you gain between 25-35 pounds.
If you were underweight (BMI 30) then you should gain 11-20 pounds.
7. What foods can I eat and which should pregnant woman avoid? Why?
If you are actively trying to live a healthy lifestyle you shouldn't need to make many changes to your diet. A diet rich in fruits and vegetables is recommended for all women, and the same goes for expectant moms.
Typically, foods that should be avoided include raw or undercooked fish, fish that could contain high amounts of mercury (i.e. shark, king mackerel, or tilefish). Also, limit consumption of canned tuna to one serving per week.
Pregnant women can (and should!) eat up to two servings per week of fish with low levels of mercury (i.e. salmon, trout, or shrimp). Stay away from raw, undercooked, or refrigerated meat such as deli meat, unless first heated. You should also avoid undercooked eggs or dishes that may contain raw eggs such as cookie dough, and never eat unpasteurized soft cheeses (i.e. brie, feta, or bleu cheese).
Drinks that should be avoided include alcohol, unpasteurized milk, and more than 12 oz of coffee per day. Always remember to drink plenty of water throughout your pregnancy.
#exercise
8. Is it safe to exercise while pregnant?
Yes, in fact staying active during your pregnancy is important. It is recommended that pregnant women exercise 30 minutes a day. Safe exercises include walking or jogging, aerobics, yoga, swimming, or dancing.
Women who are active tend to limit some of the unnecessary weight gain and have an easier time getting back to their pre-pregnancy form. Exercise also improves mood and sleep, strengthens important muscles for labor and helps limit some of the normal aches and pains.
9. What can I do to curb morning sickness?
For women who experience nausea in pregnancy, almost nothing can be worse. The bad news is, morning sickness can strike any time—day or night. Some simple remedies may include avoiding an empty stomach.
Eat small meals throughout the day, from early in the morning until before bed. Focus on eating foods high in protein and complex carbohydrates. Avoid foods and smells that make you queasy.
Minimize your amount of stress as this can exacerbate the nausea. Drink plenty of fluids as vomiting can lead to dehydration. Continue to take your prenatal vitamin to compensate for any lost nutrients. If nothing seems to help, consult with your doctor about trying a prescription medication.
10. What are the steps to making a birth plan with my provider?
The key to making a birth plan is to communicate. If there are certain things you would like to have done or avoided in labor, communicate this to your doctor. Remember that bringing this child into your family should be one of the most special experiences of your life and your healthcare provider will want to work with you to make it beautiful and memorable.
If you are pregnant or thinking about starting your family, Ogden Clinic Women's Center is a wonderful resource. With two locations, 13 providers and the ability to deliver your baby at McKay-Dee or Ogden Regional Medical Center, Ogden Clinic Women's Center is the place of choice for women in Northern Utah. Visit our website or give us a call today to schedule an appointment.
×
Most recent Utah stories