Estimated read time: 4-5 minutes
This archived news story is available only for your personal, non-commercial use. Information in the story may be outdated or superseded by additional information. Reading or replaying the story in its archived form does not constitute a republication of the story.
GILBERT, Ariz. — Former BYU quarterback Max Hall was arrested Saturday for allegedly shoplifting and for drug possession.
Hall, 28, was arrested Saturday night at a Best Buy store in Gilbert, Arizona, located at 2288 E. Williams Field Rd., according to Sgt. Jesse Sanger of the Gilbert Police Department.
Police were called to the Best Buy after employees saw Hall taking items out of their packaging, putting them in his bag and hiding the empty boxes, according to a police report. Store security personnel held Hall until the police arrived. When officers approached, Hall immediately apologized and "cooperated."
"I'm really sorry, I'll pay for the stuff. If I get arrested, I'll get fired. I've never done this before," Hall is quoted in the police report.
Officers searched Hall's backpack and found several stolen items from Best Buy, including "cell phone cases, phone charges" and other small electronic items each worth about $30 to $40, in addition to items from a nearby Wal-Mart, Sanger said. In total, the items were worth about $286, the report states.
Officers also found two hypodermic needles, a metal spoon, a lighter and a "personal-use quantity of cocaine" stored in a pill bottle, Sanger said. Hall told the officers he injected himself with the cocaine that morning near the elbow, according to the report.
Hall was arrested on suspicion of shoplifting and possession of narcotic drugs. He was photographed, fingerprinted and was released shortly after per department policy. No charges have been filed against Hall, but he could face misdemeanor shoplifting charges and a felony drug charge.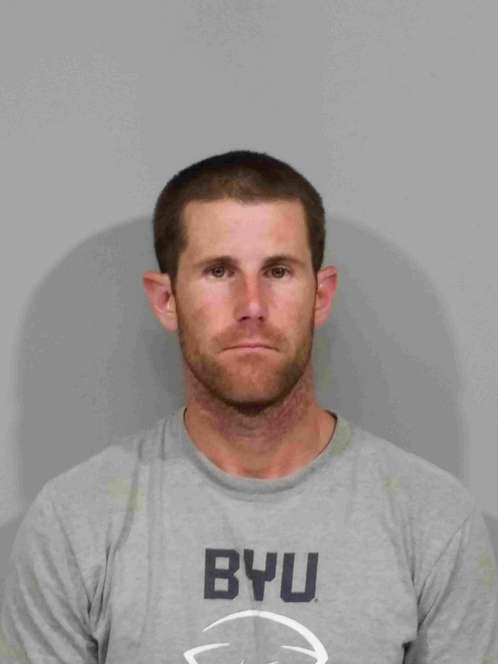 "The county attorney will look at the case, decide to go forward with charging or not," Sanger said. "They can change them, they can drop them, they can go forward with them. They're the charging agency."
A storied career
Hall has made headlines off the field before. Following his final game on the Cougars' field in 2009, Hall gave an infamous interview blasting the University of Utah and its fans, apparently fueled by bad feelings from the year before when Hall said his family was mistreated by Ute fans at Rice-Eccles Stadium.
Hall called the Utes "classless," going on to say, "I hate them, I hate everything about them."
He later apologized and was reprimanded by the Mountain West Conference.
Most recently Hall has been coaching as the Gilbert High School's offensive coordinator, a post he took after being cut from the the CFL's Winnipeg Blue Bombers in June. A spokesman for Gilbert Public Schools said the school district is aware of Hall's arrest and is preparing to respond.
"We take these allegations very seriously and will respond expeditiously. We continue to gather information from the police at this time and will respond in the best interest of our students," chief of staff Alex Nardone said Tuesday.
An Arizona native, Hall transferred to BYU in 2005 from Arizona State where his famous uncle Danny White played before his NFL career with the Dallas Cowboys. He arrived in Provo following an abbreviated LDS mission to Des Moines, Iowa, and immediately redshirted before replacing John Beck, who also attended Mesa Mountain View High in Arizona.
Hall's BYU career included LaVell Edwards Stadium and Mountain West Conference records and he surpassed Ty Detmer (29) with most wins as a Cougar quarterback (32) when his career ended in 2009.
Hall's records on BYU's home field included a tie for most touchdown passes (7) against UCLA in 2008. He had six touchdown passes in the first half of that game, also a stadium record.
His finest season came as a senior when he led the Cougars to a win over No. 3 Oklahoma on a neutral field in Arlington, Texas. That year the Cougars finished 11-2 with wins over three ranked teams and ended up ranked No. 12 nationally.
Hall was signed by the Arizona Cardinals in 2010 as an undrafted free agent, where he played six games.
Contributing: Andrew Adams, Dick Harmon, Paul Nelson
×
Photos
Most recent Utah stories