PROVO — Kylee Schraft has a passion for everything outdoors. She loves to zip through the sky, paddle down the river and ride horses in the mountains.
"Ever since I was little I just always wanted to be outdoors," Schraft said. "I love to ride horses, four-wheelers, anything to keep me going. I can't sit around too long."
Schraft is an optimistic, happy person. She's always in motion — going from one adventure to the next — but this really shouldn't be happening.
Two years ago, Schraft was in a terrible snowboarding accident. She caught an edge while taking a jump and slammed down hard on the ice. The impact broke her back in five places. She had to be airlifted to the hospital where her prognosis wasn't good. After many tests and examinations, she was told she would never walk again.
Schraft said it was a dark time in her life.
"I just said why couldn't I have just died. It's not worth it," she said. "I'm not going to be the same Kylee in a wheelchair."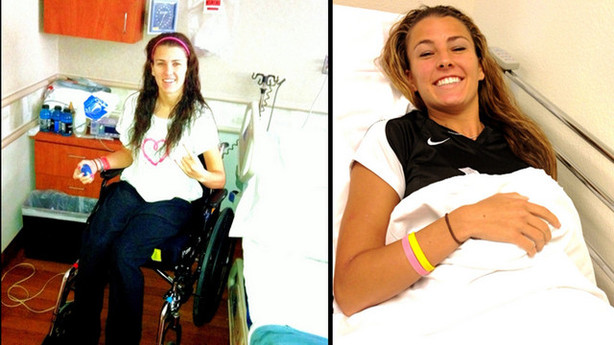 But eventually her perspective changed and she began to find healing.
"At first I kind of blamed God for it all happening, and then I had a turning point and I said if this is going to be the new me, I'm going to be the best me I can be," Schraft said.
She began learning to live life from a wheelchair but always held on to a hope that one day she would walk again.
"I was on the parallel bars one day and I was impressed to put a step forward and I actually held myself for about half a second, then I fell. Right then and there I knew that I was going to walk again," she said.
"It was really hard because I still had no feeling. But my legs could hold my body weight. When I got the hang of walking, my feet turned in and it was practically impossible to get them to turn out, but I was just so determined to push past the pain and just go."
And go she has. After several months of hard work she was walking, driving, even hiking again. And now, two years after her accident, she has a most unlikely summer job — working as a zip line operator on a ranch in Provo Canyon.
Ranch owner Steve Ault knew she was a good fit for the job the minute he met her.
"She appreciates every moment of life with a zest, and that's just unusual," Ault said.
Schraft said the best thing about her job is being outdoors and helping others enjoy it too.
"Really, since my accident, I live every day enjoying life because it only takes a second for it to go away," she said.
Video Contributor: Carole Mikita
×
Photos