Editor's note: The following is the first in a series of tailgating articles that will be posting weekly throughout the football season.
SALT LAKE CITY — After 12 years of tailgating, there are definitely moments where we wonder how we managed to find ourselves engaged in a particular activity. In this case, it's carving up a 13-pound beef round, wrapping the pieces in a nicely woven mesh of bacon, and submerging them in a soy-Worchester marinade where they'll rest for the next 24 hours.
It seems like a lot of work, especially when you consider we'll be up before the sun Thursday readying our well-seasoned smoker (meaning it looks like it was hit by a bus which, come to think of it, it actually was) and nestling these bacon-wrapped creations next to a couple of eight-pound briskets.
This will be followed by five hours of carefully monitoring the temperature and smoke that will transform them into pure culinary magic. All so we can give it away to a bunch of our friends, family and a few total strangers.
Sounds exhausting, but it's something we've done with a smile on our faces for over a decade, tailgating Utah Pig Bus style before every University of Utah home game of the football season. Many question the sanity of people (us) who tailgate and wonder what type of warped individuals would go through the trouble of dragging an entire kitchen/backyard/garage to a parking lot, so they can do some asphalt camping before a football game. But sideway snow, rain, sleet, hurricanes and annoying Arizona State fans have never managed to keep us from our task.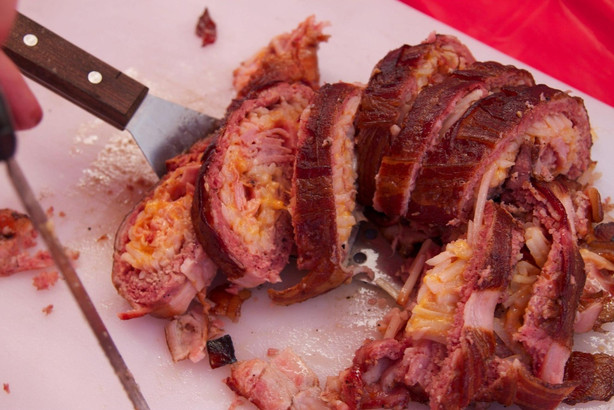 As other Utah college and university fans begin to discover the joys of tailgating, we've been asked a lot how we started and what we did to grow into one of the oldest and largest tailgates in the Western U.S. So we're here to give some advice from the perspective of a couple of seasoned tailgating veterans and offer our take on tailgating to the adventurous who want to join the revelry and tradition of the tailgating culture.
We don't presume to be the absolute and only experts on everything tailgating — there are men, women and some children with more seasons and seasonings under (and over) their belts than we have. But we've been around the tailgating block enough times to offer some advice, know-how, and help you learn from our (many) mistakes.
So here's a list of advice on getting started:
Make a day of it — A bucket of fast-food chicken and soda 20 minutes before the game on the hood of your car isn't tailgating. The whole point of tailgating is to build excitement for the game and spending time with your friends and family. Get there early and spend some quality time with those you love most.
Find a spot — The university allows tailgating in many areas on campus. Don't let the lack of available passes in a tailgate lot deter you. Find a spot and make it your own, and keep it clean so they'll let you keep coming back!
Keep it simple, to start — We didn't start with a tricked-out school bus and every cooking apparatus known to modern civilization, that happened over time. We started with a pop-up shade structure, a cooler and a grill full of burgers and dogs. Start there and let the experience evolve.
Make new friends — That's what tailgating's all about. Share food with your neighbors and make a point of getting to know them. You'll be surprised at just how many of those people you see only six times a year become life-long friends.
Be an ambassador to your school — We've visited tailgates all across the country and there's nothing as amazing as being welcomed in with open arms. Do the same for visiting fans and show them why Utah is known as one of the friendliest places on earth!
We hope that gives you some insight into our tailgate experience, and we hope you try it out yourselves. We'll be writing more about tailgating as the season rolls on, and we'd love to answer any questions you might have. Visit www.utahpigbus.com for more info or follow us on Twitter, Instagram or Facebook!
Welby Evangelista (@utahpigbus) and Ryan Lufkin (@ryanLufkin)
Menu note — You may not be as into weaving and wrapping things in bacon as we are, but you can definitely tackle a nice sized brisket. Buy a 4-5 pound brisket, then combine the following ingredients in a bowl and rub evenly over the brisket:
2 tablespoons salt
2 tablespoons brown sugar
1 tablespoon chili powder
1 tablespoon garlic powder
1 tablespoon onion powder
1 tablespoon ground black pepper
2 teaspoons mustard powder
Place the brisket in a roasting pan with 2 cups of water and roast, uncovered, for 1 hour. At that point cover the pan with tinfoil, lower the oven to 300 degrees and continue cooking for 3 hours, or until the meat easily splits. Slice into quarter inch strips and serve!


---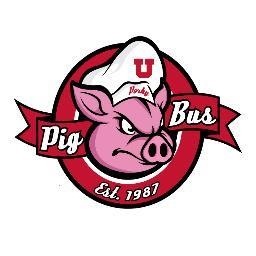 About the Authors: Welby Evangelista and Ryan Lufkin
Welby Evangelista and Ryan Lufkin are the founders of The Utah Pig Bus crew, one of the oldest and most celebrated tailgate crews at the University of Utah.
×
Photos
Related Links