This archived news story is available only for your personal, non-commercial use. Information in the story may be outdated or superseded by additional information. Reading or replaying the story in its archived form does not constitute a republication of the story.
SALT LAKE CITY — Jasen David Frank was looking for a truly nerdy way to spend his birthday. He chose Salt Lake Comic Con.
Beloved by '90s kids everywhere for his role as the green Power Ranger on the original "Mighty Morphin Power Rangers" series, Frank now spends much of his time at comic book and pop culture conventions around the country. After his first appearance in Utah, Salt Lake Comic Con is now one of his favorites.
"When they asked me about this, this was definitely off my schedule. … But it's stress free and it's my birthday weekend. Why not go to Salt Lake City and spend it with the fans?" said Frank, who is planning an interactive karate class and taping the season finale of his reality TV show, "My Morphin Life," while he's in Utah.
Frank joins a growing list of celebrity guests who appeared at one of the first two Salt Lake Comic Con events and are now anxious to return as Utah's capital city becomes an increasingly popular nerd destination.
After attending April's FanX, Frank credits Salt Lake Comic Con founder Dan Farr and other organizers with bringing a quality convention to an eager audience.
"(Farr) has definitely made waves and sent a message out to every big promoter there is to say, 'Hey, I can do a show. Salt Lake City embraces it, and we know what to give our fans,'" Frank said. "He has definitely proven himself."
Farr says Utahns are an ideal audience for a convention celebrating heroes.
"People of Salt Lake and surrounding areas have been drawn to entertainment based on good overcoming evil. We love heroes. We love saving the underdog," he said.
Something for everyone
Also returning this fall are Salt Lake Comic Con fans, an estimated 120,000 of them, who are expected to make the Sept. 4-6 event the largest so far. Word has spread about the growing convention, drawing attention from national media and the ire of San Diego Comic-Con.
After hearing about Salt Lake event, Allen Forte and his friends planned a road trip from their homes in Southern California.
"This was not a cheap or easy decision for us, as the drive is roughly 10 hours and the cost is a week worth of work," Forte said. "Yet we collectively choose Salt Lake Comic Con because of its awesome list of guests. We compared the guest list to that of near by conventions, and although we live in one of the most lively areas of events, conventions and expos, SLCC won hands down."
When compared with other conventions, Salt Lake Comic Con has more available and affordable tickets, he said. A passionate cosplayer, Forte has attended a number of big conventions, including San Diego Comic-Con, and is now looking forward to trying out some of his best looks in Utah.
Roy resident Megan Eames says Salt Lake Comic Con has found a balance between putting on a large, well-attended convention and maintaining a personable atmosphere. Eames attended last year's comic con and a number of smaller anime conventions.
"You still get to see celebrities coming from all four corners of the globe, but it still feels like a place that the locals have an input in," Eames said. "I don't feel like I'm going to be crammed into a hallway with every person who wants to see the next 30-second teaser for a Marvel movie. I feel like I'm going to meet people — celebs and normal people — who are into the same stuff, and to make friendships and have experiences."
Manu Bennett, known for his roles in "Arrow" and "The Hobbit," said he believes Farr's dedication to family and as "a man of faith" has ensured there's something for all ages at the convention. The convention's popular Kid Con, a section planned specifically for children and families, will be back this September.
"He's a real family man. His family is there on the floor," Bennett said. "He really makes a convention that's really aimed at pleasing the people."
Bennett also applauded Salt Lake Comic Con's highly active online campaigns, calling it "a leading example of how to make a convention work on social media." The interactive participation continues on the convention floor as well, and energetic Salt Lake fans are friendly and willing to talk, he said.
Bennett hopes to meet some Salt Lake cosplayers dressed as his "Arrow" character, Deathstroke, which he assumed after attending Salt Lake Comic Con last year.
Geeking out downtown
For Bennett, coming to Salt Lake Comic Con also means a chance to come to Utah.
During his last visit, Bennett joined a group of comic con guests and organizers for a Moab adventure, a meet-and-greet with Gov. Gary Herbert and a tour of downtown Salt Lake City. There's another trip planned for the upcoming convention.
---
There are just really neat things that don't happen at other conventions. That's what's great; there's more to (Salt Lake Comic Con) than just coming to comic con.
–Manu Bennett
---
"There are just really neat things that don't happen at other conventions," said Bennett, adding that he's looking forward to doing some jet skiing. "That's what's great; there's more to (Salt Lake Comic Con) than just coming to comic con."
Salt Lake Comic Con broke records last year, attracting 72,000 guests to its inaugural event last fall and 100,000 at its FanX convention in April. Salt Lake City is a good fit for the growing convention, said Camille Winnie of the Downtown Alliance.
Artistic Salt Lake residents who love cinema, steampunk and more are thrilled to have the convention nearby, said Downtown Alliance marketing director Nick Como.
Winnie said she looks forward to each event when she sees costumed crowds strolling streets around the Salt Palace, eating in restaurants around town and filling TRAX and FrontRunner trains heading into the city.
"People coming downtown can experience not only comic con but all of the great things that are available downtown. It just makes the perfect venue," Winnie said.
Como agrees.
"One of our goals as an organization is to have people come downtown and enjoy it for any reason, and that can be comic con or a Jazz game or (LDS) general conference," Como said. "As long as they're having a positive experience and increasing their own feeling of ownership and connection with the city, we're very excited about that. Comic con is a perfect example of that."
Salt Lake Comic Con has exceeded expectations from day one, Winnie said.
"It's continuing to grow. I don't see it going anywhere anytime soon," she said. "I think this will definitely become a downtown institution."
Faithful fans
Lou Ferrigno said he loves the fans in Salt Lake City.
"I'm very excited (to come back) because the show was probably one if not the best comic convention I've done because the fans are so excited," said Ferrigno, the original Incredible Hulk. "They just love the Hulk. They all left with smiles on their faces."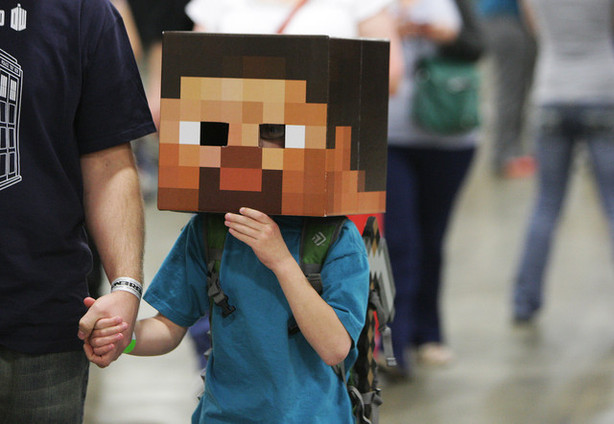 Ferrigno also said he enjoyed meeting many members of The Church of Jesus Christ of Latter-day Saints, who he described as kind people with a lot of respect. He believes Utahns are looking for a positive place to enjoy themselves.
"The excitement and the response I got was phenomenal. I never expected that," he said.
Ferrigno was one of the first guests announced for the inaugural Salt Lake Comic Con, which he credits with providing plentiful and comfortable experiences for fans and celebrity guests to mingle. He was also quick to praise Farr as a conscientious and talented promoter.
Among those returning to Salt Lake City next month is Marvel legend Stan Lee, who Ferrigno reportedly recruited to Salt Lake Comic Con shortly before the convention last year. Lee headlined the inaugural local convention and was chosen as a fan favorite for the upcoming comic con.
Likewise, Bennett was quick to brag to "Arrow" star Stephen Amell about his Salt Lake Comic Con experience once he joined the show.
"I told him, 'Steve, you have to do Salt Lake. It's the best convention out there. They take such good care of you,'" Bennett said. "It's a wonderful, large crowd."
Ferrigno said he's not concerned about the recent trademark lawsuit filed by San Diego Comic-Con challenging the Salt Lake convention's right to call itself "comic con."
"A lot of times when I do TV or radio (interviews), they ask, 'Are you in town for comic con?' That could be in different states," he said. "I think the whole thing is ridiculous, and I don't think there will be a problem."
×
Photos
Related Stories