SALT LAKE CITY — Robin Williams' death sparked discussion not only about his comedic genius but also about mental health issues and substance abuse.
It can be difficult to know the turmoil going on inside someone's mind. But there are warning signs and there is help.
At the Crisis Link hotline center in northern Virginia, calls and texts have increased in the wake of Robin Williams' suicide on Monday. Some will reach out and talk about ending their lives, while many suffer in silence.
"We move through our lives with a mask on, smiling and laughing and entertaining and dying on the inside," mental health advocate Terrie Williams said.
Warning signs a person may be suicidal include:
Giving away valued possessions
Withdrawing from friends and family
A pattern of substance abuse
Sudden calmness, especially for someone who's attempted suicide in the past
"The most concerning is dramatic behavior changes," Crisis Link program director Laura Mayer said. "If they are normally a social person and they stop being social, they start to give away things that are important, they withdraw, angry outbursts, frequent sadness. But what you're looking for is the change in what their normal behavior would be."
Mayer says if you struggle with suicidal thoughts or behaviors, don't fight it alone — help is available.
Suicide rates are much higher among men, especially older men, according to a study by the Utah Department of Health.
Two advocates for suicide prevention who both lost fathers to suicide said everyone is needed to help shatter the stigmas that surround mental illness.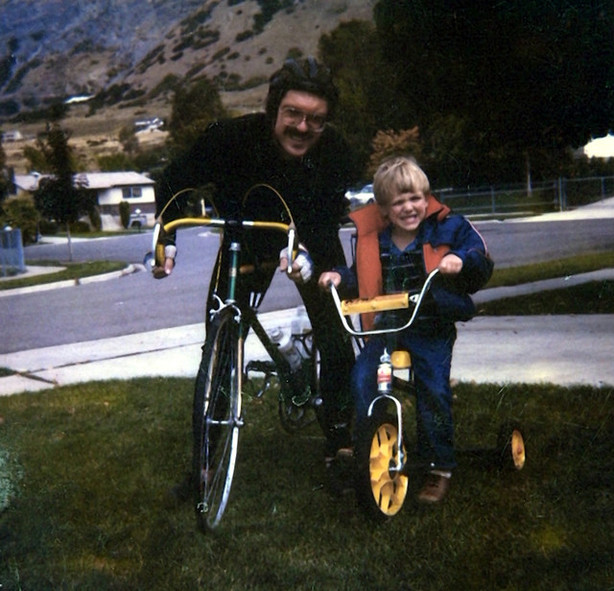 Zach Ludlow inherited his love for cycling from his father.
"When I was 14, he bought me my first bike, cycling bike, road bike so that I could ride with him," he said.
Gary Ludlow ran track for UCLA and then became a professional cyclist. But he gave up the circuit for his greatest love of all — his family.
"He was an amazing father. He put us first," Zach said.
A devoted husband and father, Gary worked hard to support his family while battling a debilitating mental illness.
"Eight years of ups and downs, highs and lows," Zach said.
In 2008, he was admitted to the psychiatric ward at LDS Hospital for severe depression.
"He was so ashamed of himself and so depressed that he couldn't look his own children in the eye," Zach said.
He continued to take medication but without supervision from a psychiatrist.
In 2009, a week after Thanksgiving, Gary lost his battle with mental illness and died by suicide. His death shocked everyone that knew him.
"It was very tragic for all of us, very tragic. We were angry," Zach said.
---
I just think it was a shame for him to admit what was really going on.
–Taryn Aiken
---
Taryn Aiken knows that anger well. Her father battled depression her whole life and also wasn't able to get the right help because he thought his illness was a character flaw.
"I just think it was a shame for him to admit what was really going on," she said.
Eight years ago, Aiken organized an annual suicide prevention walk in honor of her father.
"It is the most emotional but healing time because you know you are not alone," she said. "And all around you are families that have been through what you've been through."
She now co-chairs the Utah chapter of the American Foundation of Suicide Prevention.
"I think people are afraid to talk about it, people don't understand the brain can get sick just like any other part of our body can get sick," Aiken said. "We have to reduce that."
In the U.S., suicide now takes more lives than war, murder and natural disasters combined. Older men are at the greatest risk.
Suicide prevention resources
Suicide Prevention Hotline 1-800-273-TALK
Utah County Crisis Line: 801-226-4433
Wasatch Mental Health Crisis Line: 801-373-7393
National Crisis Line: 1-800-784-2433
Trevor Project Hotline for LGBTQ teens: 1- 866-488-7386
Among all age groups in Utah, men ages 50 to 54 had the highest suicide rate.
"Who knows what is going to happen when we reach our late 50s?" Aiken said.
Zach knows there is a greater risk for suicide in his family. He also lost an uncle to suicide and another uncle survived a suicide attempt.
For him, healing has come by reaching out and raising awareness for suicide prevention.
"It is not something we should be afraid to talk about it," Zach said.
Five years ago, he organized the Gary Ludlow Memorial Ride to honor his father. It has become a ride for hope, healing and happiness.
"There are answers. Just like the common cold, this can be cured," Zach said.
And the first step is to simply talk about it — ask for help or offer help — break the silence.
"The more honest we are and the more of us that will speak out and say that we are struggling when we are, then the more people will hopefully start to reach out and get help," Aiken said.
The yearly walk for the American Foundation for Suicide Prevention is Saturday, Sept. 13 at Sugarhouse Park. You can register at afsp.org.
Contributing: Mike Headrick
×
Photos
Related Links