This story is sponsored by the Utah Division of Wildlife Resources. In addition to managing and protecting Utah's wildlife, we manage hunting and fishing opportunities within the state.
From classy to funny and thrilling scenes, fishing movies have it all. These nine insanely popular fishing movies should get you in the spirit to bust out your fishing pole and get outside. "From high-mountain streams to big reservoirs to community ponds, Utah has many great places to fish," according to the Division of Wildlife Resources. Let's go fishin'!
1. A River Runs Through It
"Many of us would probably be better fishermen if we did not spend so much time watching and waiting for the world to become perfect," said Norman Maclean in A River Runs Through It. Two sons of a minister (actors Brad Pitt and Craig Sheffer) growing up in Montana, could not be more different. When one returns home from college, the brothers find that fly-fishing brings them together. This dysfunctional family's story is told with incredible art and craft. Outdoorlife.com says, "It's a metaphor for religion, life, and love. And a beautiful metaphor at that, as the fly fishing performed on screen is probably the most stunning ever filmed."
2. Jaws
Du-du, du-du, du-du . . . the suspenseful Jaws theme song is shrilling to the mind. This popular 1975 film is about man vs. wild. When a shark kills a young girl, the mayor doesn't close the town beach because he doesn't want to keep tourists away. The plot thickens as a group hunts the shark. Wideopenspaces.com says, "Just remember, if you ever want to face down a fish as big as Jaws, you'll want to consider getting a bigger boat."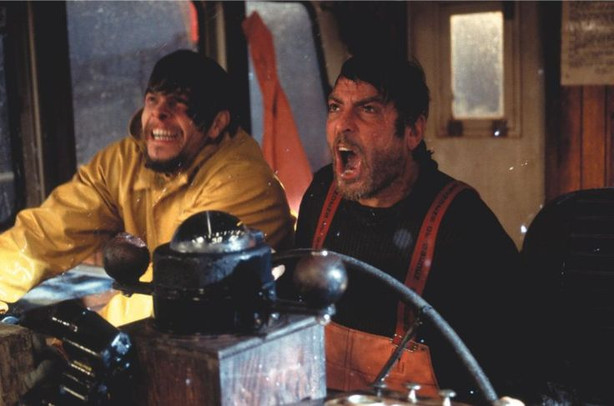 3. The Perfect Storm
This film tells the true-life story of the Andrea Gail sinking in the North Atlantic. Ok.com says, "The film tells of the courageous men and women who risk their lives every working day, pitting their fishing boats and rescue vessels against the capricious forces of nature." Viewers will see excellent sword fishing and George Clooney putting a huge slug through a shark. And, of course, a storm that's incredible to see.
4. The Old Man and the Sea
A 1958 film that shows the struggle and true courage of an angler, this movie will not disappoint. Spencer Tracy is a Cuban fisherman who heads out to sea with a young boy. On their 85th day on the water, Tracy hooks a monstrous marlin. The struggle with the fish lasts three days and nights!
5. On Golden Pond
This is a 1981 classic movie starring Katherine Hepburn, Henry Fonda and Jane Fonda. Filmed at a summer cottage on the "Golden Pond," this movie about repairing relationships and building character is a winner. Norman Thayer (Henry Fonda) teaches his stepson respect by taking him fishing. "We need more Norman Thayer's in the world," says Outdoorlife.com. "Quit reading this and go take some kid fishing."
6. The Great Outdoors
Get ready for some laughs with this movie about in-laws crashing in on a family vacation. Because of some of its language, the movie is for an older bunch, but it also provides some awesome quotes. "You wouldn't know a good time if it fell out of the sky and landed on your face and started to wiggle" –The Great Outdoors.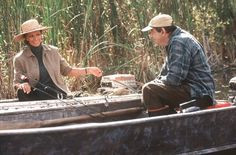 7. Grumpy Old Men
Simply two old, grumpy men that don't get along. Isn't that what comedy is all about? They spend their time competing and pulling hilarious tricks on one another. This movie also has mild profanity, so it's a movie for an older crowd. This flick will show you how competitive you can make fishing, or for that matter, anything in life! "Do me a favor. Put your lip over your head… and swallow." –Grumpy Old Men.
8. Moby Dick
Moby Dick is probably the greatest story ever told of the biggest whopper of the sea—the whale. Mademan.com says, "A 1956 film adaptation of Herman Melville's novel stars Gregory Peck as Captain Ahab, a man obsessed with seeking revenge on the huge whale that cost him his leg." Revenge on a whale is always worth watching, right?
9. Gone Fishin'
Great for the whole family, Gone Fishin' is light-hearted and provides some great laughs. Two guys that love to fish have trouble after trouble after going on a fishing trip. Their car is stolen, their boat is accidentally hooked to a train, and much more."That car meant a lot to me, Gus. I got memories of that car I can't even remember," –Gone Fishin'.
Once you're done watching these gems, you'll be well rested and ready to fish. Make sure you have a license, set your fishing rod up and pick the Utah fishing location that's just right for you!


×
Photos