This archived news story is available only for your personal, non-commercial use. Information in the story may be outdated or superseded by additional information. Reading or replaying the story in its archived form does not constitute a republication of the story.
John Hollenhorst reportingWho says you have to be pro-Bush to make it in Utah? The editorial cartoonist for the Salt Lake Tribune has had remarkable publishing success with a book that bashes President Bush.
Now there's a sequel, which may upset as many people as it delights.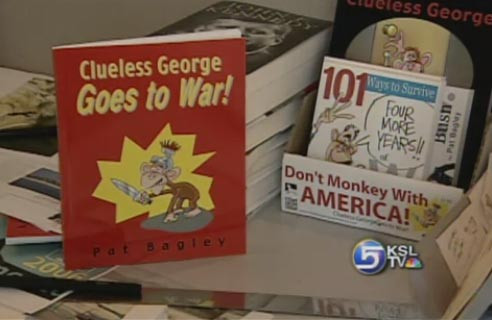 Pat Bagley just can't resist making a monkey out of George Bush.
Pat Bagley, Salt Lake Tribune: "I thought I had missed the golden age of cartooning during the Nixon administration. I thought we'd never have a President quite that bad. But, well, here we are."
Yes, even in the reddest of the red states, he's making a success out of making fun of the President. His first book on Bush, 'Clueless George Goes to War,' was based on the popular children's book about a monkey named Curious George, and The Man.
Pat Bagley, Salt Lake Tribune: "Curious George goes out and makes a complete mess of things, a complete disaster, and then 'The man' kind of gathers him up and tries to fix things."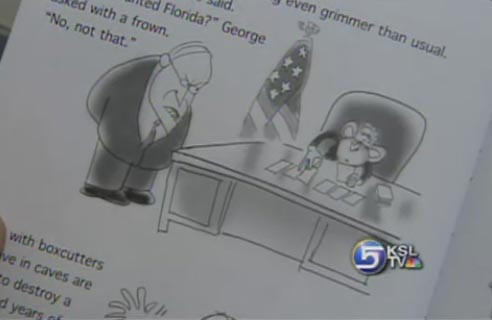 "The Man" is Dick Cheney. In the sequel, "Clueless George is Watching You," The Man is forever telling the monkey what to do, and how to respond when things go wrong, which they always do.
Pat Bagley, Salt Lake Tribune: "I've had people tell me it's painfully funny. "
Ken Sanders, Ken Sanders Rare Books: " 'Clueless George goes to war', it was just phenomenal. "
Ken Sanders sold 150 copies of the first book in one night. It went on to sell 20,000 overall.
Ken Sanders, Ken Sanders Rare Books: "People coming from out of state, tourists coming through, they'd buy handfuls of the things."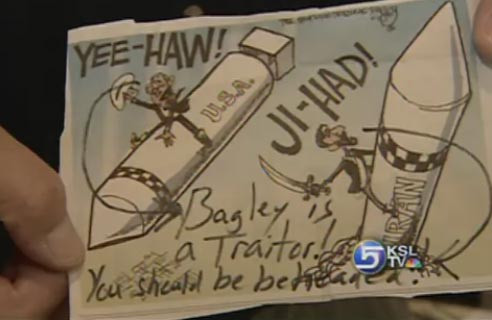 As you can imagine, there are others who tend get, well, enraged. One guy sent back a newspaper cartoon proposing Bagley's beheading. Yes. He gets hate mail.
PAT BAGLEY: "I do get, not a whole lot, but occasionally. Just enough to bring me up short and go 'whoooa!' it's nice to see that people are reading the paper anyway."
And reading the books. They're making people mad and making others laugh, across the country.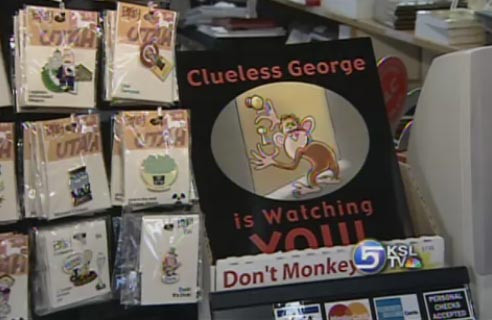 Bagley has been with the Tribune for 27 years. He started as a cartoonist for the BYU 'Daily Universe'.
×