SALT LAKE CITY — Ben Cox remembers graffiti on the rundown walls of his elementary school and a lot of broken equipment inside.
The Fidelity Investments sales manager came full circle Saturday as he spent some time installing new, wooden benches around the trees at Jackson Elementary, a Title 1 school in Rose Park.
The school received a much-needed facelift and a few upgrades, thanks to local Fidelity employees.
"I wish there had been companies like this that come in and fix things up when I was a kid," Cox said. "It teaches kids to be proud of their school and have a safe place to come and learn. And we all know that education is the No. 1 indicator of success in life."
Cox and his wife and kids were just five of the approximately 250 Fidelity employees and school volunteers who spent Saturday sprucing up sections of the school. It was one of 17 Fidelity-led events across the nation for School Transformation Day, a partnership with the HandsOn Network, which helps organize and mobilize volunteer efforts around the world.
"Our employees really want these opportunities and appreciate them," said Kris Liacopoulos, general manager for Fidelity's Utah region, which includes offices at The Gateway and in American Fork.
---
Our employees here have a culture that they want to teach their kids to give back. It's important to them.
–Monica Yocom, Fidelity community relations manager
---
Liacopoulos said the company has no problem recruiting people to help with its various volunteer efforts throughout the year.
More than 40 percent of Fidelity's local employees take part in the projects, giving it the second-best ranking out of 11 of the company's regions nationwide, said community relations manager Monica Yocom.
The Utah region employs about 1,700 people and excels because unlike other regions, it allows employees to bring their families to volunteer events.
"Our employees here have a culture that they want to teach their kids to give back," Yocom said. "It's important to them."
In addition to new benches outside the school for children and parents to wait, volunteers touched up the painted walls inside and hoisted new, colorful signs, murals and artwork along the hallways and outdoors in the play field.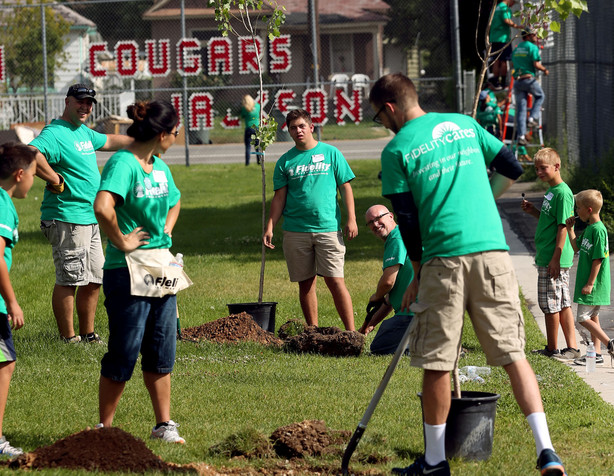 Fidelity also helped revamp the school's library, creating an imaginative nook, complete with new places to sit and read. The group planted new garden beds to revitalize the school's appearance and added colorful borders and inspirational quotes to classroom doorways.
Many of the quotes are posted in English and Spanish, as the majority of students who attend Jackson are bilingual or speaking English as a second language.
"There's no way I could have done all this without Fidelity's help," said Jackson Elementary Principal Jana Edward. "If kids don't feel pride about their school, they're not going to give it their all."
Fidelity assisted with projects at nearby Bryant Middle School for three years, but the company returned to Jackson Elementary, 750 W. 200 North, for a second year when Edward said much more could be done to beautify the school.
Cox, of Lehi, grew up in foster care and said he knows all too well the effects a deteriorated environment can have on an upbringing. He worked hard in school to "prove I was made for more than (the situation) I was born into."
Cox has been an employee at Fidelity for seven years.
"On the first day of school, these kids are going to see this amazing transformation, and they'll go home and tell their parents about how excited and proud they are to walk through these halls," he said. "I would be excited for that as a kid."
×
Photos