Estimated read time: 1-2 minutes
This archived news story is available only for your personal, non-commercial use. Information in the story may be outdated or superseded by additional information. Reading or replaying the story in its archived form does not constitute a republication of the story.
Whit Johnson reporting A Utah truck driver lost his means of making a living when somebody stole his semi-truck. Police are still looking for the truck and for suspects.
Police say semi-truck thefts are not very common, especially if there's no merchandise inside, as in this case. For Blaine Powell, the truck was his livelihood.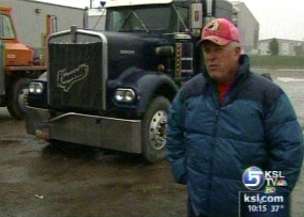 Powell has spent much of his life delivering products and building supplies. He's done it with two privately-owned semi-trucks, a blue one and a 1979, tan colored Peterbilt, plate number ZOO 1677. "Been together quite a few nights at different locations, all night long driving. It just, you're married to it," Powell said.
Sometime Saturday night, both trucks were stolen from where they were parked near 900 South and Gladiola Street in Salt Lake City. "These guys that do this, they know what they're doing," Powell said.
The thieves were able to hot-wire the trucks, but Powell says sometime during their escape, the blue truck ran out of gas. He found it the following day on the shoulder of a local highway.
The Peterbilt, though, a truck Blaine has poured his heart and soul into, hasn't been found. And the $14,000 he still owes for repairs will have to be paid, even if he never sees his truck again. "It's just like you lose your wife and you don't know what to do," Powell said.
Blaine had all of the required insurance, but he didn't have theft insurance because he figured his trucks were too old for someone to try to steal.
If you have any information, call Salt Lake Police.
E-mail: wjohnson@ksl.com
×
Most recent Utah stories