Estimated read time: 4-5 minutes
This archived news story is available only for your personal, non-commercial use. Information in the story may be outdated or superseded by additional information. Reading or replaying the story in its archived form does not constitute a republication of the story.
SALT LAKE CITY — In the opera "The Dragon Flame," five brave youths fight off bandits and seek an audience with a queen on their quest to save the village of Namarica from a fire-breathing dragon.
It's an action-filled tale that ends with a beautiful aria and was performed Friday by a cast of elementary and junior high schoolers who also served as the opera's writers, composers, makeup artists, and set and costume designers.
"It's clearly made up by kids, and it's a lot of fun," sadid Melanie Malinka, director of music for the Madeleine Choir School.
Friday's performance of "The Dragon Flame" marked the culmination of a one-week summer musical program hosted by the choir school, 205 E. 1st Ave. Each year, a group of roughly two dozen students come together for five days to learn about the various aspects of staging an opera and create their own musical work in the process.
Students were putting the final touches on their creation Friday afternoon, running through a series of dress rehearsals and applying stage makeup to transform into townspeople, a dragon and one mysterious man clad in black.
"We have one week," Malinka said. "They're here from 9 (a.m.) to 4 (p.m.), and they create an opera, including writing the story, composing the music, making the set, doing the costumes and then performing it in the end."
With two hours to go before curtain, one of the villainous bandits, seventh-grade Madeleine Choir School student Roma Maloney, admitted to feeling some pre-stage jitters.
"I am a little bit (nervous), but I know it will be fine," she said. "It always is."
---
It's sort of stressful the last two days, and then once you get it over with, you're so happy. I remember the last opera we did, and it's still in my head.
–Alex Yannelli, fifth-grade student in the opera camp
---
Alex Yannelli, a fifth-grade student participating in the opera camp for his second year, said he was excited to go on stage and likes this year's opera for its dramatic tone and music.
"It's sort of stressful the last two days, and then once you get it over with, you're so happy," he said. "I remember the last opera we did, and it's still in my head."
Students who participate in the camp are asked to prepare a story and bring it with them on their first day. Those potential operas are then collected, with the final selection chosen democratically.
"We read through all the stories and they vote," Malinka said. "The story that has the most votes, that's the one we choose."
The operas are broken up into four or five scenes, which are then developed by groups of students who write the libretto, or text, before progressing to composing, staging and set design, she said.
Throughout the week, students are also instructed in opera history and mechanics, and they're taken on field trips to local theaters and the Utah Opera production studios, all while the deadline of a fully realized performance approaches.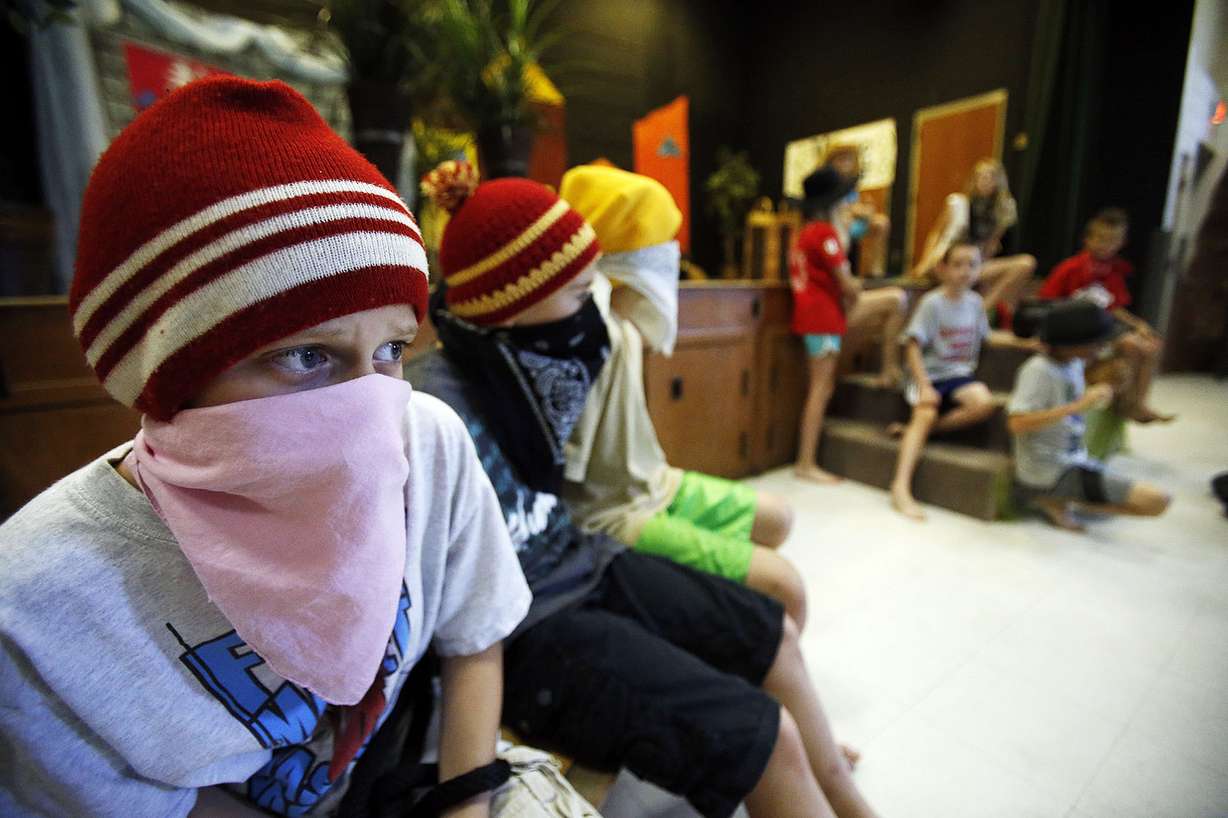 Because the opera camp is open to anyone and not just students enrolled at the Madeleine Choir School, Malinka said participants come from a variety of backgrounds, with some having very little experience with or exposure to music.
"That can be scary, but it also makes it really fun because there's lots of different personalities — some who love being on the stage and others who have never been on the stage," she said. "You can see them kind of waking up through this process and really enjoying themselves on the stage."
Malinka said the goal of the program is for participants to leave with an appreciation for opera and to demonstrate that a stage production is not a single event but the combination of many talents and efforts.
"There's so many different things involved, and it's hard work to put an opera on stage," she said. "It's also an experience for (students) that art is something that's inside you and you can let it come out of you and show it in all different ways."
Katie Klassen, a West High School freshman and former opera camp participant who volunteered with the program, described the process as a lot of hard work.
"It's amazing. You get here on Monday and you think, 'Oh, my gosh. What is the opera going to be about?'" she said. "It's a huge thing, but it's just so much fun."
×
Photos