This archived news story is available only for your personal, non-commercial use. Information in the story may be outdated or superseded by additional information. Reading or replaying the story in its archived form does not constitute a republication of the story.
SALT LAKE CITY — In a new trend, crooks are trying to rip off insurance companies by targeting motorists and their cars.
Planned auto insurance fraud has been huge in large cities for decades, but investigators say it now has established a real presence in Utah.
"All types of people commit insurance fraud," said Armand Glick, head of the Utah Insurance Department's fraud division.
Last month, his agency filed charges against 19 people in Utah and Summit counties for staging nearly 80 crashes and filing fraudulent claims.
He accused them of "moving these vehicles back and forth amongst the different involved persons, to take turns insuring the vehicles and filing the claims."
Thieves stole the identities of at least 11 people to keep the scheme going. Most of the cars had been damaged once, an insurance claim paid, but then the cars were never repaired so they could be used for bogus claim after bogus claim.
"Appraisers started seeing the same vehicles with the same damage, and similar reported accidents with different insurance companies," Glick said.
The scammers received over $200,000 in insurance payouts before investigators shut them down. Glick said not all of the crashes were staged on paper. A couple of the scammers collided with each other on the highway.
"(They were) driving at 55 mph in an adjacent lane, intentionally side-swiping each other," Glick said.
The scams slow down legitimate insurance claims, Glick said, as insurance adjusters might investigate everything to ensure it's not a scam.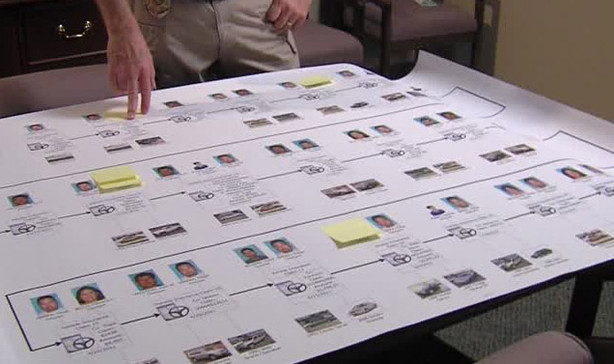 Meanwhile, the National Insurance Crime Bureau said such fraud cases have doubled in recent years across the country. Sometimes fraudsters slam into each other. Sometimes they slam into others.
The NICB released videos to show how scammers hope to pocket insurance money by literally taking aim at your car. One video shows what's called "the swoop and squat."
The driver of the "swoop" vehicle cuts you off and then "squats," or slams on the brakes. A second car traps you in your lane, leaving you nowhere to go but into the back end of the first car.
Then there's the curb drive-down, in which a seemingly friendly driver waits, sometimes waving to you to proceed, but then speeds up to smash into you. The driver will deny he or she motioned that it was safe for you to pull out.
Another commonly staged accident involves two turn lanes and a side-swipe. With your car in the inside lane, the fraudster waits for the moment you drift into his lane, or veers into your lane and then slams into you. In some cases, a criminal partner standing at the corner tells police you're the one that drifted into the other lane.
"We're watching for those types of trends," Glick said.
Advice
Glick's advice includes:
Report any type of possible injury.
Don't let anyone talk you out of calling police. Someone must document the number of people who were riding in the other car.
Take pictures so no one can try to make a major medical claim if the accident was just a fender bender.
The scammers aren't just pocketing money for damages in these staged accidents. They're also trying to cash in on medical claims, Glick said. That's why the fraudster's car might be packed with people, each complaining of whiplash, sore backs and other problems. Sometimes only a driver is involved, until a claim is sent.
"You have one person in the car and by the time it hits the insurance company, you have four people in the car and they were all injured," Glick said.
Currently in Utah, his agency sees many more collisions staged on paper than on actual roadways. The fake crashes involving innocent drivers turn up mainly in parking lots.
×
Photos
Related Links