Estimated read time: 2-3 minutes
This archived news story is available only for your personal, non-commercial use. Information in the story may be outdated or superseded by additional information. Reading or replaying the story in its archived form does not constitute a republication of the story.
Sandra Yi reportingPolice are searching for the driver connected to the hit-and-run death of a Park City woman who was a student at the University of Kentucky.
Eighteen-year-old Connie Blount graduated from Park City High School last year. The principal there says everyone knew her and was heartbroken by the news of her death.
Blount was a first-year student at the University of Kentucky. She was hit by a truck as she crossed a street in downtown Lexington early yesterday morning. The driver of that truck took off, and police are still looking for that person.
Tara Martin a teacher at Park City High School, said, "It's tragic that they haven't taken responsibility for that so there can be some closure for the family."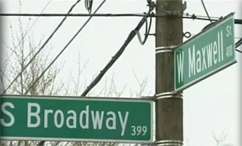 Blount died at the hospital a couple of hours after she was hit by a truck.
"I was heartbroken, and it reminded me again how fragile life is and how things can change quickly," Martin said.
Martin taught Blount for three years. She says Blount overcame academic challenges and was the kind of student you could see making a difference in the world.
"She was willing to stand up and fight, so sometimes those challenges, I mean, she pushed the envelope and was a positive influence on change," Martin said.
College friends have talked about Blount's love for horses. She was a competitive equestrian rider and was on the school's equestrian team. A friend of Blount's, Jonathan Webb, said, "She loved horses, loved riding horses and had a lot of friends on the equestrian team at UK. I can't imagine how they feel right now."
Sadly, Blount's older sister gave birth to a baby just hours after Blount's death.
Family and friends have gathered for a memorial on the University of Kentucky campus. That's going on tonight.
×
Most recent Utah stories