Estimated read time: 2-3 minutes
This archived news story is available only for your personal, non-commercial use. Information in the story may be outdated or superseded by additional information. Reading or replaying the story in its archived form does not constitute a republication of the story.
Coco Warner and Lance Bandley reporting Nearly 90 Utah High School students are Broadway bound. A happy outcome -- considering just two days ago, most thought the trip was cancelled due to some financial problems of the company organizing the trip.
The Crane building at the corner of 300 West and 200 South houses "Learning on Location"-- a 15 year old company that helps high school students experience the Big Apple.
But after failing to come through on lodging-- some Utah drama students say the company is one bad apple...
Clin Eaton/Riverton H.S. drama teacher: "What we'll do is after I kind of go over some general stuff, we'll have the Eaton theater group go to the back section and we'll have the Albion middle and West Jordan kind of move down here..."
Clin Eaton has organized trips to New York City for his drama students for the past several years -- relying on the Salt Lake City based company "Learning on Location" to get them there. Their group of 43 each paid $1,759 dollars. But, this year something went wrong. They were told Friday afternoon-- they didn't have a place to stay.
Clin Eaton, Drama teacher, Riverton High School: "I would just like to know-- where did our money go?"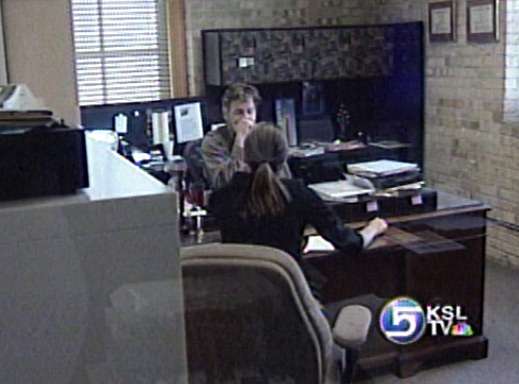 Learning on Location company president wants everyone to know, he's doing his best to remedy the situation.
Pres. of Learning on Location: "This is not my intent-- I may lose my house and my dad's home..."
Larry Webb didn't want to do his interview on camera. But he says he feels terrible-- that the company incurred debt in the wake of 9/11-- and that debt caught up with him this summer.
"One of the biggest problems is that we've relied on our vendors considerably to help us through those squeaky times," says company president Larry Webb.
Webb says since September 11th his business has been down, but hotels and other vendors in New York helped him out. Now, he says that help is gone and he can't help students cover all the costs of their New York trips his company lined up.
Voice of Larry Webb/Pres. of Learning on Location: "I don't know that the company can survive after this kind of issue."
But in true New York fashion, the show must go on. The group filed a complaint with the Department of Commerce's consumer protection division-- and talked to an attorney. Tonight, they're headed to the Big Apple on a red-eye flight.
Shayla Michael/Riverton H.S. student: "You know, it's not the best thing to happen of course, because we have to pay the extra money, but it's a cool thing that's actually bonding the group together."
The trip's costing students an extra 500 to 800 dollars. Clin Eaton has organized a fund at the Jordan Credit Union to help defray costs.
Larry Webb says he does plan on reimbursing students for their hotel rooms-- but doesn't know how-- or when.
×
Related links
Most recent Utah stories