This archived news story is available only for your personal, non-commercial use. Information in the story may be outdated or superseded by additional information. Reading or replaying the story in its archived form does not constitute a republication of the story.
OGDEN — Fire investigators continued Monday to sift through the rubble of a two-alarm fire that displaced at least 22 tenants Sunday.
Just before 12:30 p.m. Sunday, firefighters were called to the Canyon Cove Apartments and arrived to find heavy smoke and flames on the west side of the complex.
Crews went door to door to make sure everyone was out. Rescuers found one man who was still asleep in his apartment and got him out safely, said Ogden Deputy Fire Chief Eric Bauman.
"None of the fire alarms went off or anything. We smelled smoke, and we heard some people running down the stairs," said Montana Evans, who was in her apartment with her boyfriend, Tyler Steab, when the fire started.
Evans said smoke was coming into their apartment through the vent, and they could see flames near their window.
The fire stretched to all three floors of the 22-unit complex and caused extensive smoke damage throughout. Early damage estimates were at $200,000.
Bauman said because the utilities to the complex remained shut off after the fire was extinguished, the occupants from all 22 units were not allowed to stay there Sunday night.
"It's not livable at all. Like, there's no way we can move back in there," said Jaide Walker, who escaped her burning apartment along with her husband, their 8-month-old child and two dogs.
"Stuff happens, but that's something you don't want to happen," she said. "It's still unreal. It sucks. It really does suck. This is my first apartment."
The Red Cross has been helping the displaced tenants with food and shelter. Firefighters helped some tenants get back into their apartments briefly Sunday afternoon to grab essential items such as medications and identification, Bauman said.
Steab said his bedroom was destroyed after the ceiling collapsed on it. He said he and Evans were able to get out with only their cellphones and their wallets.
"All that I really care about is that we're OK. You can replace stuff," he said.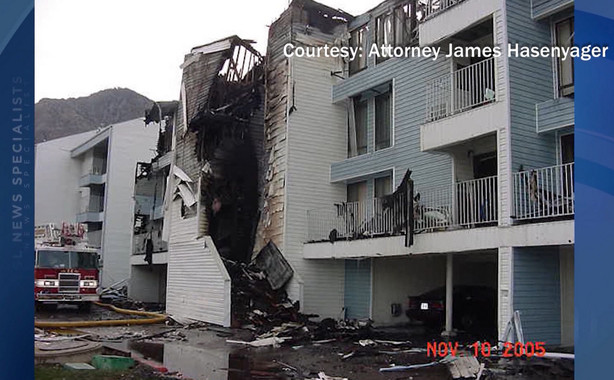 The cause of the fire, including a point of origin, was under investigation Monday. No injuries were reported.
This isn't the first time fire has swept through the Canyon Cove Apartments.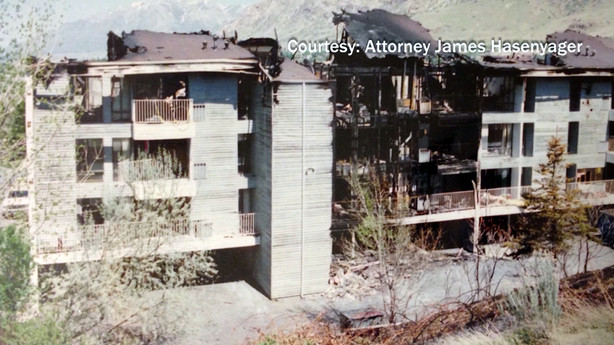 In 2005, Jacob Eion Leoncini pleaded guilty to murder for intentionally setting a couch on fire with a cigarette at the Canyon Cove Apartments that killed Dana Byrd, 43. His next parole hearing is scheduled for 2030.
Attorney James Hasenyager, who represented several tenants then, said the fire spread quickly because builders neglected to install fire blockers that were required by building code starting in 1973.
"Fire blocking can be vertical or horizontal," Bauman said. "Typically it's found either in a wall or a floor area, and it restricts the flow of the fire from being able to spread from one area to another."
In 2012, the Utah Appellate Court ruled the owners of Canyon Cove Apartments were negligent because they failed to warn residents that the building did not contain fire blocking and because they failed to take any measures to reduce or eliminate fire hazards when it knew about a previous fire.
In 1994, a massive fire caused about $1.5 million to the complex and displaced approximately 40 tenants. The builders of Canyon Cove were also found negligent in a ruling in 1994.
Both of the previous cases for the fires in 1994 and 2005 ended up settling out of court for undisclosed amounts.
While a cause has not been found in Sunday's blaze, the Ogden fire marshal said the burning was consistent with walls that still do not have fire blockers.
Steab said he believes the past incidents should have been a warning for the 40-year-old building to be upgraded.
"If they've had issues with this in the past, they should fix this. They should make it safe," he said.
Contributing: Mike Anderson
×
Photos
Related Stories