SALT LAKE CITY — Before startups make it big, they often have to put countless hours of work and sweat into a project that isn't guaranteed to succeed.
A new space in Salt Lake City aims to serve teams trying to launch tech startup businesses by offering a shared office to cut cost and pool talents. Similar spaces, referred to as incubators, have become increasingly popular in recent years and have popped up in several locations in Utah.
One of the hardest parts of looking for a location to launch a startup from is a fear of signing a lease the team could be stuck with even if its project fails, according to local startup founder Christopher Bramwell. His team has moved into the incubator space run by MyRooms, another local startup preparing for launch, located at 357 W. 200 South in part because it offers a month-to- month contract and is fully furnished.
"Everybody has this idea that they're going to change the world, but you always know it could be a utter failure also," he said.
There are currently three startups working out of the space — MyRooms, Quidlum and SLapps. The exposed-brick office has a shared conference room and other amenities like an Xbox and ping pong table.
Related Story
The shared space lets startups focus on development by getting rid of extra costs, Bramwell said. Desks for the different teams are in an open area, which also allows people with different skill sets to interact.
"There's always opportunities for talent exchanges," said MyRooms director Kory Fluckiger. "Somebody on one team can code a website and someone on another can create graphics, and they both have needs so they can cross a lot."
Bramwell has been working with a team on his startup, Quidlum, for more than a year and a half. Quidlum is a new online sweepstakes platform that is scheduled to launch Sept 1.
Instead of companies only engaging with the same consumers over and over, he said, Quidlum would drive traffic to a central platform where users can play games to compete for prizes from more brands. The team signed its first client, Freshly Picked, and is continuing to meet with other brands.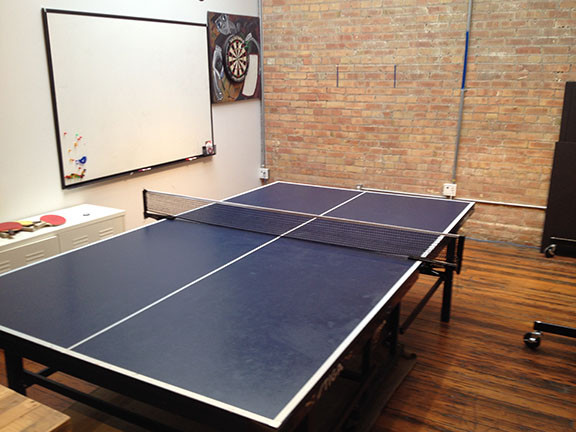 "If the model is proven, that literally destroys the current sweepstakes model that has been around for almost 70 years and takes it from just winning a prize to creating instant events on a centralized platform where people can play nonstop, win great prizes and drive sales for the brand," Bramwell said.
The incubator space has been phenomenal for the team, he said. They had an official launch party there just a few weeks ago.
MyRooms, a 3D social network where customers can create a room and occupy it with interactive objects, originally leased the office for its team. At its peak MyRooms had 30 people working there, but have since moved into a funding phase and don't have as many people in the office.
The incubator is operating as a non-profit under Digital Media Alliance Utah.
Fluckiger said historically it has been difficult for tech startups to find funding in Utah, but that he hopes the trend is changing as various companies find success. Fluckiger and Bramwell said it will be interesting to watch different startups come through the space.
"People don't realize there is a lot of focus here in Utah for tech and a lot of big players from Silicon Valley coming in," Bramwell said. "(There are people) making and losing fortunes."


×
Photos
Related Links