This archived news story is available only for your personal, non-commercial use. Information in the story may be outdated or superseded by additional information. Reading or replaying the story in its archived form does not constitute a republication of the story.
This story is sponsored by Harmons. Want to talk to us in person? Stop by your local Harmons today for fun, friendly food advice.
Every week one of the chefs from Harmons Grocery Stores will be answering your toughest culinary questions. No question is too big or too small and each week we'll award a pair of Harmons cooking school passes to one lucky viewer whose question is selected. Email your questions to askachef@harmonsgrocery.co m.
This week's question comes from Bobby:
"My kids love hot dogs, but my wife and I are getting bored serving the same old hot dogs with ketchup and mustard. How can I jazz up hot dogs for our summer barbecues?" When the weather heats up there is definitely something nostalgic about a hot dog fresh off the grill. Basic hot dogs with ketchup and mustard are delicious, but sometimes it is fun to mix it up.
One of the best ways to spruce up your hot dogs is with a killer chili recipe. Here is my favorite recipe inspired by the famous Chili Half Smokes from Ben's Chili Bowl in Washington D.C.:
Harmons Half Smoke Chili Recipe
(Makes about 2 quarts of chili)
Ingredients
1 Harmons Beef Spoon Roast
1 sweet onion small diced
1 tablespoon chili powder
1 tablespoon Guajillo chili powder (you can use your favorite chili powder)
1 tablespoon smoked paprika
1 teaspoon mustard powder
1/2 teaspoon cumin
1/2 teaspoon ground coriander
1 clove minced garlic
2/3 cup tomato paste
2 tablespoons apple cider vinegar
2 tablespoons butter or canola oil
2 tablespoons all purpose flour
3 cups beef or chicken stock
Kosher salt to taste


What culinary questions do you have? Let us know! Email our Harmons chefs at askachef@harmonsgrocery.com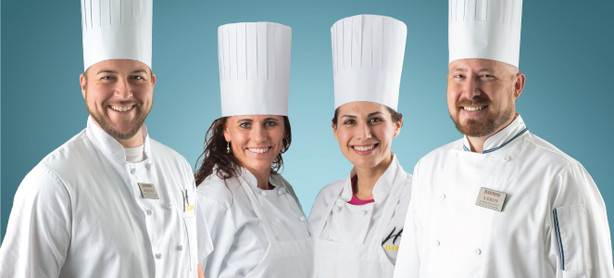 Directions:
1. Preheat oven to 250 degrees.
2. Remove plastic and place spoon roast in roasting pan (keeping roast wrapped in butcher paper).
3. Cook roast at 250 degrees for 2 hours per pound.
4. Remove roast from oven, unwrap and let cool for 5 minutes.
5. Sweat onions on medium heat in a little oil in a medium sauté pan with a pinch or two of salt.
6. Shred or chop roast into small pieces and add it to the onions.
7. Add half of the dry spices and mix with meat and onions and cook for a few minutes.
8. Add tomato paste and garlic and cook into beef for several minutes.
9. You will start to get a paste sticking to your pan -- deglaze (cook off what is sticking to the bottom of the pan) with vinegar and cook down for a few minutes, then remove from heat.
10. In a medium to large sauce pot heat oil or butter and add flour and reserved dry spices and cook for a few minutes until you have a nice paste.
11. Slowly whisk in reserve stock from roast and your remaining cup and cook until it reduces by half.
12. Add in your cooked meat and onion mix and continue to cook on medium to low while stirring until it is thickened enough to dress a hot dog.
13. Season to taste with salt and pepper and cool. For best flavor let it sit overnight in the fridge.
Half Smoke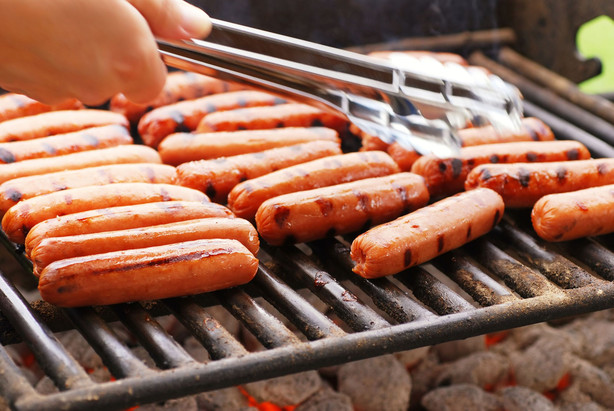 Instructions2. Smoke your all beef hotdogs or sausage on grill, stove-top smoker, or conventional smoker for fifteen minutes. Finish on grill or grill pan.
Small dice fresh sweet onions.
Lather mustard on fresh baked hotdog bun (I like to use Harmons Brat Buns). You can also grill these first with a little bit of butter and garlic.
Place smoked hot dog in bun.
Load with chili.
Garnish with fresh onion and shredded cheese (I like to us Beecher's No Woman cheese found on the Cheese Islands in Harmons stores).
Enjoy! Looking for more grilling tips and delicious summertime ideas? Check out our summer edition of "Food for Thought" or sign up for one of our summer cooking school classes! We have a wide variety of classes to fit every taste and budget. View our schedule and sign up for a class today at HarmonsGrocery.com.
Check out other Ask a Harmons Chef articles here
×