SALT LAKE CITY — The May Reunion's music is carefully written to lull its listeners into a contemplative state of being, where they can become introspective.
The threesome is focused on creating a good experience for themselves and their audience, due in large part to the personal nature of their music. Russell Ollerton, who created The May Reunion, thinks of his music as writing in a journal.
Hot off their success at Velour's summer battle of the bands — where The May Reunion won the individual day and went on to compete in the larger competition — they are looking forward to more self-expression in the form of their own music.
KSL: What's your "origin story"? How long have you been playing music, what inspired you to create a band, etc.?
Russell Ollerton: The idea behind TMR was conceived in 2007. Andy Chow (the keyboardist) and I have been friends for about a decade now, and when I was 19 and he was 17 we decided that if we ended up going to the same university, we would make music together.
Near that same time, we both realized we would not see each other for nearly four years, since by the time I was going to get back from being an LDS missionary he would just be beginning his time as a missionary. We decided that in honor of our friendship, on May 6, 2017 (about a decade later), we would meet up, no matter where we were and what was happening in our lives. It would be a "May reunion" for us. Thus, the name The May Reunion was conceived. I would say TMR officially formed about a year ago when we started consistently writing songs together and playing live.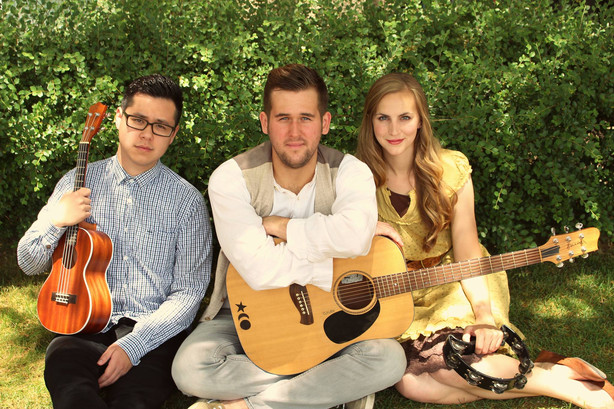 KSL: Give me the "thousand-foot view" of your sound and style.
Ollerton: Our music is usually soft and reflective. It isn't meant to energize or excite, but to calm and make the listener feel warm inside. Most of our songs would be best suited for listening right before bed instead of in the beginning or middle of the day. When our music does have a slightly epic edge, it still tends to be more dreamy and fuzzy than most rock.
KSL: What inspires you? Who are your musical influences?
Ollerton: As explained above, Andy and I met over a decade ago. We became good friends in high school. I was writing and recording music at the time and ended up releasing a solo album and playing lots of live shows around the Bay area of California. Andy was always a huge support to my musical endeavors, and I always turned to him when I felt like I needed an objective, no-frills look at what I was doing with my songs. Eventually he ended up playing keyboard with me for some of my life performances.
Jenny, the newest addition to our band, was found through a mutual friend. We had been searching for months to find a woman with a lullaby-like falsetto voice that fit our sound well, and we finally found what we were looking for when we found her.
Chow: I would divide my influences into two categories: musical and non-musical. Jack White has been a hero of mine since I was 14 years old. I don't think the music I make sounds anything like anything he has released.
For me, he has always inspired me because you can tell after listening to any of his music in any of his projects that he doesn't even remotely care about fitting into some sort of musical convention or mold; his material is often unusual. He has always inspired me to feel free to create any kind of music I want while enjoying a total disregard for trying to sound conventional or trendy.
---
...[F]or me, writing songs is like writing in a journal. Writing a song about a subject, idea or event that has been pressing itself against my mind can be deeply therapeutic.
–Russell Ollerton
---
Bands that I feel have an influence on the direction of the music I write tend to have more ethereal-sounding music, including, but not limited to Dan Fogelberg; Book on Tape Worm; Silverchair; anything Daniel Johns has done; Joe Pisapia; Jump, Little Children; Nick Drake and Secret Garden. Also, my mother bought me a record player when I was 16, and have been listening to vinyl records from the '70s ever since. This has definitely steered our music in a specific direction.
KSL: What do you tell yourself before a performance?
Ollerton: Nothing. I feel no nervousness when performing live. I feel nothing but contentment when playing for other people.
KSL: What is your five-year plan with your music?
Ollerton: In a few years I am going to go to medical school. For the next few years, I plan on making TMR a big part of my life. I also plan on eventually releasing an instrumental solo album filled with ambient, neoclassical piano music.
KSL: What has been the most exciting thing to happen in your career to date?
Ollerton: For me, music has always been about myself. I know that sounds selfish, but for me, writing songs is like writing in a journal. Writing a song about a subject, idea or event that has been pressing itself against my mind can be deeply therapeutic. I always encrypt my lyrics carefully so that understanding its meaning is essentially impossible. I also rarely disclose to others what my songs are about. Furthermore, the ambiguity of our lyrics also allows the listener to assign his or her own meaning to the song, which I think is one of the best parts about music in general.
KSL: Who have you most enjoyed collaborating with, and who is your dream collaboration?
Ollerton: Writing and recording music with Andy has always been a pleasure. If I could go back in time, I would want to sit down (and) have a talk with Dan Fogelberg before he passed away a few years ago, and play some music with him.
×
Related Links
Related Stories