Estimated read time: 2-3 minutes
This archived news story is available only for your personal, non-commercial use. Information in the story may be outdated or superseded by additional information. Reading or replaying the story in its archived form does not constitute a republication of the story.
A leading Democrat has opened a key Iraq war hearing by saying a recent flare-up in violence in Baghdad raises questions about the military success of President Bush's troop buildup. The statement was by Senator Carl Levin, a Michigan Democrat who is chairman of the Senate Armed Services Committee. Levin opened the first of four congressional hearings at which the top U.S. commander in Iraq, Gen. David Petraeus, and the top U.S. diplomat in Baghdad, Ryan Crocker, are providing their assessment of security and political conditions. Get the political take on the hearings, where all three presidential candidates will be posing questions, from ABC Newsman Sam Donaldson. Click here to hear the interview.

There's new evidence that the link between sleep and obesity may affect even very young children. A new Harvard study says babies and toddlers who sleep fewer than 12 hours daily are at greater risk of being overweight in preschool. And it's even worse if the little ones watch TV. The kids that slept the least and watched the most television had the greatest chance of becoming obese.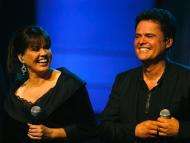 Donny and Marie Osmond will help salute the nation's moms as co-hosts of an NBC special scheduled for Mother's Day night. On "America's Favorite Mom," airing May 11, the Osmonds will crown a winner chosen online by viewer polling. "When the concept was first presented to us — Donny and Marie on a Mother's Day special — I thought, Oh, everybody's gonna need an insulin shot,'" said Donny during a phone interview with The Associated Press. "But we're not just talking about traditional moms. It shows real moms in real situations, and with some of them, you think: How do they do it?" "They're empowering for other women," sister Marie added. "They inspire other mothers to say,I'm not alone. I can get through this, too.'"
×
Most recent News stories