SALT LAKE CITY — Two sisters were recently recognized for their lifesaving efforts by the Girl Scouts.
Alexa and Hannah Hammonds, both 14, were honored with the bronze cross lifesaving award at a ceremony in Salt Lake City on June 7. The bronze cross is given to Girl Scouts who save a life or attempt to save a life at the risk of their own life, according to the lifesaving award application form.
"Nationally, the award is so rare that most leaders don't even know it exists," said father John Hammonds. "It has only been awarded one other time in Utah in more than 90 years."
The two girls were camping with their family at the Guinavah-Malibu Campground near Logan on July 6, 2013, when they decided to go swimming in the Logan River one last time. Alexa and a younger sister got out of the river safely, but Hannah was pulled towards rapids in the middle of the river and got caught in a 5-foot-deep river eddy that had water rushing through it, the girls' parents wrote on the application.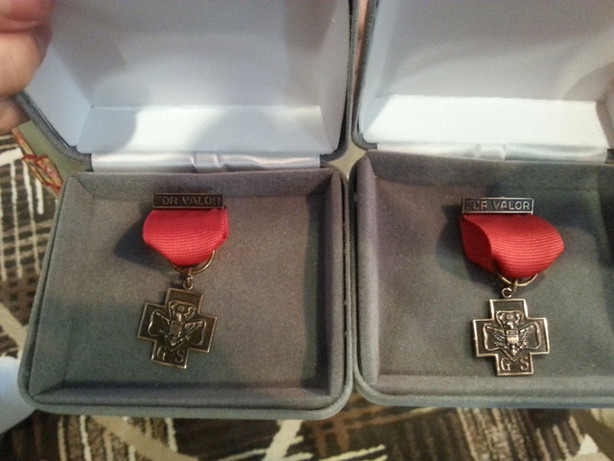 Alexa swam out to Hannah and helped her pull herself onto some rocks in a shallow area, but just as Hannah found safety, their dad wrote that he heard Alexa scream. She had been pulled into the rapids and was quickly traveling downstream, he wrote.
"The next part is kind of fuzzy for me," Hannah wrote in her application. "All of the sudden I am on the rocky patch and Lexi has taken my place. She is floating down the river. I don't hear anything, but I can see Lexi's mouth hanging open like she's screaming."
"I run towards her and when I get to her she is holding on to a twig that is about to snap, on her back… she was clearly in shock. Just as the twig snapped, I snatched her hand and tried to hold on to her."
Hannah was able to grab a large rock and together they made it to shallower water, where their father pulled them to dry land. Both of the girls were in shock after the accident, their father said.
---
Just as the twig snapped, I snatched her hand and tried to hold on to her.
–Hannah
---
"Hannah and I were crying because we were so scared," Alexa wrote. "I thanked Hannah for saving my life and gave her a hug. We were all scraped up."
Hannah has been a Girl Scout for nine years, and Alexa has been in Girl Scouts for six years. In addition to the bronze lifesaving award, they received their silver awards with their younger sister at the ceremony.
The sisters said they enjoy Girl Scout activities and are now going to be working towards earning their gold awards. They said they have learned a lot from the organization.
"I've learned just to be yourself, because there are more people like you and you don't really have to hide, because it's fun and it's a no judgment zone," Hannah said.
×
Photos
Related Links