This archived news story is available only for your personal, non-commercial use. Information in the story may be outdated or superseded by additional information. Reading or replaying the story in its archived form does not constitute a republication of the story.
NEW YORK CITY — At this year's New Music Seminar, Provo band VanLadyLove was named the 2014 Artist on the Verge.
The five-piece alternative rock band was chosen out of 100 up-and-coming acts as the one most likely to succeed, at the seminar in New York City.
"We were scared," John Buckner, the band's beat keeper said. "We played right after Kiah Victoria. She was amazing, a born star. We looked at her, heard her, and we were like, there's no way we can compete with that. It's like going onstage after Adele or Beyoncé."
The night after the announcement, the band was still very excited about the win.
"We're giddy and giggly. Lots of giggling happening," said bass player Steele Saldutti. "We're literally on cloud nine right now. We got text messages from our moms. It's been an emotional time. Our parents have been pretty supportive, but it's one of those things like ... get a real job."
But a "real job" may not be necessary now that VanLadyLove has been praised by some of the top names in the music industry. The New Music Seminar, Saldutti explained, is like "an A-list music seminar, with a trade show." It features artists, new technologies for music promotion and creation, labels and management all in one innovative place.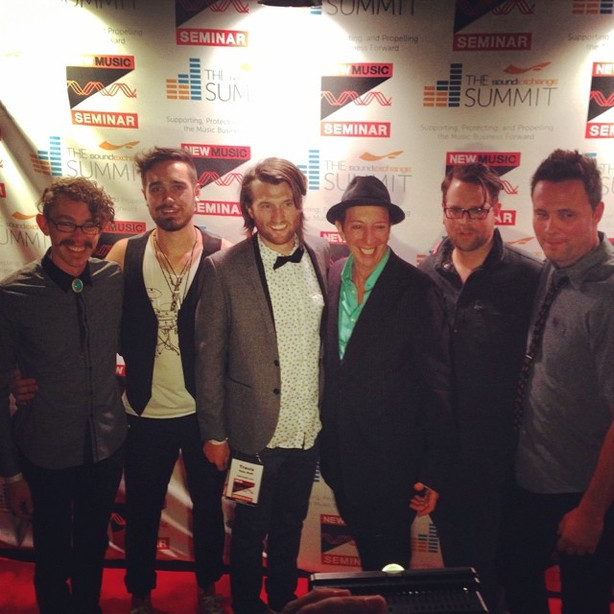 The Artist on the Verge program, which counts Macklemore and Fitz and the Tantrums among its past participants, is designed to launch a band that is ready for a bigger audience. They scout bands that have a unique and polished sound, and that have a large reach.
VanLadyLove's social media following and its huge EP debut that charted on iTunes were factors in them being chosen.
"They really liked how much we really owned our management, and social media and how much we engaged with our fans and how serious we took that," Saldutti said. "They were blown away that we had weekly meetings about our social media and what we want to accomplish, how we used analysis to figure out what it is that fans like ... and they were impressed. Most bands don't even think that far."
The band's decision to focus so much time came from a desire to "control their own destinies," Saldutti said. He said it was important they be able to write the kind of music they wanted, without expectations.
Buckner said the most shocking thing for them was hearing from the large panel of representatives from major music labels that their music was "ready."
"My jaw went to the floor," Buckner said. "We worked really hard on those songs, but you wonder if they're ever good enough. Every one of them said, this band's ready. And out of the panel of nine, four of them said they would sign VanLadyLove right now. (They said) 'VanLadyLove has the songs, they're ready for a bigger stage.' For us as a band it really validated all the work."
Frontman Travis Van Hoff said his takeaway was not just excitement and validation, but a piece of advice from the industry leaders he met.
"A lot of them were saying there's this void in the music industry of guitar-driven rock bands," Van Hoff said. "The manager of The Neon Trees said there's a void of heavier rock instead of pop rock. So not saying we're going to be a heavy band, but more guitar-driven rock and roll is something we'll be going for. It's something that really stuck with me this past week."
Although they were awarded the top prize that includes money, media exposure and equipment Van Hoff said the band's journey was just beginning.
"We're definitely not 'the best,'" Van Hoff said. "It's been a great opportunity and the momentum we have going right now is fantastic, but we still have plenty of hurdles to jump through."
Saldutti said the band has sacrificed a lot to make music its full-time focus. He pointed out that the band members are not teens just getting started, but have put in years of work.
"I'm 25 and I'm the youngest in the band," Saldutti said. "We won't talk any more about that."
But the support they have gotten from friends, family and fans has made it all worth it: "The mechanic that works on our van called us up and said congratulations," Van Hoff said.
"Bringing this back to Utah, bringing this back to Provo ... of course we rep Provo," Saldutti said. "We love Provo and it's so exciting to bring more publicity."
The band will be playing a Beatles tribute in Provo June 27, as well as playing at the birthday party of a friend who has had a huge impact in the Provo music scene, and has cheered them on from the start: "Provo has a uniqueness to it that's not located anywhere else," Buckner said.
In other music scenes, the music is secondary, Buckner said. He mentioned that playing in bars usually means people are not listening to the music, but Provo has designed unique venues that are 100 percent about the band.
"Provo has become known as a place that loves music," Saldutti said. "They joked at the seminar that in the past, major tours would pass Utah, but they're actually finding that now Utah is a great market, even for national acts."
According to the industry experts at the New Music Seminar, VanLadyLove is ready to become your next favorite band. Check out its sound on iTunes, YouTube or Spotify. As for the band members, they are working to make good connections, hopefully get a good team behind them, and they're revelling in their success: "And I'm going to take my chocolate milk to the after party," Buckner said.
×
Related Links
Related Stories