This archived news story is available only for your personal, non-commercial use. Information in the story may be outdated or superseded by additional information. Reading or replaying the story in its archived form does not constitute a republication of the story.
DRAPER — Utah's fire season is already well underway, with several wildfires burning throughout the state in the past week.
Firefighters stopped the spread of a fire that threatened 12 homes in Draper Thursday. The fire started about 1:30 p.m. near Highland Drive and Ellerbeck Lane (12790 South and 1825 East) and quickly grew to about 8 acres.
Voluntary evacuations were in effect while about 60 firefighters from multiple agencies worked to suppress the fire, which was being blown away from the homes.
Unified Fire Authority officials said Thursday they believe the fire was human- caused.
One tip, officials confirmed, was a call from resident Josh Larson who saw a man in a white shirt attempting to stomp something out in the area where the fire started. The man headed toward a trailhead, and, shortly afterward, Larson saw flames and called 911.
"I saw a guy in a white shirt trying to stop it off," Larson said. "When he realized he couldn't, he took off towards the trailhead."
Anyone with information is asked to call the the department's Arson Hotline at 877-572-7766.
Ron Whitzel, who lives in the neighborhood, said the frequency of fires in the area is worrisome.
"It concerns me greatly," Whitzel said. "To go through this three times in seven years is a bit concerning."
"It was really raging when we first got up here," Draper mayor Troy Walker said.
Walker said the fire was a reminder for homeowners to be fire-ready.
"It's a great example, if you live next to the wildlands, of needing defensible space and seeing how important it is to have those fuels out of the way," Walker said.
"It's a great wake-up call because fireworks go on sale in two weeks and that's always a concern," he said. "Fireworks are banned in this area. They always have been."
Unified Fire Authority Battalion Chief Brian Anderton said firefighters expected to have the fire officially contained Thursday evening, but fire crews planned to monitor the site overnight.
Other wildfires were still active Thursday.
• The Pony Fire ignited Wednesday near the Dugway Proving Ground and Simpson Springs in Tooele County. The fire was estimated at 929 acres, and full containment was expected late Thursday. One hundred and twenty-four total personnel were assigned to the fire, with four single-engine air tankers, a helicopter, seven engines, and four 20-person hand crews.
• Lightning started the Pine Valley Fire on the northeast side of Pine Valley in the west desert of Beaver County on Tuesday and has since grown to about 110 acres. Wind speeds were expected to pick up, increasing the fire's spread potential, according to a Weather Service Red Flag Warning for southwest Utah.
The Pine Valley Fire was torching trees and creeping along in areas with grass, sagebrush and juniper. Five engines, a helicopter, a water tender, seven smoke jumpers and one 20-person hand crew were working the fire, which was reported 75 percent contained Thursday evening. Crews expected to have the fire fully contained Friday.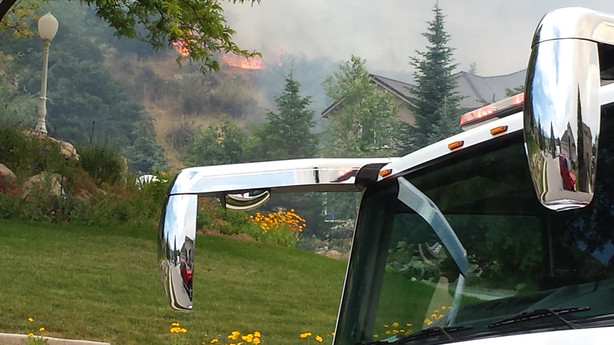 • Firefighters contained another fire Wednesday on the Weber River Parkway near 3750 South and 600 West in Riverdale. Fire officials say the blaze started after someone intentionally ignited fluff from cottonwood trees. The fire burned about 5 acres within two hours, but no homes were seriously threatened.
• Another grass fire burned along the Ogden River Parkway Trail near 530 River Drive Wednesday afternoon. Dense vegetation and cotton fluff in the area allowed the fire to spread quickly, but fire crews were able to contain the fire to 1 acre. The cause was unknown, and the fire was under investigation by the office of the Ogden fire marshal.
• The largest fire of the season so far was contained Monday at 5,000 acres on the Dugway Proving Ground. The Long Haul Fire ignited during an Army National Guard medevac exercise when a smoke canister was deployed and a helicopter fanned the flames, according to Utah Department of Natural Resources Forestry, Fire and State Lands spokesperson Jason Curry. No structures were affected.
Anderton said residents and recreationists should remain conscious of fire safety throughout the coming weeks and months.
"We just always encourage people to be safety-conscious when dealing with fire and when they go out to recreate in the outdoors," Anderton said. "With fireworks season coming up, we'd like to just reiterate that people be safe with their fireworks. Utilize the legal fireworks that are approved for Utah."
Residents can learn where fireworks use is allowed in Salt Lake County by visiting unifiedfire.org.
Contributing: Jed Boal, Andrew Adams, Peter Samore, McKenzie Romero Email: mjacobsen@deseretnews.com
×
Photos
Related Links
Related Stories