This archived news story is available only for your personal, non-commercial use. Information in the story may be outdated or superseded by additional information. Reading or replaying the story in its archived form does not constitute a republication of the story.
SALT LAKE CITY — Dozens of newly married same-sex couples wearing white walked Sunday in the annual Utah Pride Parade led by a float carrying the three gay and lesbian couples whose lawsuit made their weddings possible.
Derek Kitchen and Moudi Sbeity, Laurie Wood and Kody Partridge, and Karen Archer and Kate Call served as grand marshals for the downtown procession.
The couples' court challenge resulted in a federal judge overturning Utah's ban on same-sex marriage last December. About 1,300 couples were married over 17 days before the U.S. Supreme Court issued a stay while the state appeals the ruling.
"We never realized where our lawsuit would take us. We just knew it was the right thing to do. Growing up, I always imagined that I would be married, so I'm not surprised that we're having this debate and we're having this conversation," Kitchen said.
"But I am bit taken aback back the fact that we have come so far and we are the grand marshals of a parade."
Thousands of spectators lined 200 South and 400 East, four or five deep on some blocks. Parade organizer Bonnie O'Brien said the two-hour parade featured 143 entries and 7,000 to 9,000 participants.
Davida Wegner and Molly Butterworth, who married in Utah last December, were among those walking behind the route pushing a stroller with their three-month old daughter Ruby.
"I think in a way we're celebrating the progress in Utah. It's still a little up in the air but no one really expected that Utah was going to have gay marriage this past year," said Butterworth, who wore a white gown, while Wegner donned a white vest and black top hat.
The marriage issue now awaits a decision from a three-judge panel of the 10th Circuit Court of Appeals that will decide whether to confirm or reverse U.S. District Judge Robert J. Shelby's decision that overturned the state's voter- approved Amendment 3 defining marriage as between a man and a woman. He ruled the law violates the due process and equal protection clauses of the 14th Amendment.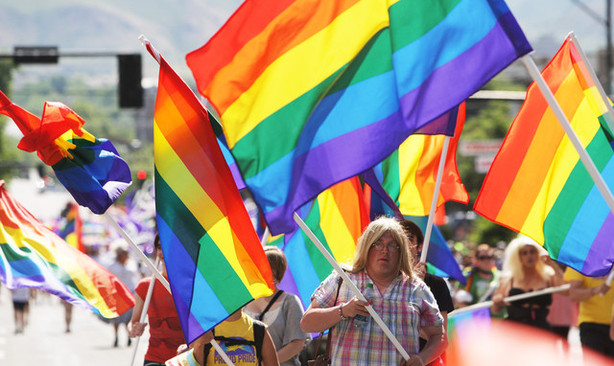 Past pride parades have drawn about 35,000 people but O'Brien said the crowd seemed to gather earlier and be larger than before. She attributed that to the backdrop of gay marriage which was front and center at the parade.
"This is always a party but this is a party on steroids. We are owning it all this year," she said.
Entries included LGBT groups, local and national companies, faith-based organizations, politicians and Boy Scouts carrying the American, Utah and rainbow flags.
Mormon Building Bridges made up the largest contingent. Co-founder Erika Munson numbered it at about 450 people. Some carried signs reading, "Mormons love all flavors of jello" and "Help — My gay son won't clean his room." The group does not have a position on same-sex marriage.
"What's fun for us to do as Mormon Building Bridges, even though we don't take a stand on the marriage issue, is that we feel like we can help Utahns mitigate the conflict that might exist," she said. The group is not formally affiliated with the LDS Church.
Salt Lake County Mayor Ben McAdams sat atop his bright orange campaign bus in what was his fourth Utah Pride Parade. He said the event has become more broad, with groups like Mormons Building Bridges and political candidates who didn't attend in the past.
"It really is a place where even families are welcome. It's just become, I would say, more tame and more diverse in its make up," he said.
Regardless of how the Amendment 3 case is decided, there are issues of discrimination that need to be dealt with and wounds that need to be healed, McAdams said.
"Bridge building and finding common ground is a task that's still ahead of us," he said.
Contributing:Sandra Yi
×
Photos
Related Stories