This archived news story is available only for your personal, non-commercial use. Information in the story may be outdated or superseded by additional information. Reading or replaying the story in its archived form does not constitute a republication of the story.
Sam Penrod, Randall Jeppesen and the AP reportingSaturday morning's session of the 178th annual general conference of The Church of Jesus Christ of Latter-day Saints brought the announcement of who will be the next member of the Church's Quorum of the Twelve Apostles.
It is Elder D. Todd Christofferson. He is a familiar face to LDS Church members because he has served as one of the seven presidents of the Seventy for the last 10 years.
In a news conference Saturday afternoon at the Conference Center, he said he learned of his new responsibility on Thursday. "President Monson invited me to his office last Thursday, two days ago, and extended the call in a very kind way," he said. "I had a very deep sense, as you can imagine, of humility."
Elder Christofferson, who is 63 years old, has been in full-time church leadership for the last 15 years. Before that he worked as a corporate attorney in the banking industry. He talked of his first job out of law school, as a law clerk in Washington D.C. for federal judge John Sirica, who handled the Watergate scandal.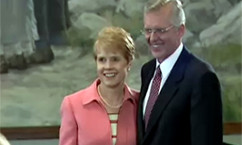 "It gave me, interestingly enough, a great deal of faith, added faith if you will, in government and good people in government. For many people it had the opposite result. But I saw there in action many, many good people, people of goodwill who did the right thing and restored the equilibrium, the constitutional balance and status of the government of the United States," he said.
He also answered a question of what he would tell the college-aged youth of the Church. "Take full advantage of the opportunities that you have," he said.
Elder Christofferson pledged today to reach out to people of all faiths around the world. "If I have any message at the moment, it is to take full advantage of the privilege that is ours to be among our fellowman and contribute what we can and receive what they bring and enjoy the brotherhood of children of God," he said.
As a member of the Quorum of Twelve Apostles, he will serve for the rest of his life in that capacity and says he expects to travel more around the world. He says he already has logged trips to at least 44 countries in the world on previous church business.
Elder Christofferson will speak to the church Sunday during general conference.
He was born in Utah in 1945, graduated from high school in New Jersey, earned his bachelor's degree from Brigham Young University, and his law degree from Duke University.
Elder L. Whitney Clayton was named to replace Elder Christofferson as a member of the Presidency of the Seventy.
(The Associated Press contributed to this report. Copyright 2008 by The Associated Press. All rights reserved.)
E-mail: spenrod@ksl.com
×