Estimated read time: 3-4 minutes
This archived news story is available only for your personal, non-commercial use. Information in the story may be outdated or superseded by additional information. Reading or replaying the story in its archived form does not constitute a republication of the story.
Sandra Yi and Randall Jeppesen reportingThe Salt Lake County District Attorney's office will soon file charges against the man accused of killing 7-year-old Hser Nay Moo. Police have revealed more about the man who admitted to killing the girl.
Police arrested a neighbor and fellow Burmese refugee for the crime. Esar Met was home alone when Hser Nay Moo went to his apartment Monday afternoon. Once inside, there was a struggle, and the girl was killed. Jail documents say Met confessed to the crime and to hiding the body before leaving his apartment. Police say the 7-year-old was likely dead before her family realized she was missing.
South Salt Lake Police Chief Chris Snyder said, "It [murder] occurred within the hour, within an hour of her leaving her house. He left fairly quickly, probably before the family even knew she was missing."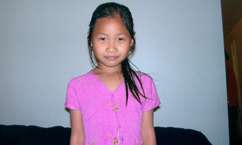 Police say Hser Nay Moo knew the suspect and his roommates and had been in their apartment before. Investigators don't know if she was invited in the apartment or if she asked to come in. Police believe she was in the apartment for a while when there was an altercation. Snyder would not go into details.
According to the probable cause statement we obtained from the jail, 21-year-old Esar Met admitted to trying to confine 7-year-old Hser Nay Moo in the apartment by force, resulting in her death. It goes on to say that he admitted to trying to hide the body and other forensic evidence.
Four people living in the apartment where she was found knew the family. Police say she had been in the apartment several times. Police do not know if the family knew Met.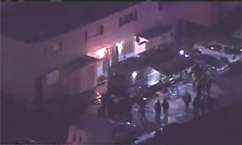 It's believed Met had lived in the apartment complex for about 30 days, which is as long as he has been in the country. Police say he does not have a criminal record.
The apartment has three levels. It's believed the suspect lived in the basement, and that the other four roommates never went there. The roommates were questioned and released.
Snyder would not release details on whether the girl was sexually assaulted or how she died. Police would not comment on a motive or if a weapon was found.
Snyder said an autopsy was performed Wednesday morning, but results won't be available for six to eight weeks.
Gary Keller, of the South Salt Lake Police Department, said, "We're looking at charges of aggravated kidnapping and aggravated murder. Those charges have not been formally charged yet, and it will be up to the Salt Lake County District Attorney's Office on those charges."
Wednesday afternoon, Hser Nay Moo's father declined to talk about Met. Surrounded by his two sons and an LDS Service missionary, Cartoon Wah only had words of thanks. He spoke through an interpreter.
"I thank all the news crews who have helped in showing the story of my daughter, and I thank all of Salt Lake City for the help and the comfort and the inner strength you have provided for me and my family," he said.
He says the family is also leaning on their faith to cope with the loss of their little girl. "But I had one daughter in this world, and I loved her the most. And my two sons, they loved their little sister very much as well. And in this world, you can't find another to replace her."
There was a special Mass Wednesday night at Salt Lake's Cathedral of the Madeleine. The Mass was to mark the third anniversary of the passing of Pope John Paul the second, but also included a special blessing for young murder victim Hser Nay Moo, her family, and the community in general.
A friend says the young girl's family prayed, read from the Bible, and sang Christian songs in their apartment late into Tuesday night after learning of her death.
A donation fund has been set up for the family of Hser Nay Moo at Zions Bank. Donations can be made to a fund in her parent's names, Cartoon and Pearlie Wah. You can donate at any Zions Bank location.
E-mail: syi@ksl.com
E-mail: rjeppesen@ksl.com
×
Related links
Most recent Utah stories