Estimated read time: 2-3 minutes
This archived news story is available only for your personal, non-commercial use. Information in the story may be outdated or superseded by additional information. Reading or replaying the story in its archived form does not constitute a republication of the story.
En nuestro nuevo segmento, Cocinando Con Los Niños Por Un Futuro Más Sano, queremos compartir esta divertida y útil receta para hacer de tus postres la nota de distinción de tus cenas. Excelente para hacerlo con los niños y darle a estas Pascuas un toque de personalidad y mano de obra como mamá solo puede hacerlo.
Ingredientes:
1 Bloque de chocolate de cobertura para derretir.
Globos del tipo que se usan para inflar con agua.
Papel manteca.
Escarbadientes.
Modo de preparación:
Colocar el bloque de chocolate en un bol te tamaño mediano que pueda meter en el microondas. Colocar el chocolate en el bol por un minuto y retirar.
Mezclar y si aun está sin derretirse por completo, repetir el proceso pero solo por intervalos de 10 segundos.
Lavar los globos. Secarlos. Inflarlos de un tamaño mediano.
Colocar el bol con el chocolate derretido sobre de una mesada y sumergir el globo hasta la mitad.
Antes de sacarlo, con la ayuda de una cuchara, colocar una cucharada del chocolate arriba del papel manteca que servirá como base.
Una vez que hemos sumergido la base del globo en el chocolate, retirarlo y colocarlo en la base que hemos formado el papel manteca.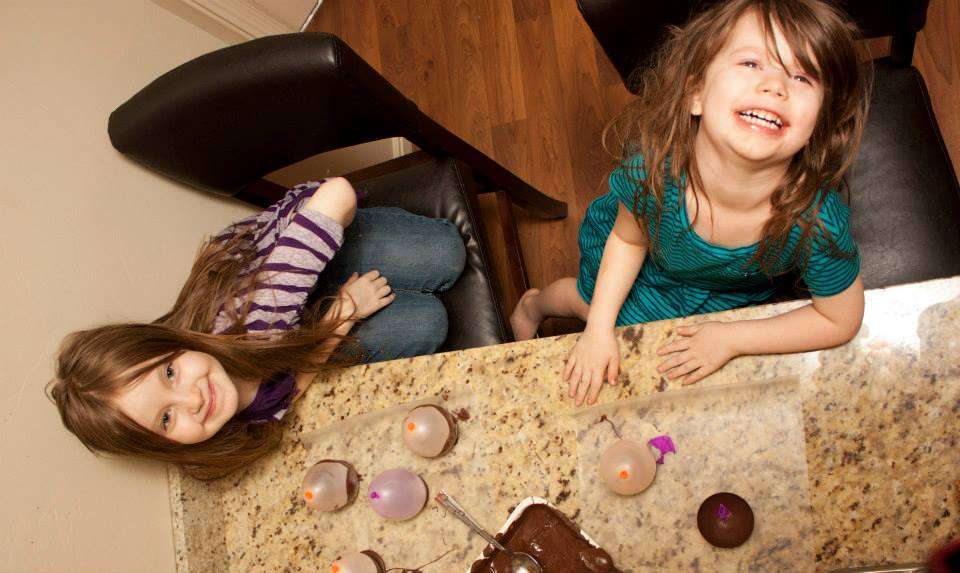 Dejarlo hasta que el chocolate se enfrié y endurezca.
Con la ayuda de un escarbadientes, pinchar el globo (esta es la parte preferida de los niños). Rellenos:Si desea usar el chocolate a modo de bol. Una vez que haya pinchado el globo, puede colocar dulces, helado, frutas, crema, arroz con leche, o lo que usted desee.
Si va a usar el molde de chocolate como una canasta para Pascuas, antes de que el chocolate se seque por completo, con la ayuda de un cotonete, haga dos pequeños círculos en ambos lados del chocolate con el globo aun adentro. Cundo se enfrié y pinche el globo, esto le servirán como orificios para colocar una cinta a modo de manija para la canastita de pascuas.
Variaciones:
Deje volar su imaginación y la de sus niños y cree sus propios diseños usando las mismas técnicas.
Recuerde que puede utilizar chocolate de cobertura BLANCO y mezclarlo con el otro para variar los colores o puede agregar unas gotas de colorante para alimentos al chocolate blanco y lograr una mayor variedad de diseños.
Ayude a sus hijos a desarrollar su creatividad, apoyando las ideas que ellos tengan para hacer este bol de chocolate un diseño único.
Si desea enviarnos fotos de su aventura en la cocina con este proyecto, nosotros estaremos encantados de compartirlas. Solo tiene que enviarlas a mreimann@ksl.com. Mariel Reimann is the Media Manager at KSLespanol. She's studied law at the National University of Cordoba, currently resides in Salt Lake City, Utah. Email: mreimann@ksl.com
×
Photos
Most recent News stories