This archived news story is available only for your personal, non-commercial use. Information in the story may be outdated or superseded by additional information. Reading or replaying the story in its archived form does not constitute a republication of the story.
SPANISH FORK — The widow of a fallen Utah County law enforcement officer climbed out of an excavator Wednesday in Spanish Fork.
"That was was so fun," Nan Wride exclaimed. "I have never even sat in anything like that. He said it was like playing Nintendo."
She was helping with the groundbreaking of the Wride Sherwood K-9 Training Facility, named after her fallen husband, Utah County Sheriff's Sgt. Cory Wride, and deputy Greg Sherwood, who was injured in the same crime spree.
Cory Wride was shot and killed on Jan. 30. Sherwood was shot in the head and injured in the same chase.
"It's such a huge, huge honor — huge," Wride said. "Because it's something that Cory loves and Greg loves."
The state-of-the-art facility is funded by an anonymous donor and Operation Bald Eagle, a non-profit charitable operation that gives back to police, fire and military veterans.
Jeffrey Mitchell, president of Operation Bald Eagle, said his group has worked on the facility for the past six weeks. When the anonymous donor came forward, they got to work.
The facility will offer a place for officers to come together and train with their dogs using donated obstacle courses.
"It's going to bring everybody together," Nan Wride said. "Not just Utah County, but everyone from all over."
She recalled going to K-9 training with her husband and the camaraderie she witnessed there between him and other law enforcement officers from across the country.
"They became really close friends. It's a brotherhood, definitely," she said.
Greg and Gina Sherwood also took part in the groundbreaking Wednesday. She said her husband was like "a little kid" riding in the excavator.
Gina Sherwood spoke on her husband's behalf. He is recovering well, despite wearing earplugs constantly because of the pain in his ears. She said they are both excited for the training facility.
"They're going to love it and they wanted it for years," she said. "Too bad Greg and Cory had to get hurt to get it, but we're excited to have it."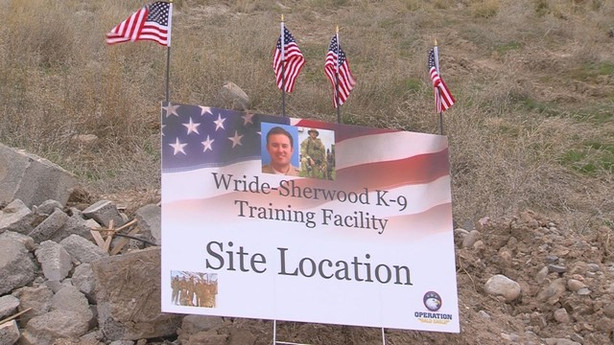 Besides serving as a training facility, deputy Brett Lawrenson, a member of the Utah County sheriff's K-9 unit, said it will also serve as an education facility.
"We do demonstrations all the time," he said. "We're very limited on what we can do based on the landscape of where we're at."
Now they will be able to accommodate youth and school groups of 100 rather than groups they had in the past of just eight or nine, Lawrenson said.
"The things that we can do will be vastly increased by having an enclosed facility, basically in our backyard, instead of showing up at a school gymnasium and trying to use a stage," he said. "We'll be able to showcase a lot more of what these dogs can do."
Some of those skills include suspect apprehensions, mock traffic stops and showing what the dogs do on the streets when officers are looking for narcotics.
Lawrenson said the center is expected to be finished in just 90 days — an unexpected timeline for a dream that began so long ago.
"It's very moving the kind of support that we're getting to build this when for really maybe almost two decades it's been a thought and (on) handlers' minds to do this," Lawrenson said. " It takes something as tragic as this to rally the support, but we get the support of the community that we didn't even know existed."
Gina Sherwood echoed the gratitude for support.
"People have just been amazing," she said. "All the support we've had just kind of buoys us up. I can't seak for Nan, but for me it does. It gives us the strength we need to keep on moving."
×
Photos
Related Stories