This archived news story is available only for your personal, non-commercial use. Information in the story may be outdated or superseded by additional information. Reading or replaying the story in its archived form does not constitute a republication of the story.
SALT LAKE CITY — Families of children blighted by a rare form of epilepsy are encouraged now that legislation that could improve their kids' lives has cleared the legislature and awaits a signature from the governor.
HB105 legalizes the use of a hemp extract to treat epilepsy sufferers.
"Who wouldn't want to try that," exclaimed April Sintz, whose 7-year-old son Isaac has been diagnosed with Dravet Syndrome. "If we could just give him the opportunity to go and play and do things without constantly having to worry, that would be worth it."
Under the final version of the legislation, neurologists would have to sign off on individual cases and extract users would be required to have a state-issued registration card.
The measure also permits higher education institutions to grow and cultivate "industrial" hemp for agricultural and academic research. Industrial hemp is defined as containing less than 0.3 percent tetrahydrocannabinol by weight.
Sintz said Isaac has regularly suffered one to eight tonic-clonic seizures – formerly known as grand mal seizures – per day. She said his brain is constantly seizing, often resulting in less recognizable but equally impairing mini seizures.
"He will have a lot of absence seizures a day," she said. "He'll have a lot of myoclonic jerks where he just will jump."
Isaac must be fed through a feeding tube, and Sintz said he would likely not be able to complete a formal education with current medications.
"It was the most devastating diagnosis I could have possibly thought for my child," she said.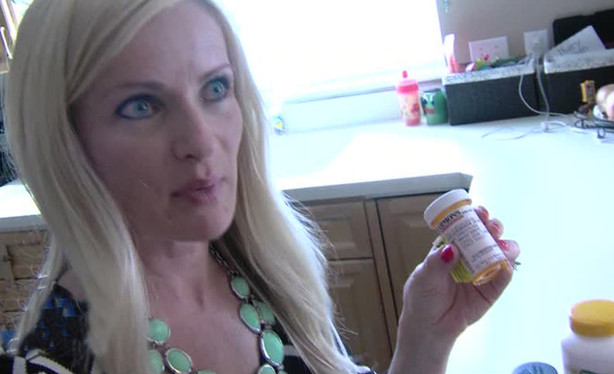 Sintz has a cupboard full of medications she says have not worked. As it is, Isaac must take more than a dozen medications and supplements twice per day to try to deal with his condition.
Some of those medications, Sintz said, have side effects almost as bad as the disease itself.
When she learned about cannabidiol – or CBD – and the dramatic success stories that surround it, she immediately wanted to get it for her son. Currently illegal in Utah, she has yet to purchase any for her son. It is available in neighboring Colorado.
"We at least want to give him the opportunity to have a better quality of life," Sintz said.
Sintz thanked lawmakers for approving the legislation.
It's believed the extract could impact the lives of as many as 33,000 individuals in the state with intractable epilepsy by allowing them and their families to bring the cannabis oil across state lines.
Approval did not come without scrutiny.
Though cannabidiol's makers have claimed it works by taming excessive electrical and chemical activity in the brain, some medical professionals have been slow to accept it because of a lack of medical evidence.
Sen. Evan Vickers, R-Cedar City, is a pharmacist and said originally he would have voted "no." He questioned how much THC the extract had, and how much consistency could be expected out of the product.
After researching the matter further, Vickers said he changed his mind and supported of the legislation.
House Bill 105
HB105 will be known as "Charlee's Law."

Bill sponsor Rep. Gage Froerer, R-Hunsville, said the bill would be named in honor of Charlee Nelson, who suffers from Batten Disease.

The neurological disorder leads to mental impairment, seizures, loss of bodily control and eventually death.
"It's pretty compelling to see these children in the situation they're in and the need for it," he said Thursday.
The measure now awaits Gov. Gary Herbert's signature.
A governor's spokesperson said the governor still must review the legislation before deciding whether to sign it.
Herbert spoke favorably Tuesday of the idea behind the measure.
"The concept of having cannabis oil as a medication to help with the treatment of seizures and other health issues is one that I support," he said.
×
Photos
Related Stories