This archived news story is available only for your personal, non-commercial use. Information in the story may be outdated or superseded by additional information. Reading or replaying the story in its archived form does not constitute a republication of the story.
SALT LAKE CITY — Gov. Gary Herbert spent the final night of the 2014 Legislature on Thursday enjoying his success in getting nearly all of his $13.3 billion budget passed — without a controversial and costly initiative from House Speaker Becky Lockhart.
"I'm obviously very pleased with the session and the results of the session," Herbert told the Deseret News in an interview, emphasizing the $345 million in new money for public and higher education, his top budget priority.
The governor, who mingled with staff, family and friends between a series of media interviews, was careful not to directly criticize Lockhart, a potential rival should he run for re-election.
However, Herbert did say he's moving up the timetable for deciding about making another run to sometime over the summer rather than waiting until early next year as planned.
"I'm clearly leaning toward running again. I'm putting myself in a position to do that," the governor said. "I'm certainly encouraged by a lot of people, which is nice."
There were plenty of bumps during the 45-day session, as notable for what lawmakers didn't get done as for they what did.
While lawmakers compromised on the state budget and Count My Vote, they steered clear or couldn't agree on controversial issues such as a statewide nondiscrimination law, raising the gas tax and Medicaid expansion.
During budget negotiations between the House and Senate GOP leadership late in the session, the outgoing Republican speaker from Provo gave up on her nearly $300 million education technology initiative.
Related
Lockhart faced opposition to the hefty price tag from not only Senate Republicans but also the GOP governor. The Senate refused to spend more than $26 million, and Herbert threatened to veto the initiative if the cost exceeded $30 million.
The speaker, who is not seeking re-election and is seen as a possible challenger to the governor in 2016, also dropped her efforts to come up with an alternative to Medicaid expansion using state funds.
Deciding what to do about the nearly $300 million available to the state under the Affordable Care Act, also known as Obamacare, was one of the biggest issues that couldn't be resolved this session.
Competing Medicaid expansion plans from the House, Senate and the governor that surfaced during the session all failed to win significant support. In the end, the House and Senate determined there would be no agreement this session.
So Herbert said he'll try to strike a deal on his own plan, which requires federal waivers to use the money for a state-run program. He announced this week he's sending a team to Washington, D.C., Monday to begin negotiations.
Senate President Wayne Niederhauser, R-Sandy, said he would have liked Herbert to go to Washington with a unified message from the Legislature. But "whatever he can negotiate with the federal government, there's not going to be consensus," he said.
Lockhart said "it remains to be seen" whether the House would be willing to even take a vote on what the governor is able to bring back during an anticipated special session of the Legislature later this year.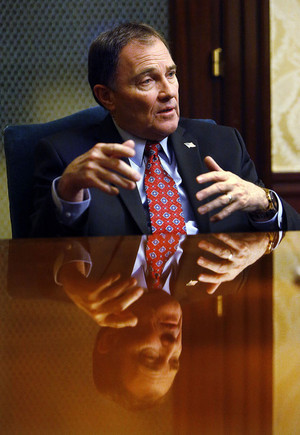 Herbert, though, said he thinks he can have a Medicaid plan in place by the end of the year that both the House and Senate would buy into.
This session, doing something about the state's dirty air was a top priority for many Utahns. Lawmakers passed several bills to address the problem, but it's an issue likely to be back with the winter inversion next year.
"A lot of our priorities were met," said Senate Minority Leader Gene Davis, D-Salt Lake City, citing strides made on air quality issues.
Settled was the question of whether the Utah State Prison in Draper should be moved. Lawmakers approved a resolution endorsing the move and created a new commission to find a new site.
Sen. John Valentine, R-Orem, said his biggest disappointment was not addressing the gas tax, an issue the GOP Senate majority pushed but couldn't get the House to buy into. He said if it's not raised in the future, money to fix the state's roads would cut into education budgets.
Niederhauser predicted that transportation and education funding would be big issues next year.
Lockhart said the tone of the session was "intense, intense. Not just because of the things I was involved in and trying to move forward, but knowing it was my last session and wanting it to be a good one and do the right thing."
She said she had "no regrets" about using her opening address to the Legislature to take on the governor, labeling him an "inaction figure" and describing his willingness to use federal Medicaid expansion money as a "trap" for the state.
One of the most contentious issues was a bill aimed at Count My Vote, an initiative to replace the state's unique caucus and convention system for nominating candidates with a direct primary. It sparked plenty of controversy before lawmakers quietly negotiated a deal with backers.
The deal, detailed in SB54, allows political parties to continue using delegates to select candidates but also creates an alternative route to the parties' primary election ballots through collecting voter signatures.
Although former Attorney General John Swallow resigned in December, legislators dealt with the fallout from his turbulent 11 months in office. The House Special Investigative Committee met throughout the session and issued its final report outlining allegations of campaign wrongdoing.
"It's a very, very interesting narrative. It reads like a Tom Clancy novel," Valentine said.
Based on the findings, the Legislature significantly expanded campaign finance reporting requirements. It added witness tampering, altering government records, and bribery in a legislative investigation or audit to Utah's organized crime law. Lawmakers also strengthened the Legislature's power to issue subpoenas.
They passed another bill that imposes fines on candidates who don't report campaign donations on time and requires lobbyists to wear nametags at the Capitol.
---
A lot of our priorities were met.
–Senate Minority Leader Gene Davis, D-Salt Lake City
---
Lawmakers shelved bills on religious freedom and a proposed anti-discrimination law early in the session, citing the ongoing lawsuit over the state's ban on same-sex marriage.
GOP leaders said they didn't want the rhetoric surrounding those measures to affect the state's appeal of a federal judge's ruling that struck down the state's voter-approved law defining marriage as between a man and a woman. That included a proposed statewide ban on discrimination based on sexual orientation and gender identity in employment and housing.
Thirteen activists trying to a call attention to the bill were arrested for blocking access to a Senate committee meeting.
Niederhauser said it was best to set aside those emotional issues.
"In light of what happened in Kansas and Arizona, I'm more and more I'm convinced that was the right decision for this session," he said.
Legislation pitting gay rights against religious rights put those states in the national spotlight.
The Legislature steered clear of another typically hot-button issue: Utah's liquor laws. Though some House members favored removing the so-called Zion Curtain in restaurants, the GOP-led Senate staked out a position against any changes. The partition separates alcoholic drink pouring and mixing from food areas.
The Church of Jesus Christ of Latter-day Saints also issued a statement just before the session, saying Utah liquor laws don't need to be changed, including the separate preparation areas for alcohol and food.
The session also had several touching moments where lawmakers teared up while passing bills that would provide health benefits for children with autism and allowing use of hemp oil for seizure treatment. Also, three senators shared personal stories of abuse during debate on a bill calling for child abuse prevention instruction in schools.
Senators prayed for Senate Majority Leader Ralph Okerlund, R-Monore, after he collapsed Wednesday in a hallway and was taken to the hospital. His family said he was doing better and joked about wanting to return to the Legislature to shepherd his bills.


×
Photos
Related Links
Related Stories