MURRAY — Film student Jacob Buhler sees the world around him through lenses, and as he stood beside 13 other Sterling Scholar winners Wednesday night, he was stunned by the stories he had heard through the night.
"Everyone definitely has a story to tell, and everyone has unique circumstances," Buhler said. "You can meet anyone, anywhere and could sit down and talk with them and find out the craziest thing that would make the greatest Hollywood blockbuster, or just blow people's minds with the heart-felt ups and downs and climaxes of life."
Buhler, of Springville High School, was the winner of the state Sterling Scholar award in skilled and technical science. He has made a name for himself over the past year with his eight-minute documentary "Tesha," which received an honorable mention at the LDS Film Festival and took second place in the Utah High School Film Festival.
As he accepted the 2014 General Sterling Scholar Award, Buhler grinned and leaned in with a question: Could the winners take a selfie? Beaming and balancing awards and flowers, the talented teens huddled together for a picture later sent out on Twitter, a playful moment in a night celebrating academics and achievement.
"We decided backstage we wanted to take a little group selfie with all the Sterling Scholars," explained Buhler, still pacing with excitement. "We had decided backstage that whoever won the general scholarship was supposed to ask if we could do that, but I didn't think I was going to win. There were so many qualified people."
Among the many stories told at Cottonwood High School on Wednesday night were accounts of service spanning the globe.
Wyatt McNeill, a world languages Sterling Scholar and winner of the Douglas F. Bates Community Service Award, sold the Ford F-350 he had restored with his father to pay for a humanitarian trip to Kenya.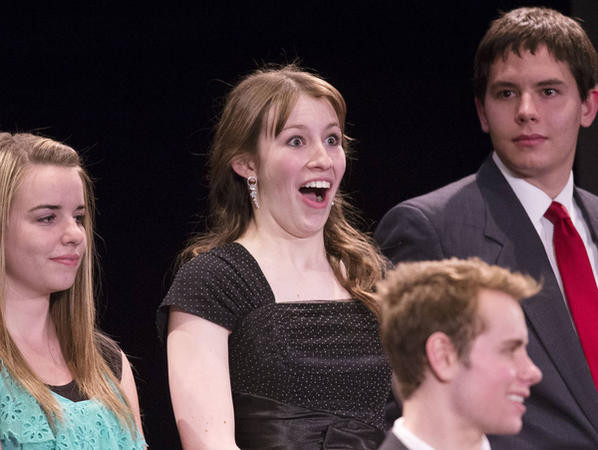 Dance Sterling Scholar Julia Dushku, of Viewmont High, spent part of her summer in Ecuador working with orphans. Brenda Qunitana, winner in the social science category, founded Maple Mountain High's first ever "Month of Service."
Buhler has volunteered with the Special Olympics, earned emergency response certifications through his Eagle Scout award and is a member of the Hope Squad at his school, which supports classmates battling depression or suicide.
"Service is my way of giving back to the community. It's a little way to say thank you for all you've been blessed with," Buhler said. "I can never imagine myself not serving, as part of my civic duty and my duty as a human being."
The students honored Wednesday represented some of the highest academic achievements in the state, including Sarah Silcox, of West High School, who was named Mathematics Sterling Scholar.
Silcox, who is eyeing MIT as a college possibility after being accepted to a handful of top schools, has competed in statewide math competitions since junior high school and tutors at-risk teens. She gave a small fist pump as she took the top of the podium.
"I hope life is as fun as math competitions," her profile read.
She went on to explain her love of math competitions comes from the challenge of knowing "I won't be able to do all the problems, but I can darn try to do the best I can."
"There are so many people I know (at math competitions). I just have a great time," Silcox said. "When I'm done, it's the greatest feeling."
The Sterling Scholar program has recognized outstanding academic, leadership and service by Utah high school students for 53 years. Buhler's mother, Kim Buhler, earned a regional Sterling Scholar award for her debate skills in 1987.
"He's worked so hard," she said of her son. "They're so high-caliber, everyone here, that you never know, but it was exciting. We're so excited for him."
Buhler will attend BYU this fall, where he will play soccer for the Cougars while he prepares to the serve a mission for The Church of Jesus Christ of Latter-day Saints.
There is still a lot to come in his own story, he says.

Email: mromero@deseretnews.com Twitter: McKenzieRomero
×
Photos