Estimated read time: 3-4 minutes
This archived news story is available only for your personal, non-commercial use. Information in the story may be outdated or superseded by additional information. Reading or replaying the story in its archived form does not constitute a republication of the story.
SALT LAKE CITY — A Utah soldier who says his iPhone helped save him from a suicide bomb wants to thank Apple, and months later will be getting a new phone.
Staff Sgt. Shaun Frank survived a blast from just feet away. Part of the reason is because his iPhone stopped some of the shrapnel from piercing his body.
"They did tell him when he got back to base that that iPhone probably saved his life," said Frank's sister, Alisha Lantz.
"He wanted to go overseas and fight and be part of fighting for our country," Lantz said.
Frank was just weeks into his second tour of duty last fall when his family got the call every military family dreads. Frank had been injured.
"It was very scary for us," Lantz said.
While his unit was helping another unit whose vehicle had rolled, Frank found himself face to face with a teenage suicide bomber.
"My brother just saw the look in his eye and he knew he was there to hurt them," Lantz explained.
Frank tried to fire first, but the boy was faster. The bomb, filled with metal ball bearings, exploded.
"My brother got several holes all over him," Lantz said, "through his thumb, through his fingers, through his hands and his legs."
Just about the only place Frank wasn't pierced was the left front pocket of his pants, where he kept his iPhone.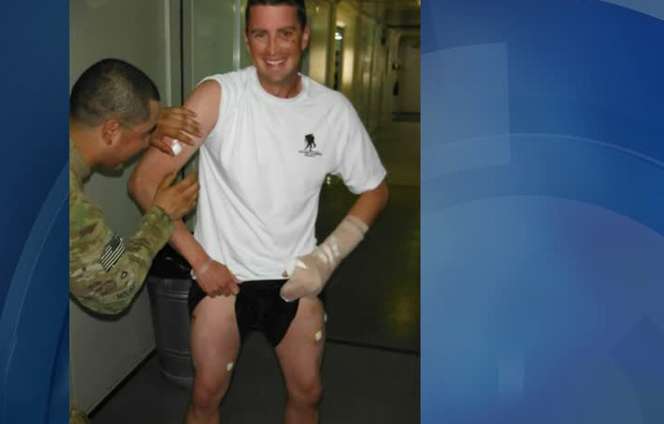 "He had his iPhone in his pocket. The iPhone stopped a few of the ball bearings as well," Lantz said.
There isn't much left of the phone. It doesn't work now, but it's something Frank wants to hang onto.
"He really wanted to keep it as a memento," Lantz said.
When Frank sent it to Apple to see if the damage was covered under his insurance, Apple had an unusual response.
"They basically drew the line and gave us a choice," Lantz said.
The company said he could either keep the damaged phone or get a new one, but not both.
"Beause the old phone meant so much to him, we chose to get the old phone," Lantz explained.
It's been months now, and Frank is still in Afghanistan without a phone. His family in Utah is doing everything they can to get him a new one.
"He needs a new iPhone. Apple, please give him a new iPhone," Lantz said. "I'm just so proud of him. He's just… he's my hero."
KSL contacted Apple. The company initially said it was looking into the situation but later said it had no comment.
Immediately after the story aired on KSL, phone calls and emails started pouring in, from people wanting to buy Frank an iPhone.
"I cried," Alisha Lantz, Frank's sister said. "I cried for sure. There's just so many good people in this world. I had no idea that it would go this far."
Chris Santacrocre saw the segment, and started a website to raise money for a new phone. 14 people have donated hundreds of dollars.
"I thought, oh man, this guy doesn't even have a phone right now," Santacrocre said. "How easy would it be for all of us to pitch in 15, 20 bucks and make this happen now."
Tom Etzel was also one of the dozens of people who contacted KSL.
"That should be the least of the guy's worries that he needs a phone and for what he's gone through he shouldn't have to think about such a thing."
But today, after three months of asking, Apple called this morning to give them the answer they'd been hoping for.
"It's the same phone he had previously minus a hole or two," Lantz said.
Lantz said the family is not accepting donations in any form, but is sure her brother will want to thank each and every one as soon as he finds out he has an iPhone.
×
Photos
Related stories
Most recent Utah stories