Estimated read time: 3-4 minutes
This archived news story is available only for your personal, non-commercial use. Information in the story may be outdated or superseded by additional information. Reading or replaying the story in its archived form does not constitute a republication of the story.
Los helicópteros y barcos de rescate que buscan un avión de Malaysia Airlines hallaron un objeto amarillo que parecía ser una balsa salvavidas y se apresuraron el lunes a investigar su origen, pero resultó ser un montón de basura flotante cubierta de musgo en medio del océano.
Así se desbarataron una vez más las esperanzas de obtener, después de más de dos días de búsqueda infructuosa, algún resto de la aeronave que desapareció en ruta a Beijing con 239 personas a bordo.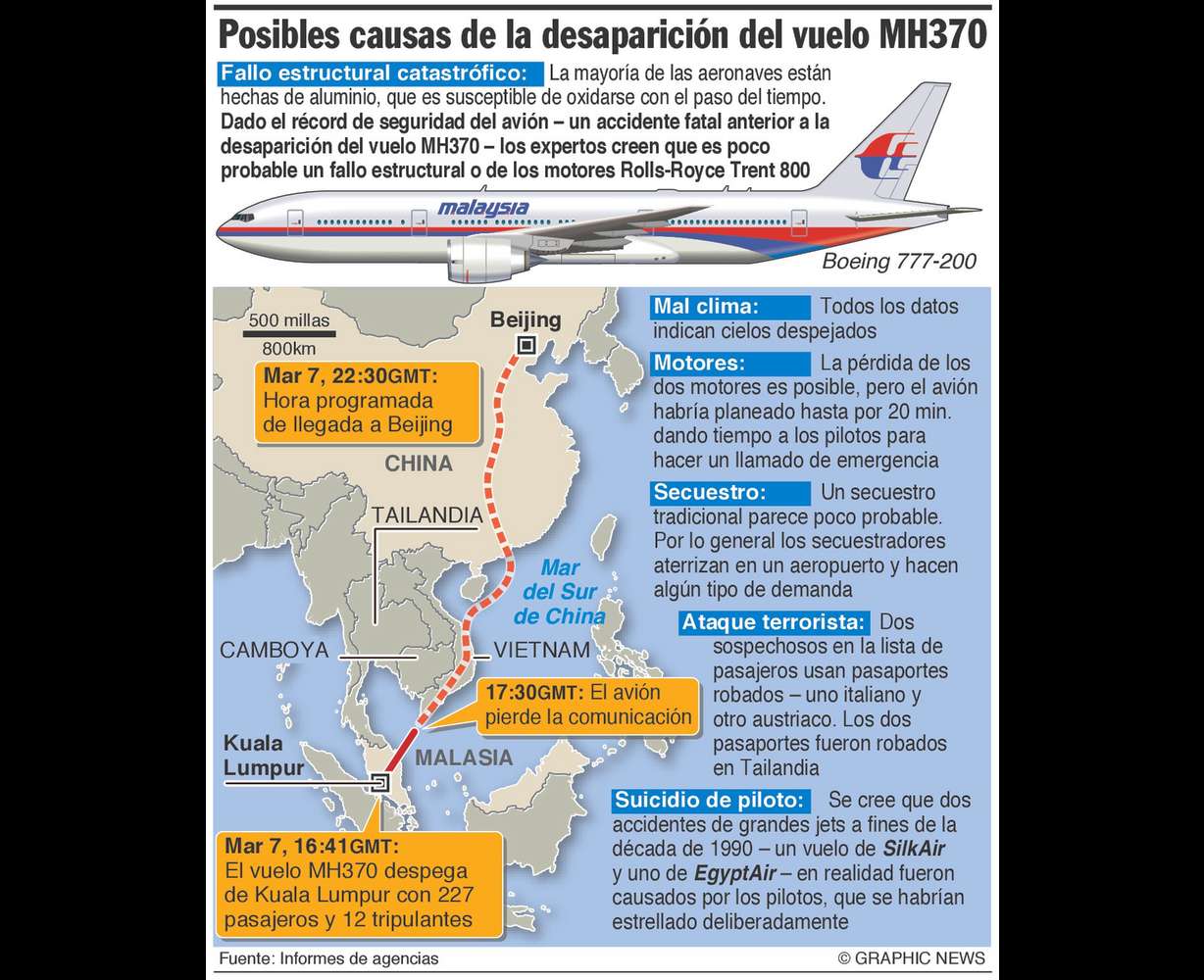 Sin confirmación todavía de que el Boeing 777 se haya estrellado, centenares de familiares apesadumbrados aguardaban ansiosos cualquier noticia.
La policía tailandesa y la Interpol interrogaron a los propietarios de una agencia de viajes en el balneario turístico de Pattaya, la cual fue la que vendió los billetes -solo de ida- a dos hombres que viajaron en el vuelo MH370 y que, según supieron posteriormente las autoridades, usaron pasaportes robados.
No ha habido ninguna indicación de que esos hombres hayan tenido algo que ver con la tragedia, pero el robo de los pasaportes ha alimentado las conjeturas de algún complot, acto de terrorismo o un secuestro que salió mal. Malasia ha compartido los detalles con las agencias de inteligencia estadounidenses y chinas.
El jefe de la policía de Malasia, citado por los medios de comunicación locales, afirmó que uno de los hombres fue identificado. El jefe de aeronáutica civil Azharuddin Abdul Rahman no confirmó esto, pero dijo que su apariencia "no era asiática". Agregó que las autoridades estaban estudiando la posibilidad de que estuviesen conectados con una red de robo de pasaportes, pero se negó a dar más detalles.
Rahman dijo en una conferencia de prensa el lunes que los investigadores examinan "cada ángulo" para explicar la desaparición del avión en la madrugada del sábado, incluyendo un secuestro.
"Hay muchos especialistas en todo el mundo que han aportado su conocimiento y dominio del tema", dijo Azharuddin. "Por lo que nos concierne, estamos igualmente intrigados", agregó.
La operación de búsqueda ha contado con la participación de 34 aviones y 40 barcos de varios países, que cubren una zona con un radio de 50 millas náuticas alrededor del punto en el que el aparato desapareció de las pantallas de radar entre Malasia y Vietnam, agregó Azharuddin.
Los especialistas no han descartado ninguna hipótesis del siniestro, que van desde una explosión, una falla catastrófica de los motores, turbulencia extrema hasta un ataque terrorista, un error del piloto e incluso un suicidio.
Ha habido muy pocas luces de esperanza, pero hasta ahora no se ha encontrado un solo rastro del avión.
El domingo por la tarde, un avión vietnamita divisó un objeto rectangular que se creyó pudo haber sido una de las portezuelas del avión desaparecido, pero los barcos que trabajaron durante toda la noche no pudieron localizarla.
Posteriormente, el lunes, un avión de búsqueda de Singapur vio un objeto amarillo a unos 140 kilómetros (87 millas) al suroeste de la isla Tho Chu, pero resultó ser basura marítima.
×
Most recent News stories