Estimated read time: 3-4 minutes
This archived news story is available only for your personal, non-commercial use. Information in the story may be outdated or superseded by additional information. Reading or replaying the story in its archived form does not constitute a republication of the story.
SALT LAKE CITY — After eight weeks of physical therapy, Carson Tueller is finally home from the hospital after a life-changing accident. Friends and neighbors kept busy renovating his home for the highly anticipated day of his return.
"It's really hard to accept this kind of generosity. There are so many people who are in our position that I'm hoping are receiving the same treatment," he said.
Just two months ago, Tueller could walk and run.
His mother, Camille Tueller, said, "I remember him as a kid always saying, 'I just want a challenge.' (He was) always up for a challenge."
But Carson Tueller, 23, never thought about a challenge like this. On Dec. 30, he and his family went to a trampoline park.
"We just started bouncing and going into the foam pits," he explained.
And just as he's done hundreds of times, he flipped into the foam pit.
"My little sister went, and then I went and just kind of had a freak accident and broke my neck," he said.
He suffered a C-8 spinal cord injury, leaving him paralyzed from the chest down. It should have been a moment of panic, but was not.
"I just kept saying, 'It's going to be OK. It's going to be alright.' And I remember feeling that and not just saying that. But feeling that everything would work out," he said.
He underwent two spinal surgeries and when he was ready, he was put in an intensive physical therapy regimen.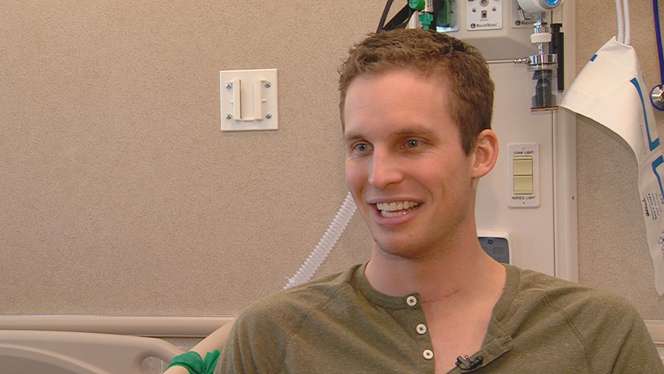 "This is balance practice because I don't have core muscles to support myself," he said.
After just seven weeks of rehab, doctors and therapists were surprised at what he had accomplished.
"I've never had someone be paralyzed where Carson is at his level and recover to the extent that he has," said Dr. Aaron Lowry, a physical therapist.
"It's hard to fail or give up or feel despair when you have so many people believing in you," Tueller explained.
He has received an outpouring of love and support from his online blog, his family, and his friends.
"He needs us to be strong," his mother said. "He's trying to stay up, and trying to be positive, and that's why all the letter and visits, and all the support have been so important."
He now has more than 400 letters and has read every one of them. He calls them his two-way support system.
---
He told me, 'Those people, those letters are really saving me.'
–Camille Tueller
---
"At one point he told me, 'Those people, those letters are really saving me,'" his mother said. "(They were) literally saving him through that first critical time."
His goals are to be independent and to someday walk again.
"I continue to look forward to the future with the confidence that miracles will happen," he said. "Miracles, when they're worked for, and they're prayed for, can occur. I hope this will be a miracle from start to finish. And I expect it to be that way."
It's a goal that inspires those closest to him.
"That has been an incredible journey to watch him fight through this," Camilla Tueller said.
Carson returned home on Friday, welcomed by his family and friends.
*The public can donate to his recovery and follow his journey through his blog called Carson's Road Home.
* Disclaimer: KSL.com has not verified the accuracy of the information provided with respect to the account nor does KSL.com assure that the monies deposited will be applied for the benefit of the persons named as beneficiaries. If you are considering a deposit or donation, you should consult your own advisors and otherwise proceed at your own risk.
×
Photos
Related stories
Most recent Utah stories