Estimated read time: 3-4 minutes
This archived news story is available only for your personal, non-commercial use. Information in the story may be outdated or superseded by additional information. Reading or replaying the story in its archived form does not constitute a republication of the story.
Desde que es papá Ricky Martin no puede desprenderse de sus hijos, los lleva como abrojos por todos lados. Y los mellizos Matteo y Valentino le han cambiado tanto la vida que el astro del pop hasta está pensando en hacer música para niños, entre una serie de productos inspirado en ellos.
"Estamos ahora mismo creando un universo infantil donde vamos a presentar música para niños, vamos a seguir escribiendo libros infantiles con mensajes positivos que también serán de impacto para adultos; vamos a crear una línea de ropa, estamos creando una línea de juguetes. Es algo muy muy muy fuerte", dijo Martin en una reciente entrevista con The Associated Press.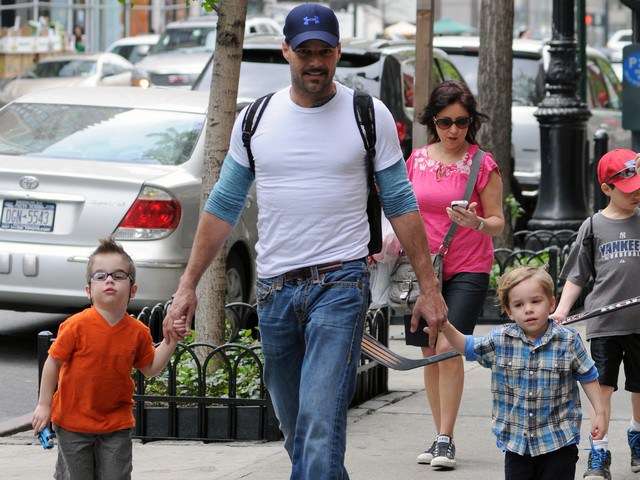 El cantante y activista puertorriqueño, quien acaba de anunciar que cantará el primer sencillo del álbum de la Copa del Mundo 2014, lanzó en noviembre el libro para niños "Santiago el soñador entre las estrellas" (y la edición en inglés "Santiago the Dreamer in Land Among the Stars"), que narra la historia de un chico cuya pasión es ser actor. Casi simultáneamente, se embarcó con PiccoloUniverse.com, un sitio de internet en español, inglés y portugués en el que madres, padres y personas enfocadas en el cuidado de niños pueden compartir preguntas y responder a los retos de la crianza de los pequeños.
El cibersitio incluye artículos del propio Martin sobre cómo demostrar y enseñarles compasión a los niños, por ejemplo; y de un grupo de colaboradores que dan desde ideas para hacer manualidades hasta consejos sobre mantener al día la vacunación, promover buenos hábitos alimenticios, métodos para que las familias ahorren y recomendaciones de juguetes.
También se incluye un enlace directo al libro de Martin, y es en ese mismo sitio donde el artista planea promover la música y ropa para chicos.
El cantante de éxitos como "She Bangs", "Livin' la Vida Loca" y "Come with Me" asegura que desde que nacieron sus hijos - hace cinco años mediante el proceso de subrogación o vientre de alquiler- la vida le cambió totalmente y en la actualidad dedica gran parte de su creatividad a la búsqueda de mejores formas para enseñarles, inspirarlos y alimentarlos.
Pero aunque la paternidad le lleva gran parte de su tiempo, continúa también con sus actividades artísticas, preparando un nuevo disco y alistándose para cantar "Vida", una de las canciones del álbum del Mundial de fútbol que él mismo eligió en un concurso y que escribió Elijah King, un músico de origen boricua de 23 años que espera ahora poder grabar su primer disco.
¿Cómo hace para conciliar su agitada agenda de trabajo con su papel de papá?
"Como lo hacen todos los padres. Con mis hijos tengo un velcro, están conmigo siempre. Yo soy su estabilidad", aseguró con una sonrisa inmensa entre labios, y explicó que viajan con él a todas partes para que no pierdan esa estabilidad.
El artista de 42 años, que saltó a la fama como miembro del quinteto Menudo antes de iniciar su exitosa carrera como solista en 1991, lleva también la Fundación Ricky Martin, que promueve la educación, la salud y la justicia social para los chicos. Y como embajador mundial del Fondo de las Naciones Unidas para la Educación, más conocido como Unicef, aboga por el fin a la explotación y el tráfico de niños.
En Internet:
HTTP://WWW.RICKYMARTINMUSIC.COM
HTTP://WWW.PICCOLOUNIVERSE.COM .
×
Most recent News stories