Estimated read time: 4-5 minutes
This archived news story is available only for your personal, non-commercial use. Information in the story may be outdated or superseded by additional information. Reading or replaying the story in its archived form does not constitute a republication of the story.
MORRISTOWN, N.J. — A high school senior from New Jersey sued her parents this week for financial support, claiming they tossed her out of their home with no way to support herself.
Her parents said she left on her own because she wouldn't follow their rules, and a judge ruled Tuesday on her first request for support in favor of the parents.
Rachel Canning, who attends the private Morris Catholic High School, filed a lawsuit last week in the state Superior Court for immediate support from her parents including paying for her private school fees, college tuition and living expenses. Superior Court Judge Peter Bogaard denied the request for immediate support at a hearing on Tuesday.
Canning, an honor student, cheerleader and lacrosse player, alleges her parents abandoned her and that's why she moved in with her friend Jaime Inglesino last October. Inglesino's father, a lawyer, is funding the suit. He hired attorney Tanya N. Helfand to represent the teen.
Even though Canning is 18, the court documents filed by Helfand claim that she is unemancipated and still deserves financial support from her parents. She also claims her parents were verbally and emotionally abusive.
The teen's father, Sean Canning, a retired police officer who works with the Mount Olive township, said his daughter is misrepresenting the facts.
"We love our child and miss her. This is terrible. It's killing me and my wife. We have a child we want home," Sean Canning told the Daily Record. "She's demanding that we pay her bills, but she doesn't want to live at home and she's saying, 'I don't want to live under your rules.'"
Rachel was suspended in October for truancy, along with her boyfriend according to court documents filed by Sean and Elizabeth Canning. Her parents said they asked her to stop seeing her boyfriend and took away her phone, and she left home shortly after.
New Jersey's Division of Child Protection and Permanency investigated the situation and ultimately "determined that allegation of emotional abuse was unfounded," a DCP&P letter stated, according to CNN.
Bogaard denied the request for financial support because he said it wasn't an emergency situation, but he still has to decide if there is any abuse present. He cautioned both parties against setting a legal precedent for teens who don't like their parents' rules.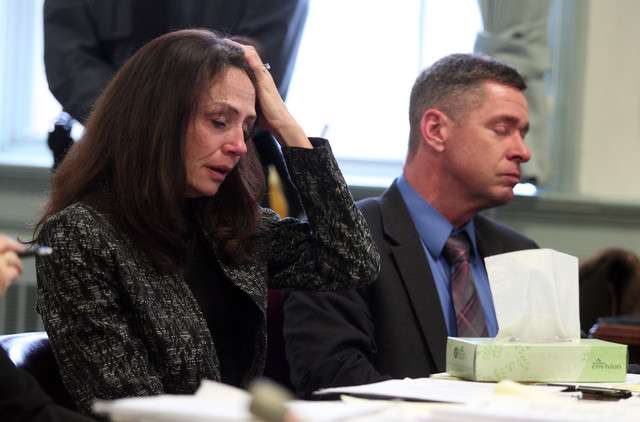 "What will the next step be?" Bogaard said at the hearing Tuesday, according to the Daily Record. "Are we going to open the gates to a 12-year-old suing for an Xbox?"
Bogaard set another hearing for April 22 to hear from witnesses to both parties and decide if the student is entitled to college tuition and living expenses.
Family law attorney Stephanie Frangos Hagan told CNN this case is "unprecedented."
"A parent is not obligated to contribute to the support of an emancipated child. A child is emancipated when he or she is beyond the control of the parents," Hagan said to CNN. "Is she truly beyond the scope of her parents' authority, as a result of her own voluntary acts? That's for the judge to decide.
"The argument (Rachel Canning) is making is that she didn't leave home voluntar(ily). She's saying 'I was thrown out.'"
Neither party testified at the hearing Tuesday and it was the first time the teen and her parents had seen each other in months. The Cannings have said all they want from their daughter is for her to come home, and that their rules aren't unreasonable.
"Living in our house, there's very few things," Canning told CNN affiliate WCBS. "There's minor chores, there's curfews. When I say curfew, it's usually after 11 o'clock at night."
Kenneth Neumann, a New York divorce mediator and psychologist, told Yahoo Shine that talking through the situation would be a healthier way to deal with the communication breakdown.
"We often use the legal system as a way to deal with disagreements when we should be using therapy or mediation," he said to Yahoo, calling the case "extremely rare." "I don't think she has much of a case. This sounds like just another 18-year-old who got into a thing with her parents."
×
Related links
Related stories
Most recent Family stories