Estimated read time: 2-3 minutes
This archived news story is available only for your personal, non-commercial use. Information in the story may be outdated or superseded by additional information. Reading or replaying the story in its archived form does not constitute a republication of the story.
Richard Piatt reportingSome of the most useful and functional new furniture in Utah's restored Capitol building was made right here in Utah. In fact, almost all the Legislators' desks, bookcases and credenzas, as well as a few tables, were made in Draper at the Utah state prison.
The furniture is already part of the scenery at the restored Capitol building. The 600 pieces throughout the building are historically accurate and meticulously made. Everyone with an office seems impressed.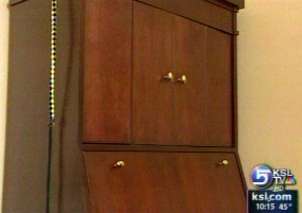 Rep. Carol Spackman Moss, said, "The quality of furniture here is beautiful."
All that furniture was created in a workshop at the prison. It is part of UCI, Utah Correctional Industries, where inmates are the craftsmen.
Inmate Ken Wyrick said, "I had the privilege of digging deep in my soul to help finish that job. And then to see the outcome and hear people talk about it, that's cool, man. It's something we accomplished and no one can take that away from us."
The men in the shop worked six to seven days a week, 14 hours a day for months in order to get the Capitol Hill job done. It's one of the biggest jobs UCI has ever had to fill. For inmates, being a part of it is a privilege. Most of them know that, seeing it as a way to give something back to the community.
Andy Iacona, UCI Marketing Manager, said, "It's a management tool; it gives them an opportunity to learn a trade, earn some money and be successful upon release from prison."
Spackman Moss says, "The thought that the only work they're doing, they're making license plates, I think that's an anachronism."
The reaction to their work has traveled quickly through the shop, and some are already planning, when they get out someday, to visit the Capitol and see Utah's most powerful people using their furniture.
The Capitol Hill furniture cost the state $1.2 million. If the pieces had been purchased on the market, the cost would have been at least five times as much.
E-mail: rpiatt@ksl.com
×